Movies
Published September 9, 2021
'Shang-Chi and The Legend of The Ten Rings': Sir Ben Kingsley Triumphant Return as Trevor Slattery
"There's redemption. Maybe he's nudging into his real potential as an actor."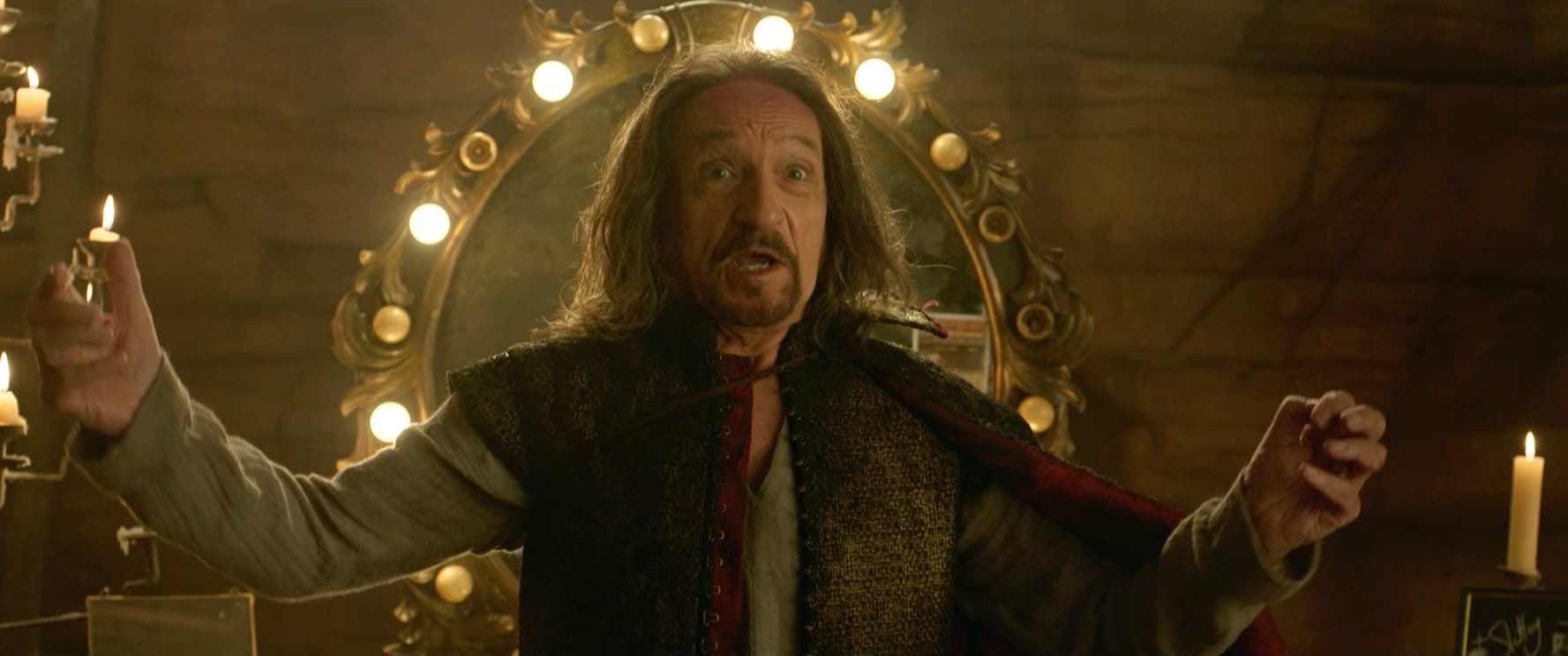 The man formerly known as The Mandarin has returned, and now he's the Ten Rings Organization's weekly entertainment. In a surprising twist, Trevor Slattery — who we last saw in Marvel Studios' Iron Man 3 masquerading as the man behind the curtain — is back, and just as jovial as ever. For Marvel Studios' Shang-Chi and The Legend of The Ten Rings, Sir Ben Kingsley reprises the role he played almost a decade ago, a character he's still incredibly fond of calling it a "very humbling and gorgeous experience."
"I was very attracted to the idea of bringing Trevor back, having enjoyed so much working on Iron Man 3 thanks to Robert Downey Jr's extraordinary generosity," Kingsley remarks. "Robert took it upon himself to be my straight man in the great scenes that he has with my Trevor, and that was a great gift to me. He allowed me to really inhabit Trevor. I got rather fond of Trevor and worried about him wandering around the universe without having a home anymore. And [I did the Marvel One Shot] All Hail the King, which was the short film we made with him being in prison, and then sprung out of prison."
"I speculated, 'Where's he going?'" Kingsley continues. "He was taken into the headquarters of Wenwu, and we took it from there. It's quite wonderful to have a third experience on camera where the actor is, if I may dare say so, allowed to build layers that the audience sees, and also allowed to build layers underneath the character that perhaps the audience don't see, but does inform my character."
The opportunity to bring the character back wasn't necessarily a challenge to overcome, but the creative team did have to formally ask for Kingsley's presence to be included in the movie. Director Destin Daniel Cretton remembers when the team approached Marvel Studios about it, "We were told 'Maybe,' but we have to ask Sir Ben directly. We proceeded hoping Sir Ben would say yes, and thank goodness, he did."
"He was in the script for a long time before we ended up raising our hands like, 'Sir Ben, would you like to play Trevor Slattery?'" producer Jonathan Schwartz explains. "It felt like this secret weapon that we knew we had in the arsenal that we could bring out to bounce the movie in a different direction. I'm glad it worked out as well as it did. Sir Ben of course is amazing and brings such an amazing energy to that team. Sir Ben ultimately got excited by the idea of this new version of Trevor who certainly has evolved since the last time we saw him. He still feels very true to his character, but it is a different version of that same guy."
Last we saw Trevor, his charade as "The Mandarin" was up, having been exposed as the face, but not the mastermind, behind Extremis. He was subsequently sent to prison, and then later freed by a member of the Ten Rings Organization and brought to Wenwu's compound. As he tells Shang-Chi, Katy, and Xialing, Wenwu was going to kill him, and then he launched into some Shakespearean monologues. Seeing Trevor as now more "entertainment" than "threat," Wenwu kept him alive to delight everyone — something Trevor is honestly thrilled to be doing.
"It was a very humbling and gorgeous experience to play Trevor again, this wonderful Liverpudlian Shakespearean actor who perhaps never fully realized his ambition until he fell among thieves," shares Kingsley. "There's redemption. Maybe he's nudging into his real potential as an actor. I realized, in this particular version of him, how much he loves Shakespeare. You see him dressed almost as Shakespeare, surrounded by all the artifacts that enhance his Shakespearean career. He's giving a one-man performance of his Shakespeare canon in front of his captors basically, which means he must be pretty well-versed in Shakespeare. [He performs] once a week, which is marvelous."
Arriving on-set, Cretton was "scared out of [his] mind that [he] would mess up" in front of the legendary actor, but all his worries were put at ease the second Kingsley stepped into character.
"He did have quite a bit of a zen quality to him being on-set," Cretton says. "That's one of the things that a lot of our legendary actors shared. There wasn't this air of entitlement or superiority when they came on set. There was a grace to them, and a feeling of mentorship that they provided not only to the other actors, but to me. I really found [Sir Ben] to be a lot of fun to work with. He pours himself into every character."
Like a real Shakespearean story, Trevor provides the much-needed role of the "Fool," and adds a bit of comic relief to every scene he's in. A great example of that is when the group arrives at Ta Lo, and while everyone else is preparing for battle against the Ten Rings, Trevor is busy teaching kids how to play soccer. A simple yell of "offsides" sends the audience erupting with laughter.
"Destin made a very, very wise decision; if you have an intense drama that is based upon real tension between father and son, and the father has been alive and empowered for thousands of years, you're talking about history, dynasties, memory, ancestry, and loss, [you need a moment] where the audience can sit back and breathe before we gather them again and fling them into the drama," Kingsley continues. "It's a very brave and clever choice on Destin's part to say, 'You know what? Now we can bring on a clown,' and now we can go and we can go back into the story. I found joy to be part of that tried and tested process."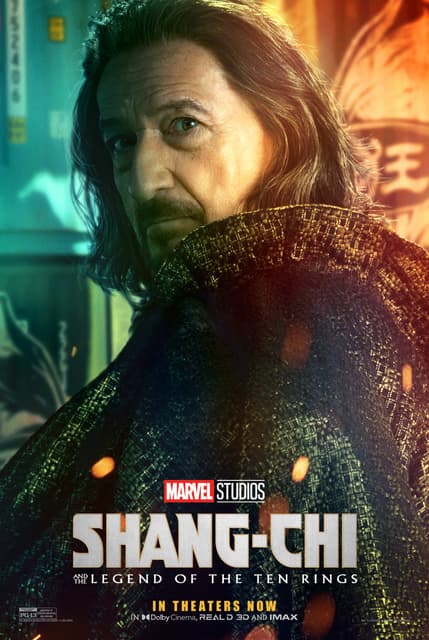 "[Sir Ben] knows that a character like this, what he would call the Shakespearean fool, is a very important part of the story," Cretton adds. "He knows his character Trevor unlike anybody, and knows every little detail about his character, which is why he is able to perform them the way he does. He's an actor who is dedicated to the words on the page, and finding the meaning of the words on the page. He would often ask to meet with me beforehand, and give me some ideas and add bits of dialogue that were either inspired by other Shakespearean actors that he knew, or inspired by Shakespeare himself. But they were usually just little embellishments that I, more often than not, really liked. Once we were into the scene, he very much sticks to the words on the page and worked within those words to create different versions, different emotional ways of delivering the line." 
"Destin allowed me to have a wonderful backstory that fed every scene that I had with the rest of the beautiful cast," Kingsley reflects. "Always at the back of Trevor's mind, there is this marvelous fund of language that he makes himself available to. Trevor's voice slightly changes when he goes from his own voice to Shakespeare. He has an actor's voice, and he has his own voice."
While he aids in the battle in Ta Lo in his own special Trevor way, what's next for the stage actor (and Morris)? Kingsley is game to return back to the MCU anytime, anywhere, saying, "Trevor would love it."
"He might still be in Ta Lo teaching the children to play football," Kingsley ponders. "Maybe he's doing a one-man show for the Ta Lo residence. He would love to come back, yes. It's a breath of life to Trevor to perform. He's ready and waiting."
Experience Shang-Chi and The Legend of The Ten Rings in theaters now. Get tickets!

Discover more Shang-Chi on Facebook, Twitter, and Instagram! 
The Hype Box
Can't-miss news and updates from across the Marvel Universe!