Movies
Published November 10, 2021
6 Reasons Why You Should Watch the MCU in IMAX's Expanded Aspect Ratio
Coming November 12 to Disney+!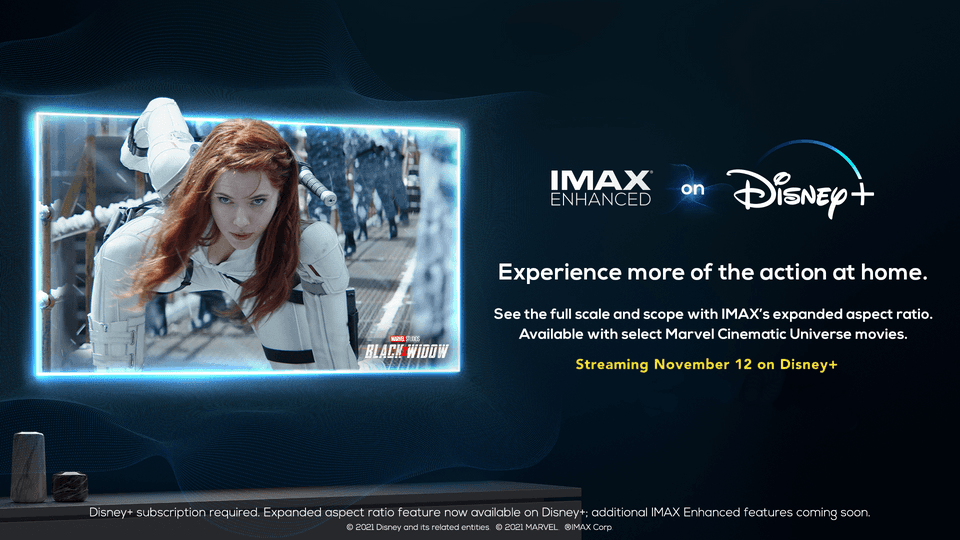 The Marvel Cinematic Universe is expanding — in physical size. Starting on November 12, select Marvel titles will be available to stream on Disney+ with IMAX's Expanded Aspect Ratio. This ratio, 1:90:1, offers up to 26% more picture for select sequences – meaning more of the action is visible on screen, just as the filmmakers intended. In the future, the collaboration will deliver even more enhanced audio and visual technology to Disney+, including immersive IMAX signature sound by DTS.
The 13 titles available at launch include the Disney+ premiere of Marvel Studios' Shang-Chi and The Legend of The Ten Rings on November 12th as well as other fan-favorite MCU movies like Iron Man, Guardians of the Galaxy, Guardians of the Galaxy Vol. 2, Captain America: Civil War, Doctor Strange, Thor: Ragnarok, Black Panther, Avengers: Infinity War, Ant-Man and The Wasp, Captain Marvel, Avengers: Endgame, and Black Widow (content availability varies by region).
But why should you switch to IMAX's EAR for viewing, anyway? Is bigger actually any better? Needing expanded aspect ratio answers, Marvel.com turned to IMAX's Bruce Markoe, Senior Vice President of Post Production/Operations and DMR, who works closely with filmmakers to utilize IMAX cameras and new technologies to best optimize and produce their movies for the immersive IMAX theatrical and home formats. Answering questions via email, here are six reasons to experience the MCU in this new format: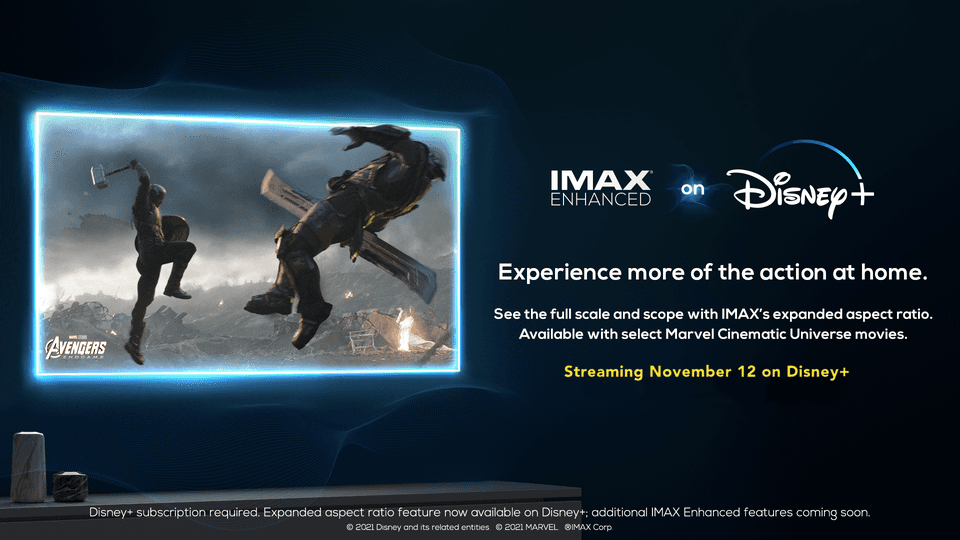 Many long-time Marvel fans have seen these movies dozens, if not hundreds, of times over the years. Why is watching it in IMAX now going to be a whole new experience?
Now for the first time at home, fans can see the expanded aspect ratio versions that Marvel created exclusively for IMAX theaters – exactly how they were intended. The IMAX versions feature more images that fill the screen, which translates one of the most immersive facets of an IMAX theatrical experience to the home.
What's the number one reason why viewers should watch in IMAX next time?
Above all, you'll notice new details that you may have missed before, including even more of the fantastic visuals that Marvel has created for these movies. It enhances the viewing experience overall.  We work closely with Marvel to ensure that our mastering technology and the extra clarity 4K HDR offers are fully and faithfully utilized to provide the highest-quality images, which is especially important as more people own larger and brighter TVs than ever before.
What action sequences really come to life in a brand new way showcased in IMAX?
The original Iron Man is a great example of a movie that has never been released with IMAX's expanded aspect ratio sequences until now, so it should be fun for fans to see it in a whole new way. So many of the stunning visuals featured in Marvel action sequences are expanded in IMAX and it really does become a more immersive and engaging way to experience them all.
More importantly, we are not blowing up the image or cropping in to make it larger. These sequences have been purposefully designed by Marvel to BE larger, by framing up the action to show more image and detail at the top and bottom of the screen. Marvel spends a lot of time and care to determine how these expanded sequences look and feel, whether you're watching it in an IMAX theatre or at home.  And IMAX's role is to empower filmmakers to optimize for our presentation format.
Is there any character that's now really larger than life in an IMAX setting?
To me, all of the characters and action beats work better by creating certain scenes with a greater sense of scale and scope to draw you in, which really pops on larger TV sets in use today. And yes, seeing Ant-Man "grow" makes him even larger than life. With IMAX expanded aspect ratio, all of the action sequences and tremendous visual storytelling take on a more immersive feeling, which really maximizes the power of the story and the rewatch factor.
Any behind-the-scenes stories about working with the Marvel filmmakers to bring their IMAX vision to life?
I am always amazed at how every person at Marvel really goes above and beyond to deliver the highest quality work, both creatively and technically. These movies are incredibly difficult to make from both a technical and storytelling standpoint, so seeing camaraderie and collaboration at its peak during this process is so gratifying and a key to their success.  And when it all comes together at the end, and they still all want to watch the movie as a group and applaud the great work they did, you know that is something truly special.  
What was the most exciting Marvel scene for you to watch in IMAX?
Way too many to choose from.  But the first Guardians of the Galaxy had some great ones as well as the Thor vs Hulk fight in Thor: Ragnorok.  And of course, the culmination of the Avengers finales just hammered home what a special experience it is when the filmmakers take the time and effort to film for IMAX.
To celebrate the first two years of the service and all the new content to come, Disney+ is inviting fans to join the community with a special, limited-time offer. From now until Sunday, November 14, new and eligible returning subscribers in the US and select countries can get one month of Disney+ for $1.99 (then $7.99/mo.) by signing up at Disney+, and join in on all of the Disney+ Day celebrations.
Follow Disney+ on Twitter @DisneyPlus, Instagram: @DisneyPlus, Facebook @DisneyPlus, and TikTok @DisneyPlus, and don't forget to use the hashtag, #DisneyPlusDay!
Sign up for Disney+ and start streaming now! Stay tuned to Marvel.com for more details! And be sure to follow Marvel on Facebook, Twitter, and Instagram.
The Hype Box
Can't-miss news and updates from across the Marvel Universe!