Movies
Published October 26, 2017
Zoe Bell Returns to Stunt Work with 'Thor: Ragnarok'
Will Hela defeat the God of Thunder?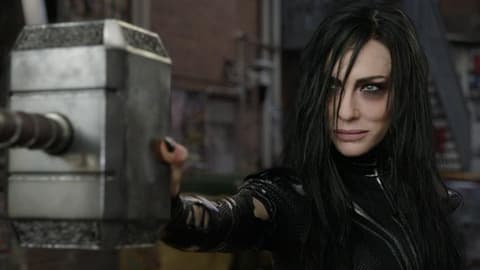 Hela, the Goddess of Death, is so formidable it took two fierce woman to take on the role of Marvel's first female villain. In "Thor: Ragnarok"—alongside Cate Blanchett's performance—Zoe Bell returned to stunt work to bring the goddess to life.
Marvel.com talked with Bell about creating Hela's unique movements and what it was like to join the ranks as one of the most memorable miscreants in the Marvel universe.
The process of creating movements for the Goddess of Death was collaborative. "I start figuring out moves that I know she clearly looks more comfortable with, and then between Cate and myself and the guys, we start shifting things so it fits better, and what Cate's bringing to the character. Then Cate will ask my advice or my input," said Bell. "This particular separation has been really clever. It's been a really satisfying process."
"I haven't done a whole bunch of motion capture myself," revealed Bell. "Ironically I sort of stepped away from stunts. This is my coming out of retirement for this one."
Having gone from stunts right into acting, Bell saw her stunt colleagues start working with motion capture. For Bell, the goal remained the same. "My biggest advice to Cate—and most of the actors I've worked with—has always been, we just need to get you as comfortable as possible with whatever you can so that you are relaxed enough to bring the emotion stuff, because that's what we need the most. The rest of it, if there are any holes—we can fill it."
For actors who aren't that familiar with stunt work, the idea can be a little trepidatious. "I think there was a minute where she was just like, I don't think I can do all of this. So we showed her the bits that we absolutely needed and once she felt comfortable with it, then she actually was like—alright, give me a little bit more—okay, I can probably do that." Bell explained, "You know, that's sort of truth for most people, once you take away the onslaught feeling then people realize they're more capable. She's far more capable than I think she gives herself credit for."
Hela is a big presence to say the least, and her headdress takes on a life of its own. "It has been a bit of a consideration for us in terms of our movements but then it also it's been so collaborative between the departments. It's my job to work around Cate to make Hela look as amazing as I can. Whatever I can, I add and then it's their job to work around what they have in the physical world—to embellish on it and make it look amazing."
So what brought Bell back into the world of stunt work? "Ben Cooke first and foremost and then when Taika came aboard." Shooting her in native New Zealand was a big plus as well, "I haven't shot this close to home in over 15 years."
"Working with Cate was just, even as an actor just to sit and watch her—people would pay money to do that and to be a part of the Marvel family." Being able to work alongside and learn from the award-winning actress also seemed to seal the deal. "You hire Cate for obvious reasons. We want her to feel as comfortable as possible to bring that power and that energy and that, you know, Blanchett to it. She's been amazing. She's been one of my favorites which is a big deal 'cause I've worked with some pretty amazing women."
Find out if Hela defeats the God of Thunder when "Thor: Ragnarok" opens in theaters on November 3rd!
Get your tickets now for "Thor: Ragnarok" and be sure to check out Marvel.com, follow @ThorOfficial on Twitter, and like Thor's official Facebook page for more behind the scenes interviews about "Thor: Raganaok!"
The Hype Box
Can't-miss news and updates from across the Marvel Universe!