Movies
Published May 12, 2023
Zoe Saldaña on Gamora's New 'Spunk' in 'Guardians of the Galaxy Vol. 3'
"I do find this Gamora very exciting because she's very independent and she's wild and she's different."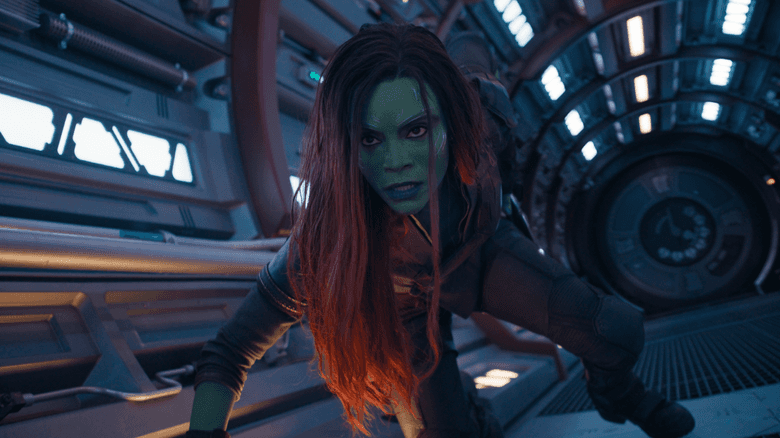 There's one character who might be surprising for viewers to see in Marvel Studios' Guardians of the Galaxy Vol. 3 — Gamora. And that's because she died during the events of Avengers: Infinity War.
"I'm surprised that Gamora is as much in this installment because what had happened in Avengers: Infinity War," star Zoe Saldaña explains, who reprises the character for the fifth time. She assumed her role for this movie would be minimal, simply joining, "just to like come for two scenes and then bid everyone farewell." Instead, Gamora ends up playing an important role throughout the movie as she not only assists the Guardians on their quest to save Rocket, but also helps Peter Quinn Quill (aka Star-Lord) close the book on their past relationship.
In Avengers: Infinity War, Gamora is taken by her adoptive father, Thanos, to retrieve the Soul Stone so he can complete his Infinity Gauntlet. The only way to obtain this stone is by killing Gamora, which he does (and when Quill finds out what has happened, he lets his emotions get the better of him and allows Thanos to snap — a story for another day). But come Avengers: Endgame, thanks to a nifty "time heist," Gamora from the past comes back into the picture. Seeing the wrong in Thanos' ways, she aligns with her adoptive sister, Nebula, to help the rest of the Avengers defeat him once and for all.
Quill is elated to see Gamora alive again. The only problem is that this isn't the Gamora he knew and loved. This Gamora has never been a part of the Guardians team and doesn't have the same memories and feelings, something Quill is forced to reckon with, though he tries his best to connect with her.
"I think the Gamora from Guardians of the Galaxy Vol. 1 will have a lot more in common with the Gamora of Vol. 3 for sure," Saldaña continues. "I do find this Gamora very exciting because she's very independent and she's wild and she's different. There's a spunk to her that Gamora never really had, and I hope audiences find that fresh."
Though she's not part of the Guardians team, there was no way returning writer and director James Gunn was going to make another Guardians movie and not include the deadliest woman in the galaxy. "Zoe is such a great actor and allowing her to be the Gamora before she met the Guardians, she's a little more stuck in that place," he explains.
Speaking of stuck, executive producer Sara Smith recognizes that Gamora is now dealing with more inner conflict than she ever has before. The Guardians are strangers to her. "I think the other thing that Zoe brings to it that's so interesting is there's a real conflict that character is struggling with," Smith explains. "She's sort of stuck with a group of people who have known her as someone else and it's not a person she recognizes so to see the kind of nuance in Zoe's performance and that struggle come through I think is really, at times quite emotional and quite powerful."
Gamora comes into the picture in Vol. 3 after Nebula reaches out to her sister (who is now part of the Ravagers) to assist them with saving Rocket's life. This is a startling turn for everyone, especially Quill, but for Nebula it's just calling in a family favor. Putting the past behind them, the sisters have a brand-new dynamic. 
"We learned a little bit in Guardians of the Galaxy Vol. 2, when you heard the backstories of Nebula and Gamora, that Nebula's not really the bad guy," Gunn continues. "Now they're adults again and Nebula has grown up quite a bit. We see Nebula and Gamora as the way they are now, and they've changed roles from what they were in Guardians of the Galaxy Vol. 1."
But if you're expecting a happy family reunion between the sisters, think again. The most affection they show for one another is simply via a little head nod and a grunt, something that is quite fitting for the duo.
"I love those moments so much because it's so simple, yet it says so much about their relationship," Karen Gillan states. "I think that both were raised in such a way that they're not the most outward with their love towards people, but they feel it inside. It comes out in a very nonchalant, little gesture and noise, but it's loaded with so much more because these sisters love each other, and they've been through so much together."
And on the topic of love, it's Quill who has the toughest time seeing Gamora again. He lost the woman he loved, only for her to come back and not even remember his name. Chris Pratt calls this new turn for Gamora, "One of the more interesting arcs in the whole Marvel Cinematic Universe."
"It's one of the best written characters I've ever seen, and I love the arc that she goes through in this third installment," he continues. "It will really flip people on their heads and defy their expectations as to how you should end a trilogy with two people who have been in love before." 
So, while she might not be the same Gamora that audiences have come to know over the years, she's still at her core Gamora and comes to the Guardians' aid when they need her most. While it might be different than what she's used to with the character, Saldaña loves the overall message of the movie and the part she played in it.
"What makes James Gunn a special storyteller is that he finds genuine, universal, common emotions and common conflicts and he utilizes them, and he sets them on this universe type of tapestry and we're all still able to relate to it cause we all feel sort of like underdogs sometimes," She explains. "We all hurt when we are neglected or rejected or treated unfairly. We all can feel a great level of compassion for each other, so he creates this beautiful story with a universal kind of feelings, and you're deeply moved. You're just deeply moved and that's what he did in this story, so I was very surprised that I was gonna cry as much as I did."
Save the galaxy, again. Guardians of the Galaxy Vol. 3 is now playing exclusively in theaters. Get your tickets today!
The Hype Box
Can't-miss news and updates from across the Marvel Universe!