Podcasts
Published June 7, 2021
Listen to Chapter 3 of 'Marvel's Wastelanders: Old Man Star-Lord' Today
Tune in on the SiriusXM app, Pandora, Stitcher, or wherever you like to listen!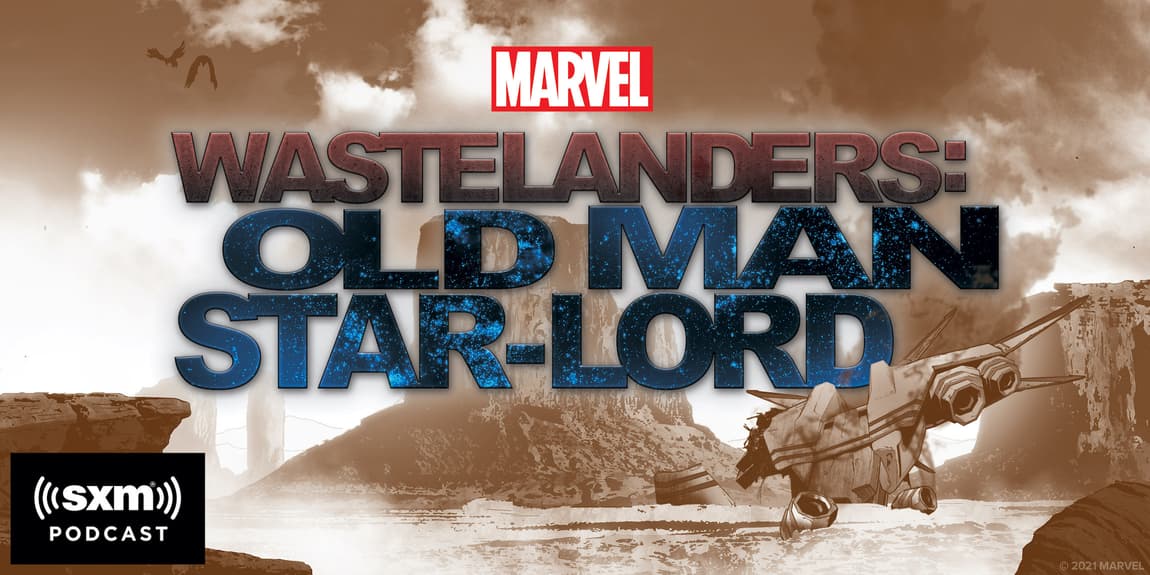 In the barren, desolate wasteland of the mid-west as controlled by Doctor Doom, they encounter the ageless telepath Emma Frost, outlaw Ghost Riders, Doomwood locals, and the bloodthirsty Kraven the Hunter. Who will find the Black Vortex first and what will be the price of its power?
Available now, Marvel's Wastelanders: Old Man Star-Lord transports you to this thrilling landscape of the mighty Marvel Multiverse. Today, in Chapter Three, Star-Lord, Rocket, and Cora take refuge at Red Crotter's farm as they learn more about what happened on Earth and make a plan for how to get the Black Vortex.
Tune in to the new episode, "Blood Farmer," on SiriusXM, Pandora, Stitcher, Apple Podcasts, Spotify, Pocket Casts, or listen below...
Marvel's Wastelanders: Old Man Star-Lord stars Timothy Busfield (The West Wing, For Life) as Star-Lord, Chris Elliott (Schitt's Creek, Eagleheart) as Rocket, and Nadine Malouf (High Fidelity, The Looming Tower) as Cora. The series will also feature Patrick Page (Hadestown, upcoming The Gilded Age) as Kraven the Hunter, with Vanessa Williams (Ugly Betty, Desperate Housewives) as Emma Frost and Danny Glover (Lethal Weapon, The Color Purple) as Red.
The 10-episode series will be released weekly, kicking off season one of Marvel and SiriusXM's multi-part Marvel's Wastelanders podcast series, which will feature other Marvel heroes including Old Man Wolverine, Old Man Hawkeye, and Grey Widow.
For more information, visit www.Marvel.com/Wastelanders! 
Stay set for new installments of Marvel's Wastelanders: Old Man Star-Lord every week!
The Hype Box
Can't-miss news and updates from across the Marvel Universe!