Podcasts
Published October 18, 2023
The 'Women of Marvel' Guide to Storm
Goddess. Leader. X-Man. Queen. In this episode of the 'Women of Marvel' podcast, we examine Ororo Munroe's hurricane-force impact on the Marvel Universe and pop culture.
It's an all-new season from the Women of Marvel! Listen to the latest episode from the podcast series, then tune into new character spotlight episodes each Wednesday!
Ororo Munroe, AKA the mutant Storm, was once revered as a goddess in Kenya and across the African continent. And her influence on the real world is just as powerful! Today, this veteran X-Man is a regent and a continual force of change. From a challenging past to her rise as one of the X-Men's premier leaders, Storm's strength lies in her ability to overcome, adapt, and conquer.
In the seventh episode from the latest season of the Women of Marvel podcast, our hosts Ellie Pyle and Preeti Chhibber cover the hurricane-force impact that Storm has had in the Marvel Universe and on pop culture—from comics, to cosplay and beyond. They spoke to drag queen and cosplayer Dax ExclamationPoint about embodying Storm energy, author of upcoming Young Adult novel Storm: Dawn of a Goddess Tiffany D. Jackson, and Professor Katja Friedrich, specialist and expert in severe weather patterns.
Listen to Storm's full Women of Marvel spotlight, then catch our episode highlights below!
STORM: QUEEN OF COSPLAY
Faith D'Isa, Women of Marvel cosplay correspondent, spoke to Dax ExclamationPoint, who listeners might recognize from Season 8 of RuPaul's Drag Race, about her love of all things Storm. The performer (and illustrator!) also covered some of her favorite Ororo looks:
"I mean, my aesthetic has always been pretty much based around how Storm looks, dresses, moves, all of that," explained Dax ExclamationPoint of her 20-year drag career. "I always just kind of want[ed] to be Storm. And then one day I just decided: 'Why am I trying to be a typical drag performer when I don't want to be Beyoncé?' She's fantastic. I love her. We already have one. I don't want to be, you know, a living pop star. I'd rather be a drawing. So, I devoted myself more to that."
"I mean, listen, it's all about the hair and the shoes and the legs. Let's be real," she said about what initially drew her to Storm. "My first issue of X-Men was UNCANNY X-MEN (1963) #300 [drawn by] John Romita Jr. The way he drew [Storm] with her massive hair and her double capes. Like, who's wearing two capes? And her giant boots. And, you know, the era where she had the sash belt and the bigger shoulders. So that is what got me into it. And just the way she looked. Cheekbones, eyebrows, this massive cloud of hair…all of those things were really what got me interested when I was eight years old."
In addition to her stunning looks, Dax ExclamationPoint talked about Storm's goddess energy. "Storm is aspirational because she can do it all. She can rule a country, rule a planet, marry some dude, divorce some dude, fight some Morlocks, go to space. All while in heels and with her hair being amazing. If there's anything that I want to be able to do in my life, it's that. To be stunning at all times and handle everything while keeping a solid composure."
THE DAWN, AND RISE, OF A GODDESS
Bestselling author Tiffany D. Jackson stopped by Women of Marvel to talk about her upcoming Young Adult novel: Storm: Dawn of a Goddess! Available in bookstores June 4, 2024, this all-original story tells the origin of a young Ororo Munroe while she was a teenaged thief on the streets of Cairo, Egypt.
"[The novel] starts off when Ororo's very young and we see her grasp and grow into her power," said Jackson of the hero's arc. "You open the page, and you first start out when Ororo is nine years old, and you get to meet her parents. You see the complexities of where she got her love for culture, her intelligence, her beauty from both her mother and her father, who were living in Cairo at the time. And then you dive into the horrific death of her parents too. And you see some of the origins of her claustrophobia."
Jackson also relished the opportunity to revisit Storm's heritage.
"It was amazing to go back into her history, especially to follow [in] her footsteps. She definitely found her footing in Cairo, so I was able to go there. Her family is from Kenya, so I was able to go there. It was a lot of diving into what it was like to potentially be this goddess in the midst of all these mortals and finding your power at such a young age. You also get a chance to see her fall in love for the first time!"
Pick up your copy of Storm: Dawn of a Goddess when the novel hits shelves on June 4!
[RELATED: 'Storm: Dawn of a Goddess' Brand-New Young Adult Novel Coming This Summer]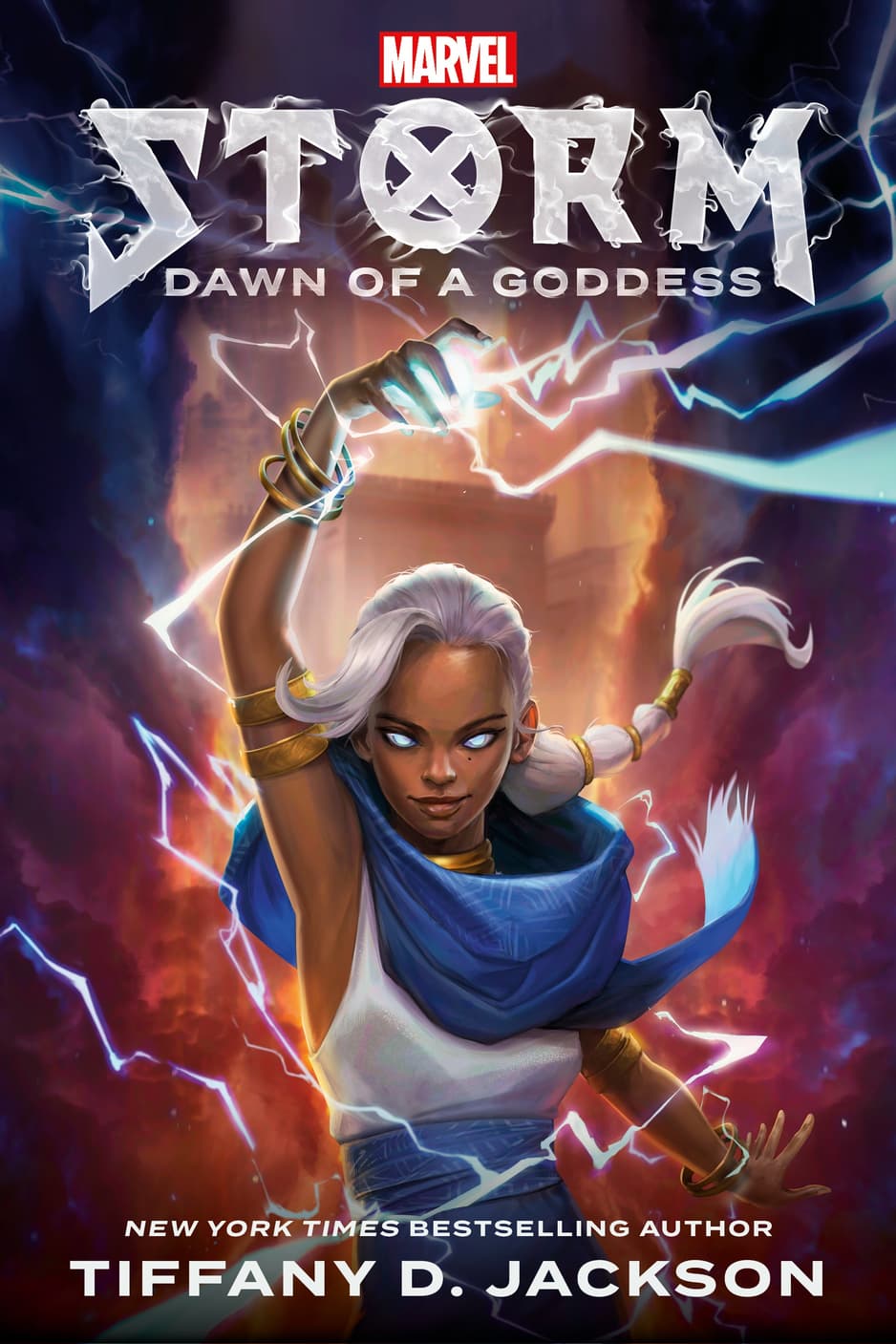 MASTERING THE ELEMENTS: HOW TO MANIPULATE WEATHER LIKE STORM
"Ask an Expert" correspondent Isabel Robertson looked to the skies while having an atmospheric conversation with Professor Katja Friedrich, Associate Chair and meteorological expert of severe weather patterns at the University of Colorado Boulder.
As it turns out, Storm's mutant abilities to control the weather have several real-world parallels!
"Some people think that we can really make it rain and snow as we want to, but it's actually pretty complicated," Professor Friedrich prefaced. "And I can tell you why that is. Cloud seeding, [a weather modification technique], is basically trying to squeeze all the water out of clouds. Clouds are made up of tiny liquid [particles] and that's why we see them as wide little puffy things in the air. But it's really these particles, whether it's ice or whether it is water, that are too small and too light to fall onto the ground. And when they actually start to grow bigger, they then turn into either rain or snow or hail or whatever precipitation we have. So, what we're trying to do with cloud seeding is [manipulate] clouds that we know contain a lot of water and turn this water into ice and then have this ice stick together and form snowflakes."
Cloud seeding also bears promising outcomes for areas plagued with low levels of precipitation.
"You can [also] cloud seed and get snow clouds to produce snow," explained Professor Friedrich. "But the underlying idea is to squeeze the water out of the clouds. And that's usually done in areas that are struck by droughts or that really have a water problem. For instance, we are cloud seeding in the [American] West and what we are trying to do is increase the snowpack in the winter because we want to use the snowpacks as an easy way to store water. And then as the snowpack melts, it basically fills the reservoirs, and it can be used for agriculture."
The latest season of Women of Marvel has arrived! Tune into upcoming episodes spotlighting a new hero each Wednesday, available wherever you listen to your podcasts!
The Hype Box
Can't-miss news and updates from across the Marvel Universe!