Podcasts
Published February 10, 2022
New Season of 'Marvel's Voices' Looks at Evolution of the Marvel Mythos
Legendary comic artist Brian Stelfreeze joins as the first guest of Season 5!
Marvel's Voices is back, and host Angélique Roché is starting the brand new strong with a double header for its first two episodes celebrating the growing legacy of Voices.
Marvel's Voices began four years ago in 2018 with this podcast. Two years later, the first comics anthology MARVEL'S VOICES #1 was published. Over the course of these past four years, Marvel's Voices has nearly 70 episodes, 8 anthologies, and over 20 essays released spotlighting creators and characters representing various communities. 
The premiere episode of Marvel's Voices Season 5 debuts today, between two milestones in the Voices journey — Marvel's Voices: Legacy trade, which collects MARVEL'S VOICES (2020) #1, MARVEL'S VOICES: LEGACY (2021) #1, reprints of significant stories, as well as brand new essays and excerpts of interviews, now on comic shelves; and the upcoming February 16 release of MARVEL'S VOICES: LEGACY (2022) #1.
The first guest of the brand new season is legendary artist Brian Stelfreeze who has on MARVEL'S VOICES: LEGACY. Discover Stelfreeze's background, his love of storytelling, and how his worked h as evolved since he started in comics in the late '80s. Listen below!
In the episode, Stelfreeze shares, "Storytelling is a way of illustrating where you've been, illustrating where you are going to be, and illustrating where you are. Everything we do is about pattern recognition, and the storytellers are the people that explain these patterns."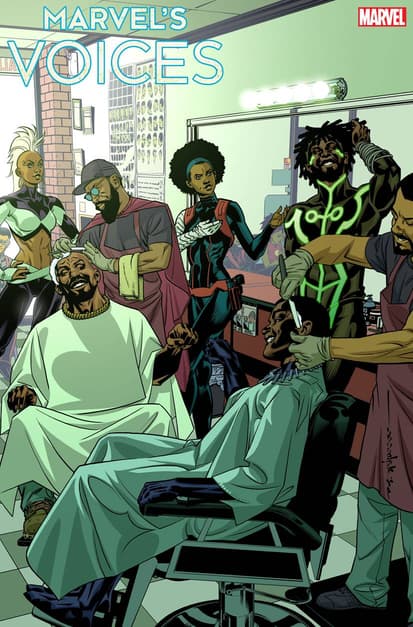 On the subject of representation, Stelfreeze reflects, "The important thing, especially as a storyteller, is remembering not only being represented, but remembering being excluded. All of that is massively important because exclusion adds just as much fuel as the representation."
As for his personal style, he states, "My approach to storytelling is that the inside, to me, is oftentimes more truthful than the outside. What I try to do is try to make an attempt to illustrate the inside while illustrating the majesty and the beauty of the outside. It's sometimes trying to capture just a subtle expression that makes you see the truth, and the truth isn't in those necessarily bright colors."
To hear more from Stelfreeze, his experience, and the barbershop analogy sparked by the cover above, listen to the episode above!
The pantheon of Marvel Super Heroes is often compared to modern mythology. And that mythology has been growing and evolving for over 80 years, constantly unfolding before our eyes. As the world around us has changed, so has the Marvel Universe...
As for the rest of the season, be on the lookout for upcoming guests like the legendary Larry Hama and author Nic Stone. Additionally, new to this season, Marvel's Voices will be mixing it up by opening the host seat to some guest voices.
Listen to Marvel's Voices on SiriusXM, Marvel Podcasts Unlimited on Apple Podcasts, and wherever you get your podcasts. 
Don't forget to pick up MARVEL VOICES: LEGACY (2022) #1 at your local comic shop on February 16! 
For more information on Marvel's Voices, head over to www.marvel.com/voices!
Want to stay on top of everything in the Marvel Universe? Follow Marvel on social media—Twitter, Facebook, and Instagram—and keep watching Marvel.com for more news! 
The Hype Box
Can't-miss news and updates from across the Marvel Universe!