Podcasts
Published May 20, 2021
Recap the 'Marvel's Wastelanders: Old Man Star-Lord' Cast Town Hall
Plus, a special announcement as Stephen Lang and Susan Sarandon join the future of the 'Marvel's Wastelanders' podcast series!
In a post-apocalyptic future, Marvel's Wastelanders: Old Man Star-Lord finds Peter Quill (Timothy Busfield) and Rocket (Chris Elliott) a little paunchier, a little slower, and a lot saltier than they were during the glory days of the Guardians of the Galaxy. They quickly discover the Earth isn't what it used to be either, when they crash land 30 years after all the world's Super Villains seized control. The former Guardians are accompanied by a Rigellian Recorder, affectionately dubbed "Cora", who documents their mission to find the Black Vortex—an ancient relic reported to yield cosmic powers—before guillotine collars bestowed upon them by The Collector snap their necks.
In the barren, desolate wasteland of the mid-west as controlled by Doctor Doom, they encounter the ageless telepath, Emma Frost (Vanessa Williams), outlaw Ghost Riders, Doomwood locals (Danny Glover), and the bloodthirsty Kraven the Hunter. Who will find the Black Vortex first and what will be the price of its power?
Today, Marvel and SiriusXM hosted a virtual Marvel's Wastelanders: Old Man Star-Lord Cast Town Hall featuring cast members Timothy Busfield, Danny Glover, and Vanessa Williams—along with Executive Producer Ellie Pyle—who unveiled exciting new details about the upcoming series and debuted some exclusive clips for fans in the know! The show debuts with two episodes on June 1, kicking off season one of Marvel and SiriusXM's multi-part Marvel's Wastelanders podcast series.
In conversation with Kyle Anderson, the actors presented first-listens to exclusive clips from the show before taking part in a fan Q+A.
On the character of Star-Lord, Busfield said, "He's a grifter. He's a conman. He's a thief. He has no Super Powers besides audacity. He's a kid of the '80s and he never grows up... It's fun playing that guy, he just doesn't have a lot of respect or rules or anything, he's just that really fun kind of troublemaker." Later teasing Quill's relationship with Rocket in the story, he added, "They go at it. They have a really good time going at it, and when they have to bare down and do work they bare down and do it... Quill's lost his step, and Rocket lets him know it." Pointing to Danny Glover's character, he said, "Red is even more audacious than Quill!"
Danny Glover—who plays Red, an unknown entity until his introduction in the show—described his character as an "agent of chaos." Then he teased, "Red is a part of this past world that exists. He's from the land. He's that connection between the past, that world that did exist, and what exists now. And finding himself a representation of this past. He's a farmer." And while Red has honest beginnings, Glover hastened to describe the storm this farmer gets caught in: "Really, in some sense, Red doesn't know the implications of what's going on... He's a survivor. He's going to survive in any conditions."
Describing the inimitable character of Emma Frost, the inimitable Vanessa Williams said, "The best part about playing villains is that they don't think they're villains." And on the challenge of playing a part like this (and why she's so good at it), Williams noted, "As an actor, you have to throw away the fact that you want to be liked... There's always this lovely balance of seduction and power... I guess I'm a natural at it!"
Ellie Pyle, on the creative process of bringing an audio experience like this to life, added, "It's definitely a challenge but also an amazing opportunity, because audio is such a personal medium. With audio you get to paint the picture yourself." Full of praise for Benjamin Percy's writing, she also said, "A lot of the ability to picture the scene came from Mark Henry Phillips," who provided sound design and original scoring for the show!
This fascinating Q+A then paved the way for a surprise announcement...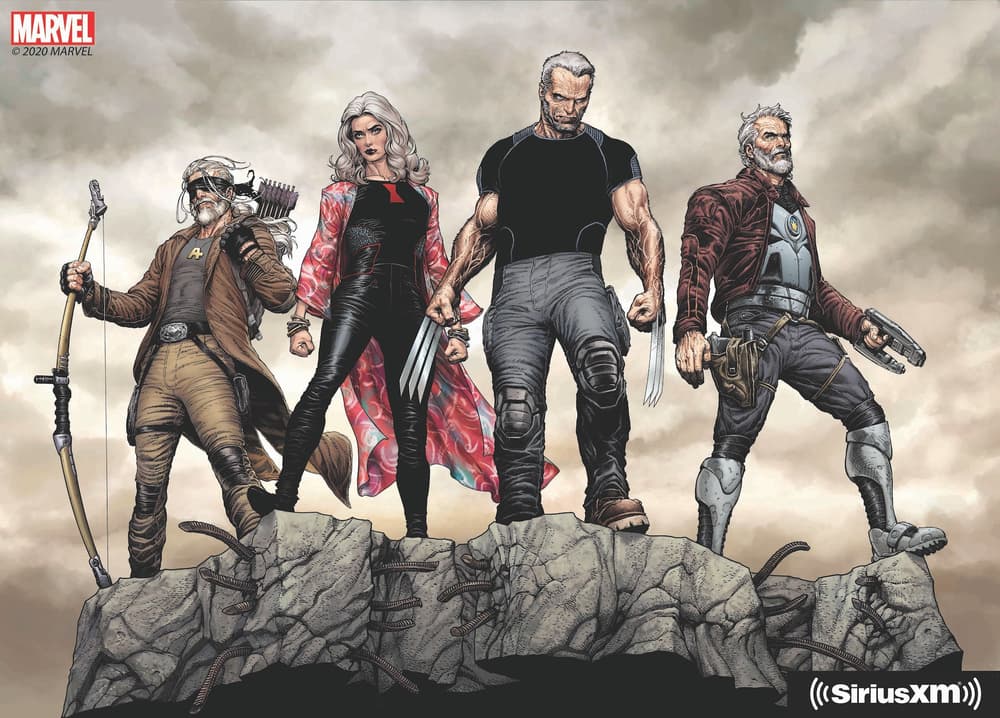 For fans who couldn't get enough, Marvel and SiriusXM unveiled the future of Marvel's Wastelanders.
STEPHEN LANG made a surprise appearance, announcing his role as Clint Barton in Marvel's Wastelanders: Old Man Hawkeye, slated to release soon after Marvel's Wastelanders: Old Man Star-Lord! And SUSAN SARANDON was announced to be taking the mantle of Natasha Romanoff in Marvel's Wastelanders: Grey Widow! (The release date of which has yet to be announced.)
And that was that for the Marvel's Wastelanders: Old Man Star-Lord Cast Town Hall! 
For more information on Marvel's Wastelanders: Old Man Star-Lord, visit www.Marvel.com/Wastelanders—and prepare to listen to the first two episodes of the show, coming June 1 on the SiriusXM app, Pandora, Stitcher, and all major podcast platforms!
The Hype Box
Can't-miss news and updates from across the Marvel Universe!