Podcasts
Published October 13, 2021
'Wolverine: La Larga Noche' Director Alejandra López Discusses Marvel's First Spanish Language Podcast
Read Marvel's exclusive interview with the director of 'Wolverine: La Larga Noche', the retelling of 'Wolverine: The Long Night' in Spanish!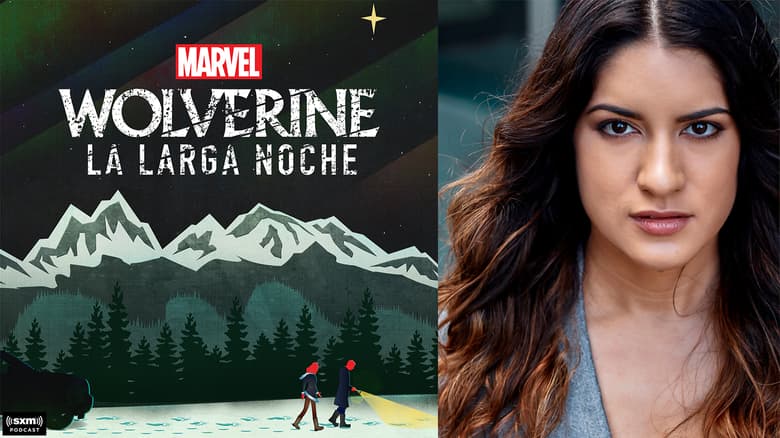 Spanish speakers in the Marvel Universe can rejoice—with the arrival of "Wolverine: La Larga Noche", Marvel introduces its first ever Spanish-language scripted podcast. Following the success of Wolverine: The Long Night, Sirius XM brings the retelling of Wolverine's story in Spanish, with an impressive cast including Joaquin Cosio ("Narcos: Mexico"), Guillermo García ("Mayans MC"), Brigitte Kali Canales ("Star Wars: The Clone Wars"), Iván Bernal, Bruno Bichir, Rafael Sigler, Ricardo Chavez, Marianna Burelli, and Alberto Zeni.
Marvel's Audio Development Manager Brad Barton shared, "Not only can we invite Spanish-speaking Marvel fans to enjoy the dark world that writer Benjamin Percy created years ago for the original English-language version of the podcast, but if you're already familiar with 'Wolverine: The Long Night', it's also an exciting opportunity to hear new approaches to the characters."
Executive Producer Jill DuBoff praised the cast, saying, "'Wolverine: The Long Night' was such a fun and enchanting show, it's a thrill to be able to bring it to a Spanish-language audience in 'La Larga Noche', with some of the most talented actors out there. Hearing this show with those actors gave me chills, and I am excited that even more listeners will be able to enjoy the adventure."
Barton adds, "Alejandra did such a fantastic job guiding the performances from Joaquin Cosio as Wolverine and the rest of the cast.  It's practically a different show from the original English-language podcast!" 
We asked the director of "Wolverine: La Larga Noche", Alejandra López, to describe what it was like to work on a project with many important firsts.
What was your first impression of "Wolverine: The Long Night"?
To be honest, I wasn't aware of how big the audio series world was. I remember listening to "Wolverine: The Long Night" and thinking how vivid and real it all sounded. And, most importantly, how rich the script was, which is the key to a successful project.
Which characters stood out to you?
Even though Wolverine is the best-known character, I was impressed by Special Agent Sally Pierce. Our female protagonist. She's the backbone of this podcast! And I certainly wasn't expecting that plot twist at the end. Brigitte Kali Canales, the actress who lent her voice to Pierce, did an excellent performance and made my work as a director so much easier.
Why did you want to tell this story?
I wanted to tell this story because it reflected how alike are the mutants and the humans. We meet a Wolverine that's on the path of redemption. In search of atonement. A Wolverine that drinks himself to oblivion and spends most of his time by himself. Benjamin Percy, the writer, stated that even though people know him best as part of the X-Men, he is not a team player. He's more of an antihero than a hero, someone who does bad things for good reasons. What a great antithesis. I connected with Logan because we've all been there. Oh, and the fact that it's Marvel's first ever Spanish-language podcast!
When you took on this project, did you already have an idea of what Wolverine's story in Spanish would sound like? For "La Larga Noche", how much ended up being translated vs. being re-interpreted in Spanish?
I knew it would sound more passionate for sure. And the episodes will be longer timewise. I told the Marvel producers (Jill Du Boff, Jasmine Estrada and Brad Barton) we Latinos savor our language. I was quite excited to prove that to them. With all due respect, the first translations I received and read looked like robots translated the material. It was cold and distant and sometimes I didn't even understand the script. I would say more than 50% was re-interpreted, specifically in Mexican Spanish. That's the neutral Spanish in Hollywood.
I'm Puerto Rican and, even though we also speak Spanish, I recognized we have different dialects, so we had Rome Osorio help us out and she did great. During production, I also asked the actors if they felt comfortable with the lines and, if not, we would change it on the day.
How did the casting process go?
Casting was so much fun! I remember auditioning actors that I grew up watching when my mom gave me permission to start watching soap operas. Carla Hool and Marisa Freeman are awesome. I recall our first meeting and we were all on the same page right off the bat.
Were there any challenges faced during recording due to the current climate? How were you able to adapt?
Recording was going to be done remotely but my gut kept telling me not having the actors in the same place and without my guidance so close was going to affect the project negatively. I knew Wolverine: The Long Night was successful and was recorded before the pandemic, meaning the cast and crew were together in the same space. I felt it was harder for me in that sense, but not impossible.
I expressed my concern to our Wave Runner Studios producer Jenny Radelet Mast and Production Manager Talia Shea Levin. Jenny agreed with me to the point that we decided to record our two main characters, Special Agents Sally Pierce and Tad Marshall, in a studio in LA. They were in different booths and so was I. Only a glass window separated us. But we were in the same space and the actors could listen and react to each other in real time. Special shout out to This Is Sound Design's Nathan Ruyle and Bobby Howley for making it happen and keeping us safe!
This is the first time Marvel has produced a Spanish-language narrative podcast. What did you hope to communicate to a Spanish-speaking audience of Marvel fans?
A podcast can't have subtitles so to have my fellow brothers and sisters listen, for the first time, their favorite mutant in their native language must've been a surreal experience. Joaquin Cosio was so good! He was always open to my suggestions and implemented my notes perfectly, which is what the relationship between an actor and a director should be.
The Spanish language is spoken in twenty countries over four continents. It's in the top five spoken languages in the world with over 534 million speakers. Now if that's not a solid market, I don't know what is. I did my research before the interview. Can Marvel produce a Spanish-language TV show next please?
We are so excited this project is now available to the public. Is there anything else you'd like to add about directing this project?
You and me both! Two things. I appreciate the producers so much for admitting to me that Spanish isn't their strong suit and, hence, trusting me fully with this project. I do hope they are truly happy with the outcome as I am.
Second, correct me if I'm wrong, but I was told to be the fifth female director to direct a Marvel project and the first Latina to do so. To be part of history is a huge honor and a big responsibility. All the praise goes to God, not me.  
Listen now to "Wolverine: La Larga Noche", available exclusively on the SiriusXM App and Marvel Podcasts Unlimited on Apple Podcasts. Learn more about the podcast at SiriusXM.com/LaLargaNoche!
The Hype Box
Can't-miss news and updates from across the Marvel Universe!