TV Shows
Published July 11, 2019
'Marvel's Agents of S.H.I.E.L.D.': Izel Is The Creator of the Shrikes
She's on a collision course with Earth!
In Part 1 of last week's "Collision Course," our agents in Marvel's Agents of S.H.I.E.L.D., one in space and the other on Earth, had formed shaky alliances with Izel and Sarge, respectively.
Sarge had warned Mack and his team of the threat of the dangerous Beast, the creator of the Shrikes who are infecting the humans they force into being their host. It turns out Izel is the Beast! With enough Shrikes, she'll destroy their planet — a fate Sarge wasn't able to spare for his own home world. Sarge will stop at nothing to kill Izel, and as we learned last week, even if it means sacrificing Agents Johnson, May, and Deke, as well as his own Snowflake.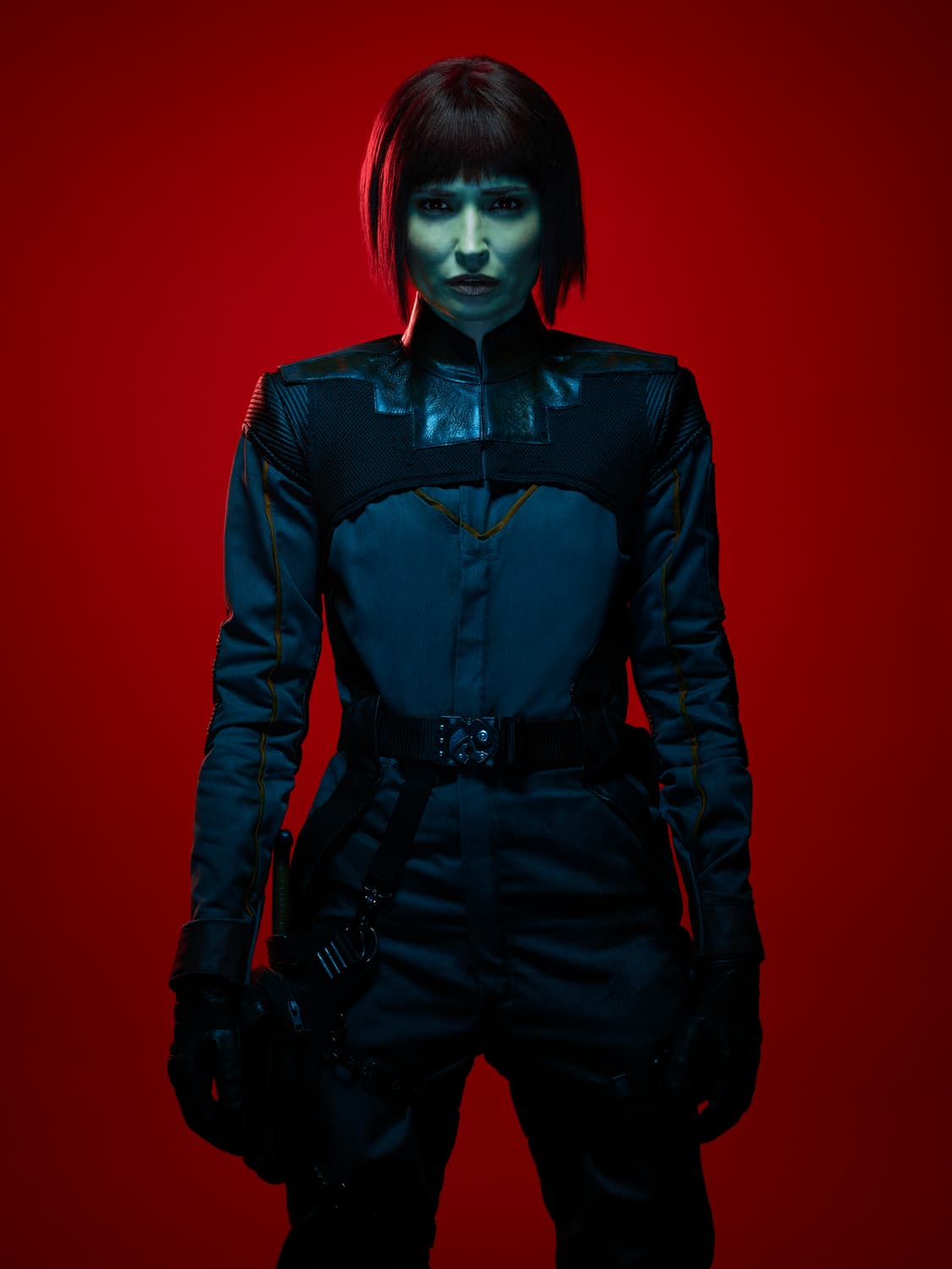 Unfortunately for Agents Fitz and Simmons, they're unaware that the rogue adventurer who is captaining their return ship home is the one Sarge prophesied will destroy their world. In her tale to FitzSimmons, Sarge is the threat as he's been tracking her across the galaxy trying to kill her, lying that he's the one responsible from destroying the Chronicom's Chronyca-2.
Izel tells our agents she's hoping to track down artifacts that were stolen from her world, which can create, move beings through space and time, which she hopes to use to rebuild and save her kind, which Fitz recognized as the monoliths.
Dr. Benson revealed to Director Mackenzie and Agent Rodriguez that Izel, from Incan mythology, is an ancient entity who escaped from "a realm of fear and darkness" and is now searching for these relics called the Dialas (or as we know them, Monoliths) to regain her full power. However, Simmons had not revealed to Izel, and Fitz, that the Monoliths were destroyed at the end of Season 5.
Marvel.com had the opportunity to speak to Karolina Wydra to learn more about her character, the outlaw Izel. See the video above!
Wydra revealed what she loved about the role, "I'm always curious about characters that have many sides to them, and she's definitely someone's that's a lot of fun to play because there's so many things to discover about her. I love strong women, strong characters, and I love badasses, and she's a badass. She gets what she wants through her ways."
"izel creates with the Shrikes these bird-like creatures that can infect humans that control their thoughts and actions, which allows her to control their them," revealed Wydra.
Watch Part 2 of "Collision Course" tomorrow, Friday, July 12, as Izel and FitzSimmons enter Earth's atmosphere heading towards the Shrike tower as Sarge leaves Snowflake, Daisy, May, and Deke in the blast zone on his truck.
Watch "Marvel's Agents of S.H.I.E.L.D." Season 6 on Fridays at 8|7c on ABC! Stream new episodes the next day on Hulu, On Demand or ABC.com.
For more information on "Marvel's Agents of S.H.I.E.L.D.," visit ABC.com, follow @AgentsofSHIELD on Twitter, and like "Marvel's Agents Of S.H.I.E.L.D."on Facebook for all the latest news and updates.
The Hype Box
Can't-miss news and updates from across the Marvel Universe!