TV Shows
Published October 9, 2018
Allegra Acosta on Molly's Quest to Become a Super Hero in 'Marvel's Runaways' Season 2
At NYCC, the "Marvel's Runaways" star spoke about what's to come when the series returns December 21st on Hulu!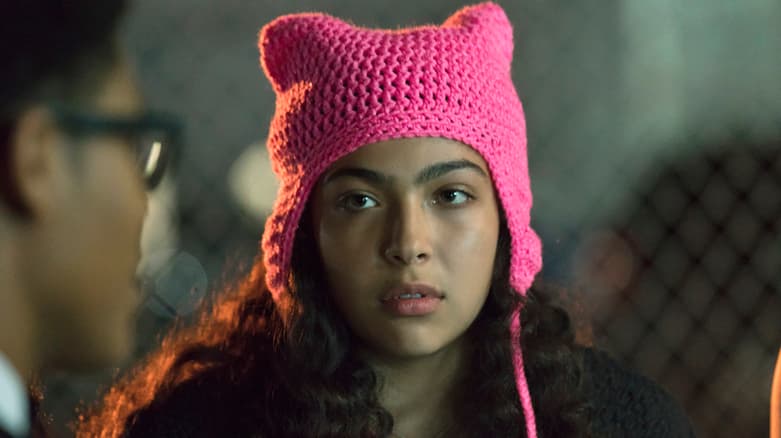 The cast of "Marvel's Runaways" were at New York Comic Con this past weekend for a panel discussion about the series, along with the surprise debut of the entire first episode of Season 2. 
During NYCC, Marvel.com had the chance to speak to Allegra Acosta about what's in store for Molly Hernandez in Season 2. As we learned, the youngest Runaway has some specific ideas in mind about what she'd like to do with her powers when Season 2 debuts December 21 on Hulu… 
Marvel.com: Molly, like her friends, is trying to not be caught by Pride or the cops, but what are her personal goals this season? What's motivating her?
Allegra Acosta: Molly wants to be a super hero! And that's final. I can really stress the fact that she wants to take on this role and do good for the world and take on good karma for the world because of how many things that she's lost. She's lost her family and her home, but she's excited to start this new journey with the Runaways and to take on this role. 
Marvel.com: Some of the older characters began romantic relationships last season. These are people she's very close with. Does she have any opinions on that?
Allegra Acosta: Oh, for sure. In Season 2 you'll see Molly trying to help Chase out a lot. Because Chase doesn't know how to deal with Gert. He tries so hard to communicate with Gert but a sister knows how to talk to her own sister so she's helping and guiding and giving advice to the others on how to communicate with Gert and also she's giving advice in general. She's a very wise, old soul especially considering she's so young so she knows how to control that and take that upon herself to say, "Hey, this is what I think" and they're like "Oh my god, you're so right, Molly!" [Laughs] It's fun to have that kid insight; that youthful, fresh ongoing insight. 
Marvel.com: You have this huge new set with the Hostel, which fans of the comics are excited about. I saw it a few months back and it's amazing. 
Allegra Acosta: Isn't it so pretty? The chandeliers and the trees growing within the Hostel… 
Marvel.com: What did you think walking around that set for first time?
Allegra Acosta: We walked in and I was like "This can't be real" because it's a mansion inside a soundstage. We're fortunate enough to have the biggest set of any Marvel Television [series] and the fact that I get to play in there all the time is so much fun. I'm so grateful to Hulu and Marvel. 
Marvel.com: Will we get to see Molly grow into her powers more?
Allegra Acosta: Yeah, Season 2 she has a little run in with her powers and learning how to control them and learning how to use her abilities to her own strength and her own will. 
For more on "Marvel's Runaways," read about the introduction of Topher in Season 2 and get ready for the entire new season to debut Friday, December 21 on Hulu!
Be sure to follow @MarvelsRunaways on Twitter and like the official "Marvel's Runaways" Facebook page!
The Hype Box
Can't-miss news and updates from across the Marvel Universe!