TV Shows
Published April 12, 2019
Marvel's Cloak & Dagger: Ally Maki and Emma Lahana Talk Shadow Selves on The Marvel After Show
Season 2 is Mayhem!
NOTE: If you haven't watched Season 2 of "Marvel's Cloak & Dagger," there are unfiltered SPOILERS ahead!
The Marvel After Show: "Marvel's Cloak & Dagger" Season 2, the official companion podcast, gives you behind-the-scenes insight with stars Olivia Holt, Aubrey Joseph, and the rest of the cast and creators as they discuss each episode directly after it airs.
On Episode 3 "Shadow Selves," hosts Lorraine Cink and Angélique Roché sat down with Ally Maki (Mina Hess) and Emma Lahana (Brigid O'Reilly/Mayhem) to talk about how their characters are both empowered women who do powerful things.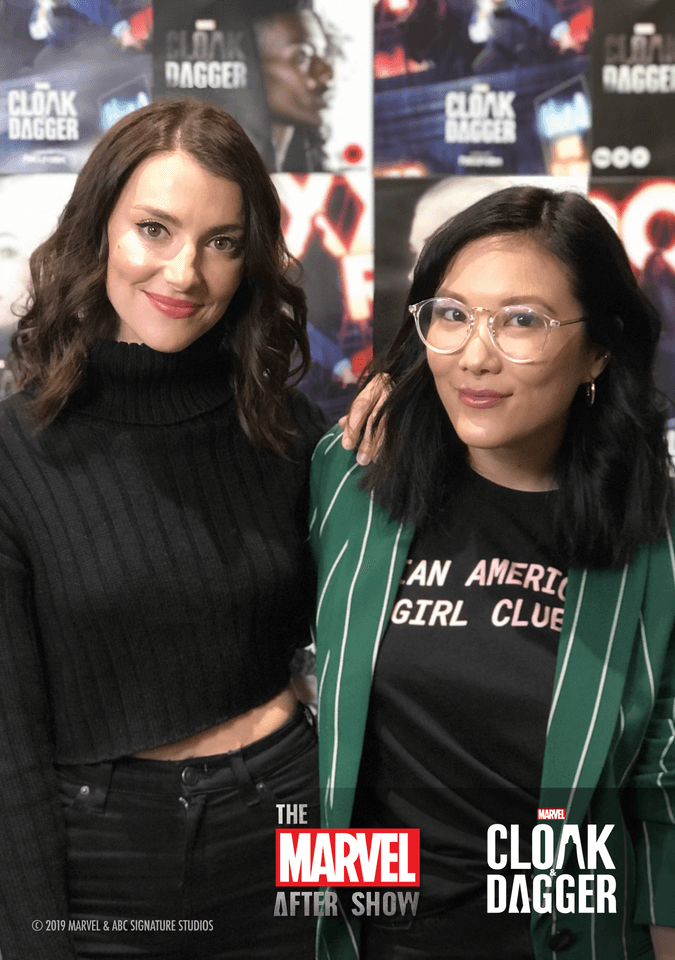 While Mina doesn't technically have powers, she has a powerful sense of self, "I'd like to say that is her power in a sense—which is actually such a cool thing," noted Maki. "Because it's so important for younger girls of the next generation to have these role models to say 'Hey, we can fight things with our minds. The smart girls are the cool girls.'"
Brigid as a character has had a rough go of it, and now with the appearance of Mayhem, Lahana channeled that inner turmoil, "She's kind of this character that's really had me in this position where I get to kind of step back and think about what would I do in these certain situations of the things that I'm passionate about, and the beings in the world that I would want to support and protect if I could." Lahana continued, "And if I was given that situation, if I was given those powers, if I was given that lack of consciousness, how would I behave in those moments with adrenaline—and you don't necessarily know."
Find out more about these two strong characters and their path of resilience in "Marvel's Cloak & Dagger" Season 2, on The Marvel After Show podcast!
Watch "Marvel's Cloak & Dagger" Season 2 every Thursday at 8|7c on Freeform! Stream new episodes the next day on Hulu, On Demand or Freeform.com.
A brand-new episode of The Marvel After Show podcast will be available for download at www.marvel.com/aftershow, Apple Podcasts, Spotify, and your favorite podcast app directly after each episode of "Marvel's Cloak & Dagger" airs on Freeform.
Stay tuned to Marvel.com for the latest on "Marvel's Cloak & Dagger" and Marvel Television! Be sure to follow @CloakandDaggeron Twitter and like the official "Marvel's Cloak & Dagger" Facebook page!
The Hype Box
Can't-miss news and updates from across the Marvel Universe!