TV Shows
Published April 26, 2019
Andrea Roth and J.D. Evermore On the Struggle to Right Wrongs on 'Marvel's Cloak & Dagger'
Plus VFX producer joins The Marvel After Show to talk bringing super powers to life!
NOTE: If you haven't watched Season 2 of "Marvel's Cloak & Dagger," there are unfiltered SPOILERS ahead!
The Marvel After Show: "Marvel's Cloak & Dagger" Season 2, the official companion podcast, gives you behind-the-scenes insight with stars Olivia Holt, Aubrey Joseph, and the rest of the cast and creators as they discuss each episode directly after it airs.
On Episode 5 "Alignment Chart," hosts Lorraine Cink and Angélique Roché spoke with Andrea Roth (Melissa Bowen), J.D. Evermore (Detective James Connors), and visual effects producer Eric McAvoy. They discussed their characters' trust issues and how all that emotion gets reflected in visual effects on-screen for the second season of "Marvel's Cloak & Dagger."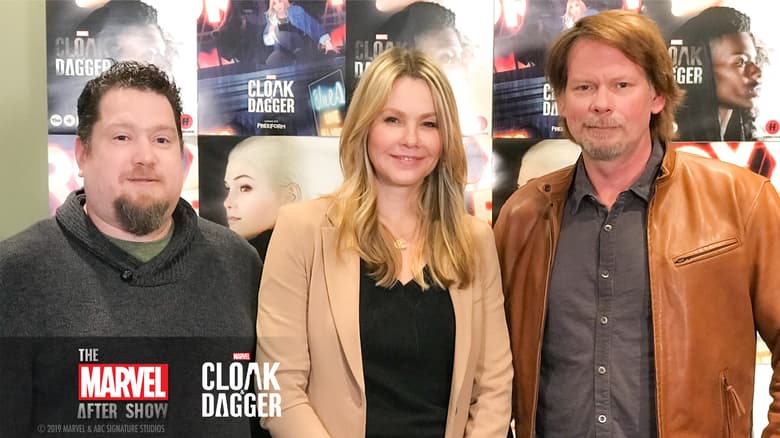 The visuals effects are what makes the Freeform series so amazing to watch. McAvoy attributed that to the fact that the show is based on its source material. "We have a lot of stuff to go on because we have the comic books," revealed McAvoy. "Comic books are pretty much storyboards. For us, it's great because we can say, 'What does the cloak look like in the comic book?'"
"What's great about this show is we're incorporating that this season but, the dark energy is more than just a cloak—it's this misty effect that gets generated by Ty—and we can take stuff from Marvel that's already been established and incorporated into what we do. And that's part of the previous realization process," continued McAvoy. For the VFX producer, the visual effects go hand in hand with the versatility of the actors. "When we finish it, it's pretty cool and we tie it all to acting," said McAvoy. "Acting is extremely important in visual effects, especially in our show, because we go off of emotion. Especially Ty's powers [which] are completely tied to his emotion. When he gets angry, the dark energy reacts to it."
As far as emotion goes, the growth between mother and daughter from Season 1 has been a process for Tandy and Melissa Bowen explained Roth. "We didn't like each other in first season," shared Roth. "And then we decided, no we've adored each other from the beginning." The ease between the actresses was key to their on- and off-screen relationship, "She's just really really great to work with because she's open," remarked Roth. "She's incredibly laser-focused on finding the truth for her character and she's a really really hard worker. When we're working on things oftentimes, because we're both very similar [we say]—I feel like you know a little more warmth here or there should still be some more tension here—and I just I think that we have a really easy language between each other. She's just super cool and fun to work with."
Seeing Detective James Connors' story open up and discovering a new part of the character was eye-opening for Evermore. "Honestly, when I first read it, I didn't know if I could even trust where this was going," exclaimed Evermore. "Is he being real or not, or if he's trying to pull something.... I don't know if I'm gonna pull the rug out from Ty and others at some point, or if I'm being genuine and sincere with this. And so I'm thinking he's been locked away in this place for eight months with nothing but his thoughts and probably trying to figure out what led him to being in this place."
"He's had to confront—minutes, weeks, days—he's thinking about all of these things he's done in his life that have led him to being where he is now. And I think once he finds a way out and gets out, then I guess he's genuinely trying to do the right thing," continued Evermore.
Find out more about how Melissa Bowen and Detective Connors deal with trust issues and overcome emotional adversity in "Marvel's Cloak & Dagger" Season 2, on The Marvel After Show podcast!
Watch "Marvel's Cloak & Dagger" Season 2 every Thursday at 8|7c on Freeform! Stream new episodes the next day on Hulu, On Demand or Freeform.com.
A brand-new episode of The Marvel After Show podcast will be available for download at www.marvel.com/aftershow, Apple Podcasts, Spotify, and your favorite podcast app directly after each episode of "Marvel's Cloak & Dagger" airs on Freeform.
Stay tuned to Marvel.com for the latest on "Marvel's Cloak & Dagger" and Marvel Television! Be sure to follow @CloakandDagger on Twitter and like the official "Marvel's Cloak & Dagger" Facebook page!
The Hype Box
Can't-miss news and updates from across the Marvel Universe!