TV Shows
Published May 2, 2019
'Marvel's Cloak & Dagger' Explores What If Tandy and Tyrone's Lives Played Out Differently in Brand New Episode
Tandy finds herself in a difficult and strange situation in tonight's 'B Sides'!
What if...Tandy Bowen and Tyrone Johnson's lives didn't change that night many years ago?
In tonight's brand new episode, "B Sides," in her quest to bring down the sex trafficking ring, Tandy finds herself in a difficult and strange situation. Not sure what is going to happen, she always has Tyrone to lean on, no matter what the circumstance. 
Beginning with a young Tandy and Ty being rescued by two unexpected individuals! Is history being rewritten?
With her childhood no longer upended, Tandy walks a different path, perhaps even following in the footsteps of her father Nathan. Concerned with the livelihood of the shorebirds, Tandy comes across two more familiar faces while petitioning to save the shorebirds on the streets of New Orleans.
As seen in the new sneak peek at the top of the article, Tandy and Ty are both now working for Roxxon Gulf. Trying to navigate Roxxon's oil rig, Tandy gets lost looking for the machine shop, thankfully she has Tyrone to lean on, in addition to Ty's older brother Billy.
Unfortunately, not everyone is as welcoming to Tandy's presence as the Johnsons are, as Mina Hess wants Tandy off her rig. As Tandy tries to sympathize and level with her for being the only women in a male-dominated field, Mina dismisses Tandy as "Structural Engineering Barbie" and walks away.
What does this all mean, we have to tune in tonight to find out!
To hold you over until tonight, check out this fantastic illustration capturing the series' B Side from Marvel artist Annie Wu!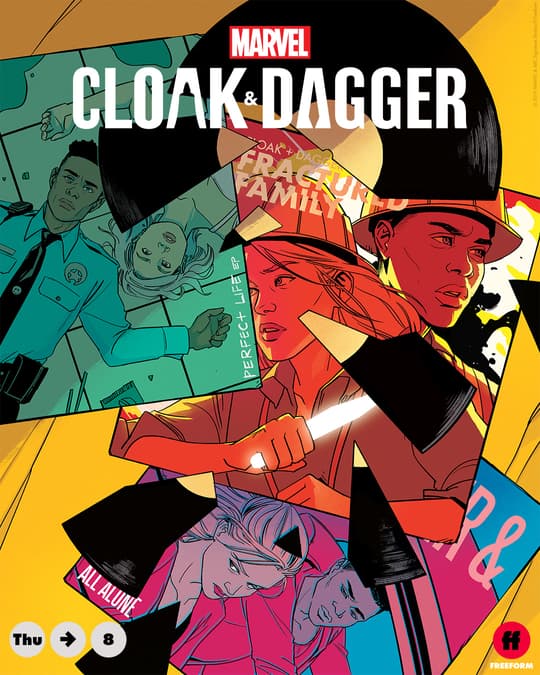 Watch "Marvel's Cloak & Dagger" Season 2 every Thursday at 8|7c on Freeform! Stream new episodes the next day on Hulu, On Demand or Freeform.com.
A brand-new episode of The Marvel After Show podcast will be available for download at www.marvel.com/aftershow, Apple Podcasts, Spotify, and your favorite podcast app directly after each episode of "Marvel's Cloak & Dagger" airs on Freeform.
Stay tuned to Marvel.com for the latest on "Marvel's Cloak & Dagger" and Marvel Television! Be sure to follow @CloakandDaggeron Twitter and like the official "Marvel's Cloak & Dagger" Facebook page!
The Hype Box
Can't-miss news and updates from across the Marvel Universe!