TV Shows
Published April 19, 2019
Go Through The Cloak and Explore The Symbolism Of Old Shopping Malls on 'Marvel's Cloak & Dagger'
Emma Lahana and Joe Pokaski return for a brand-new episode of The Marvel After Show!
NOTE: If you haven't watched Season 2 of "Marvel's Cloak & Dagger," there are unfiltered SPOILERS ahead!
The Marvel After Show: "Marvel's Cloak & Dagger" Season 2, the official companion podcast, gives you behind-the-scenes insight with stars Olivia Holt, Aubrey Joseph, and the rest of the cast and creators as they discuss each episode directly after it airs.
On Episode 4 "Rabbit Hold," hosts Lorraine Cink and Angélique Roché welcomed showrunner Joe Pokaski and Emma Lahana (Brigid O'Reilly/Mayhem) back for another episode. The two discussed the duality of Mayhem and Brigid, and how locations, such as a shopping mall, spark inspiration in the heart of New Orleans.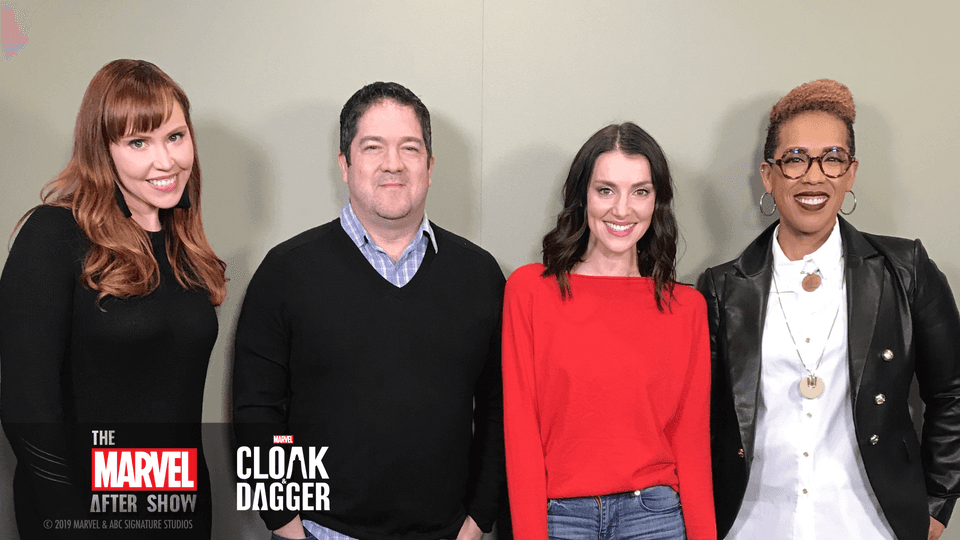 The team of Tandy and Mayhem is an exciting dynamic this season, and Lahana saw how all the relationships seemed to correlate. "There are kind of parallels in a weird way between Mayhem and Tandy, and Brigid and Tyrone. Brigid and Tyrone have this more protective vibe where they see everything from a bigger perspective, whereas Mayhem and Tandy are more in the moment and a little bit more scrappy," described Lahana. "That's why you see more of this team up there and you understand why Brigid and Ty kind of relate to each other more."
Team ups aren't just for onscreen characters, offscreen the "Marvel's Cloak & Dagger" team did their share of bonding while doing research for Season 2, by going on a New Orleans voodoo tour. "It was…a perfect kind of light team bonding experience. We all went and we saw this particular place where these women were brought from abroad—it's the whole story Tyrone tells. And the way it happens you understand that, oh, this might have been vampires coming to New Orleans or it might have been this list of things. But when we were writing Season Two were like, holy crap this is the first iteration of human trafficking in New Orleans," explained Pokaski.
How did old American malls come into play for the Loa Dimension? "The more research we did on Vodun, the same sentiment kept coming back—prayer is transactional," revealed Pokaski. "The best place where lots of different transactions happened were malls. And there's something interesting in America today where malls are going by the wayside in the way of Amazon, the same way religion is." Lahana added, "The mall…was actually really creepy. I'm not a fan of malls in particular. I feel so trapped inside a mall."
When it came to playing two characters, which did Lahana prefer? "It's so different because Brigid, for me it's almost more comfortable because I auditioned as Brigid. Building Mayhem was like another audition because the audition, that's where you really build the character," noted Lahana. "With Mayhem, it was like a whole other thing. I had to build this character kind of from scratch and just hope that it was the right vision as to what they wanted. Mayhem is more fun to play but a lot more stressful."
Find out more about the Mayhem's future and explore more of the Loa Dimension by way of shopping malls in "Marvel's Cloak & Dagger" Season 2, on The Marvel After Show podcast!
Watch "Marvel's Cloak & Dagger" Season 2 every Thursday at 8|7c on Freeform! Stream new episodes the next day on Hulu, On Demand or Freeform.com.
A brand-new episode of The Marvel After Show podcast will be available for download at www.marvel.com/aftershow, Apple Podcasts, Spotify, and your favorite podcast app directly after each episode of "Marvel's Cloak & Dagger" airs on Freeform.
Stay tuned to Marvel.com for the latest on "Marvel's Cloak & Dagger" and Marvel Television! Be sure to follow @CloakandDagger on Twitter and like the official "Marvel's Cloak & Dagger" Facebook page!
The Hype Box
Can't-miss news and updates from across the Marvel Universe!