TV Shows
Published June 13, 2019
Creating the Looks and the World of 'Marvel's Jessica Jones' Season 3
See how they designed the sets and costumes for the show's final season, arriving on Netflix June 14!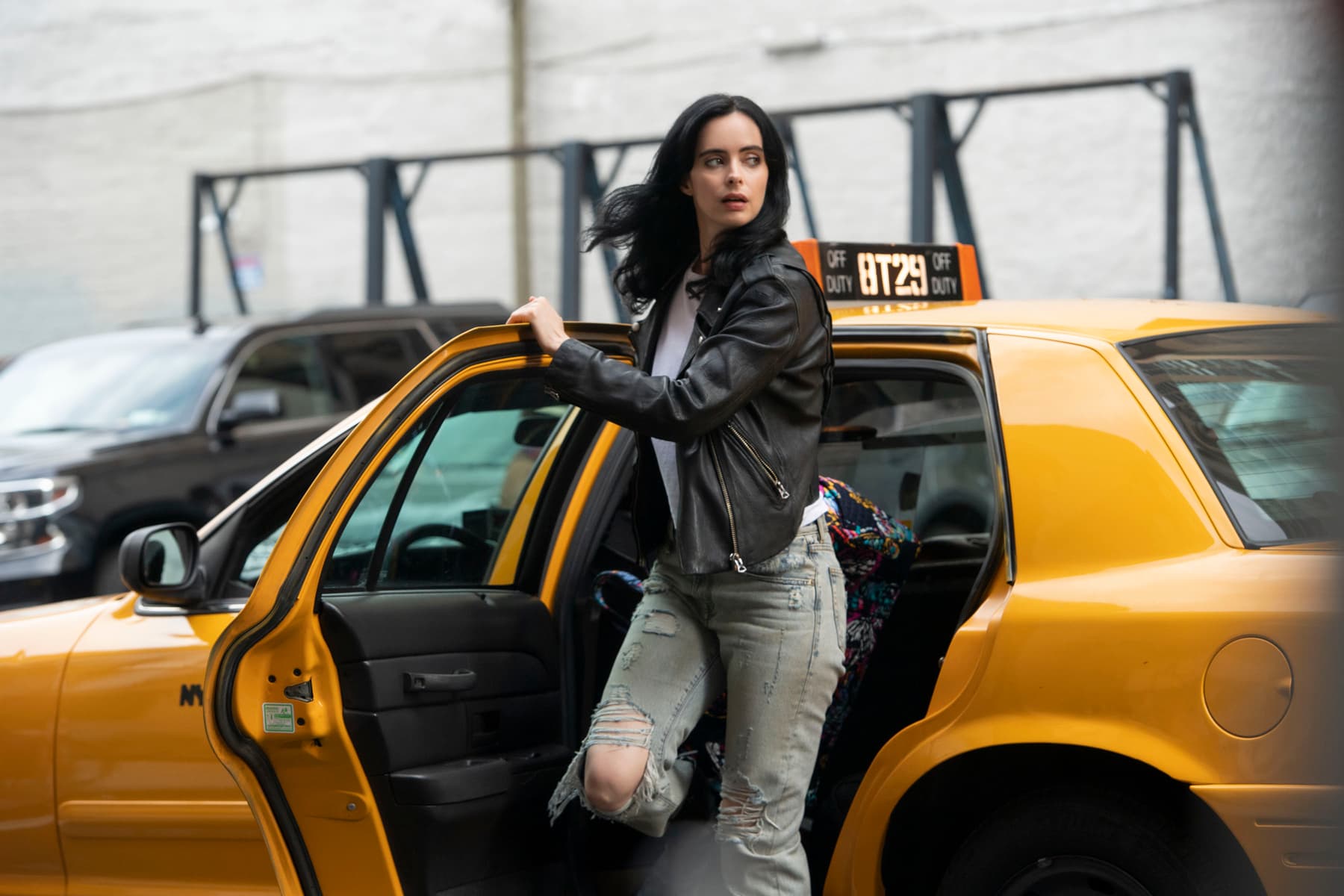 Marvel's Jessica Jones calls New York its home – so what goes into making it look and feel authentic? After three seasons of following Jessica Jones, we know that she and the people in her life have changed jobs, changed homes… maybe caused some property damage to a few of those places. And as their lives change, so do their tastes and appearances.
Marvel.com talked to Production Designer Toni Barton and Set Designer Caroline Ghertler to get a sense of where we will see Jessica, Trish, Malcolm, Jeri Hogarth, and more characters new and old in Jessica Jones this season when it arrives on Netflix on Friday, June 14. We also spoke with Costume Designer Liz Vastola to get the skinny on Jess's favorite jeans and the new professional dudes worn by Trish and Malcolm as they start new gigs.
Another character is also starting to forge a new professional path. Jeri Hogarth (Carrie-Anne Moss) has left her former law firm and started her own practice with a new office. As a way to completely own her new digs, Barton and Ghertler took a few specific things into consideration.
Barton explained that while Jeri's former workplace was in a corporate building in Times Square, her new office is in a new neighborhood. "Between myself and the showrunner, we thought it would be good to put her on the Upper East Side of Manhattan in a limestone. When you watch the show you'll see the exterior. You'll see this bay window, and it matches an exterior [which] matches the street that we shot on. The stairs match the staircase coming up into the location so she has her own private office. There's a law library. There are stairs that go up to other associates' offices to a file room, and there's a conference room and a reception and exterior."
But make no mistake – this place is hers. Said Ghertler: "The feeling here is still very high power, but a little bit more personal in a way. It sort of reflects her tastes and colors that work well with her. We're very interested in having her be an art collector."
She continued: "We also model a little bit of the space after her home. You've seen that kind of lush, sensual quality. The velvet. It's really beautiful, and we did what we could to bring some of that here. There's less modern art over there. The fabrics and the wallpaper… there's a lot of mixing textures in there. Basically we're trying to please a lot of people, I would say."
Barton added: "We're trying to build a character, trying to make sure that character is fulfilled. But it's about the collection as a whole and the peace of mind."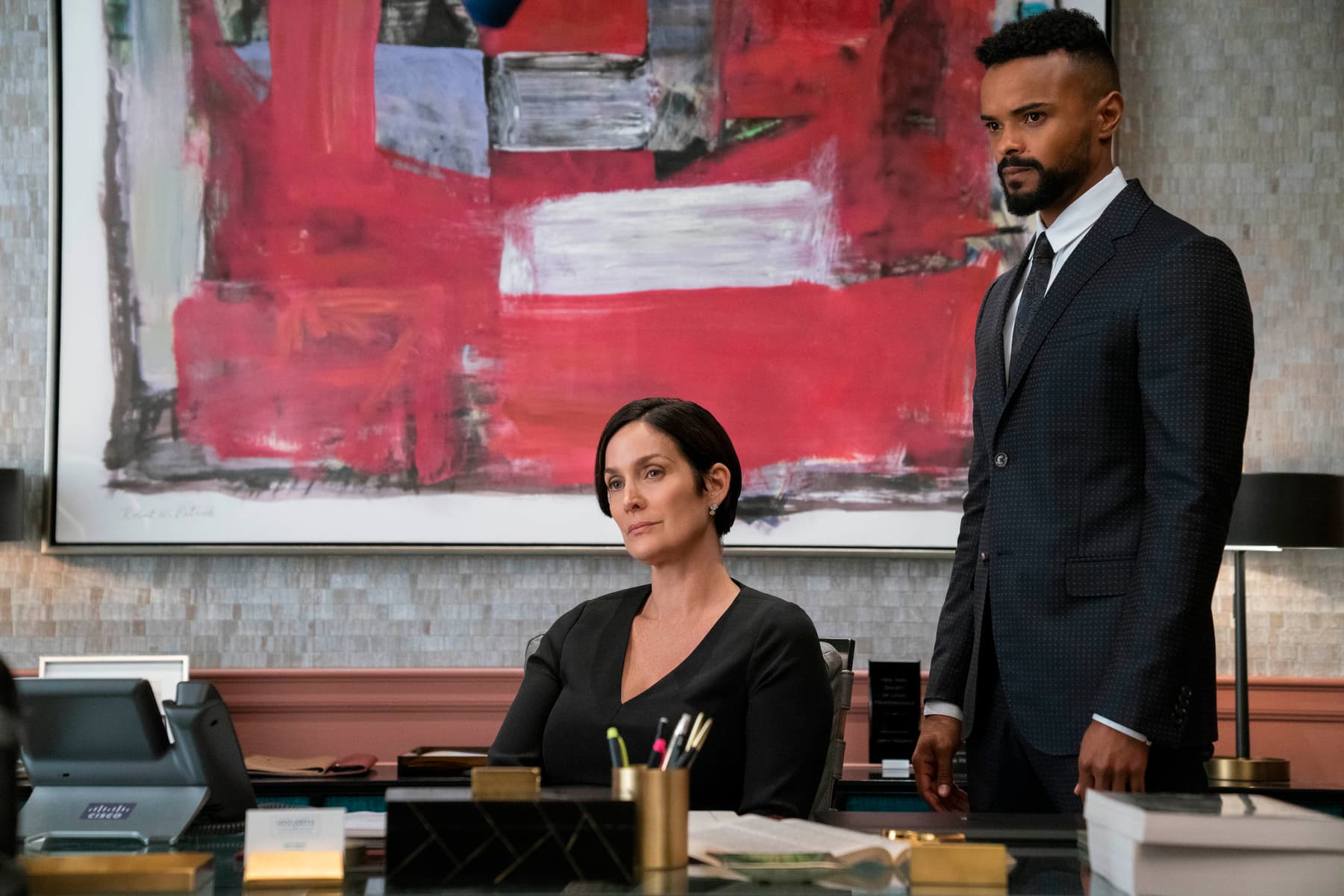 While she may be in charge, Jeri Hogarth is not the only person who will spend time in her office. Malcolm Ducasse (Eka Darville) now works for Jeri. Barton revealed that there is some consideration to be taken in the set design process when shooting two actors with different skin colors. "What's interesting is designing a space for white skin as well as black skin, and making sure that the tones work well with each other [which] can be a problem sometimes. You could see it in multiple shows where it doesn't always line up. So it was a great and interesting challenge here in this world. You still play and showcase Hogarth, but also make sure that we don't wash out anybody else."
The office was painted in a deep aubergine color, which made the space feel austere and rich. The art was specifically curated, as if Jeri had chosen everything herself. The bespoke nature of the office will remind everyone that no matter where Jeri Hogarth is – or, for that matter, what the state of her health is – that she is still the no-nonsense woman we met at the beginning.
Barton: "There's something still very corporate, still very cold and distant about Hogarth. And I think that even if you feel comfortable in here, there's still a coldness and a distance. The metals that are in here are brass, which is warmer than if they were silvers or chromes. But there's something still very much at an arm's distance."
The other set we visited was the set of Trish's new job. After her "stormy" exit from "Trish Talk," Trish Walker (Rachael Taylor) needed to find another gig – that is, a paying one. We are all aware of her personal mission to become a hero herself. But Trish still has bills to pay. In Season 3, she's working for a home shopping show at the fictional channel ARN (American Retail Network), a job that requires her to put on a new version of her public persona. The set itself utilized many of the elements of the soundstage. Said Barton, "We use the sound stage as the sound stage."
"You can see the actual camera inputs coming in, and they shoot all of that, because they have a lot backstage sequences which makes it feel more real."
What Trish is selling on her show is clothing – we were shown racks and racks of brightly-colored sweater sets, shawls, dresses, and more. Because there was so much fashion involved, Barton and Ghertler worked a lot with Costume Designer Liz Vastola.
Barton: "Part of the interesting thing is that if you watch QVC, the sets are white because they want to be as neutral as possible to sell whatever they need to sell. So, it was very important for me and Caroline to work with the costume designer to make sure that our color scheme worked well. But we can't do a white set because that would just overblow on high-definition television. So we did kind of a beige set that allowed the props and the costumes to do what they needed."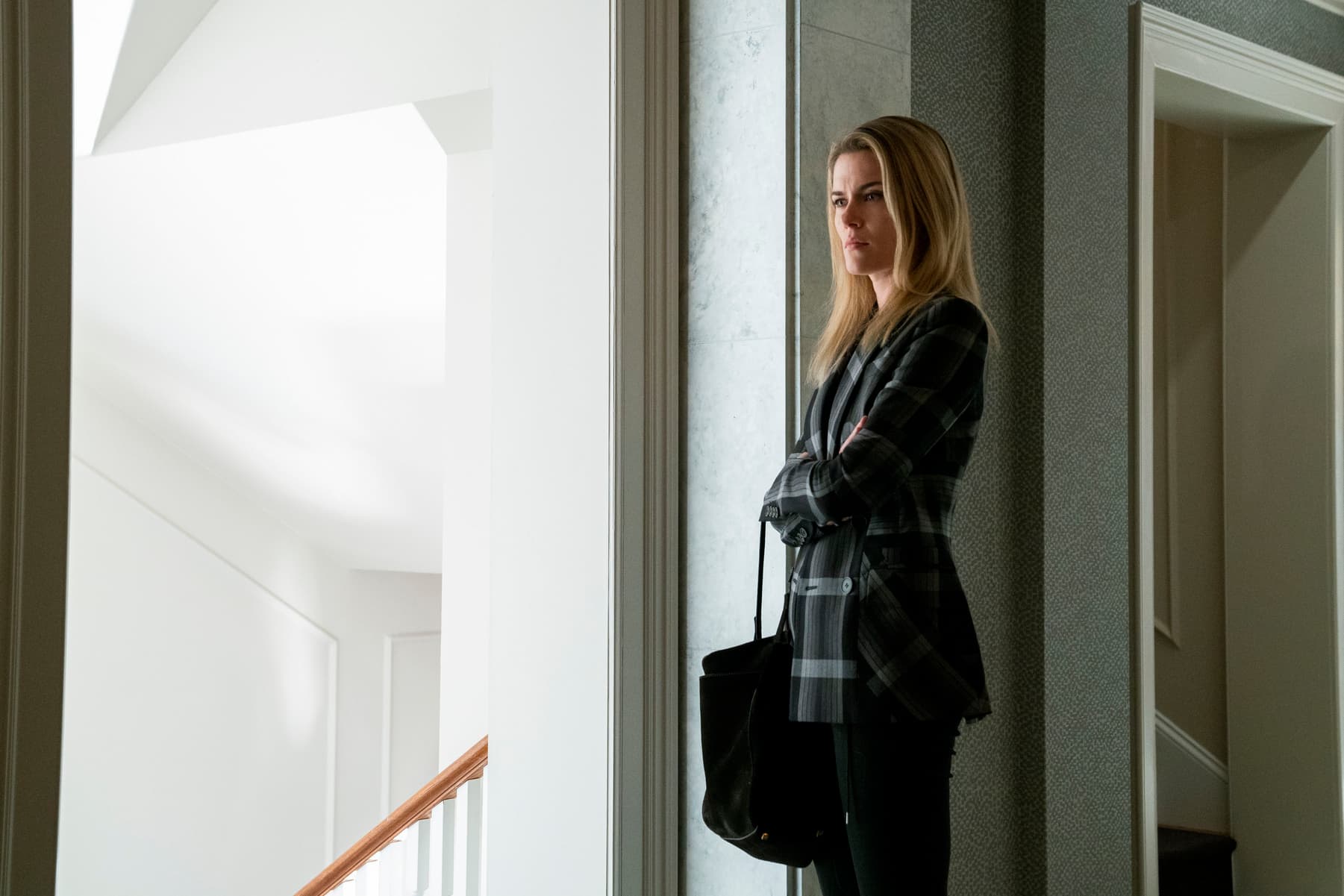 This provides the perfect segue to costume design, namely Trish's look – or looks – in Season 3. Liz Vastola addressed Trish's job and how it affects the way she dresses this season. Interestingly, Vastola described Trish's gig at ARN as "a front."
"She is one of the characters in the Marvel Netflix Universe that really needs to lean on disguise in an interesting way. [Her job at ARN] is like back office work, and it kind of keeps [her mother] Dorothy at bay and it keeps her public persona at bay. So it's not as if everybody's looking for her in the beginning because she is really out there. And we definitely get to turn the notch up on her looks for that show. We've looked at QVC and then just dialed it up to a million. She looks like a little present every time she's out there with her host and the models. It's almost an aggressive amount of showmanship, and it helps when she falls away into the shadows, into her other life."
How much could Vastola share about that "other life"? Not too much, but she did reveal that it was a lot of fun to work on.
"For Trish, we left her in a very active, athletic, dark place at the end of Season 2. And it's been my honor and excitement to help to build this origin story for the Hellcat character this season. We saw a little bit of a hint at it at the end of Season 2, where she's headed. Season 3 for me, it's definitely the most exciting thing to be [part of] a company that has had these characters forever, that people already know and love, and be able to kind of bring my own take into it. Building Hellcat and that whole journey for her through clothing, it's very exciting."
While Trish goes through some changes, Jessica Jones seems to stay the same – her jeans, tee-shirts, and leather jacket are here to stay. With a little wiggle room.
"At the end of the second season, we were able to get her new clothes and breathe a little life into her denim wear and expand a little bit more on her clothing choices. We wanted to show that she was a working investigator, making choices about what she was wearing and not necessarily going to the old go-to pieces. I think in Season 3, we even pushed a little bit further, although it's still the same Jessica that we're used to."
Vastola also revealed a few secrets about Jessica's jacket. For one thing, there are seven or eight jackets in use during the course of a season. The specific style worn by Krysten Ritter in the series is also discontinued and reconstructed.
"In the beginning it was an issue because it was an Acne jacket that ran out, and Acne wasn't making it anymore. And they sort of weren't interested [in making it again for the show]. But then our brilliant tailor and team figured out a way to reconstruct it and make it using the Acne hardware and finding leather in the city to come up with a new version of it that matched the old version. That what you see in the flashback episode, Episode 207. That was a really interesting issue because she needed to have a shiny new version of her jacket which did not exist. That was a huge amazing triumph that we were able to do. And that's kind of my failsafe at this point, knowing that in that worst-case scenario, we could make a new one. That being said, those jackets are taken care of as if they were the Daredevil suit. They are very prized possessions."
When it comes to Jessica's jeans, some of those holes are pure fashion, but some of them were earned.
"She's forthcoming in what she feels toughest in, like screwed-up jeans. And maybe she put those holes there maybe she didn't. But they're giving her a veneer of 'Don't talk to me.' It's not an inviting look at all. I'm fine with her wearing jeans that are pre-distressed, but I have to put my Jessica hat on and [think] would she look at this and [think] it's too much. She has her own point of view. And then some jeans we get and we distress ourselves, or she'll bust a hole in them with a stunt."
There are also multiple pairs of jeans, some of which are customized to provide more movements during stunts. Vastola described some methods used, like "inserting stretch into the seams" or completely remaking a pair in stretchy material.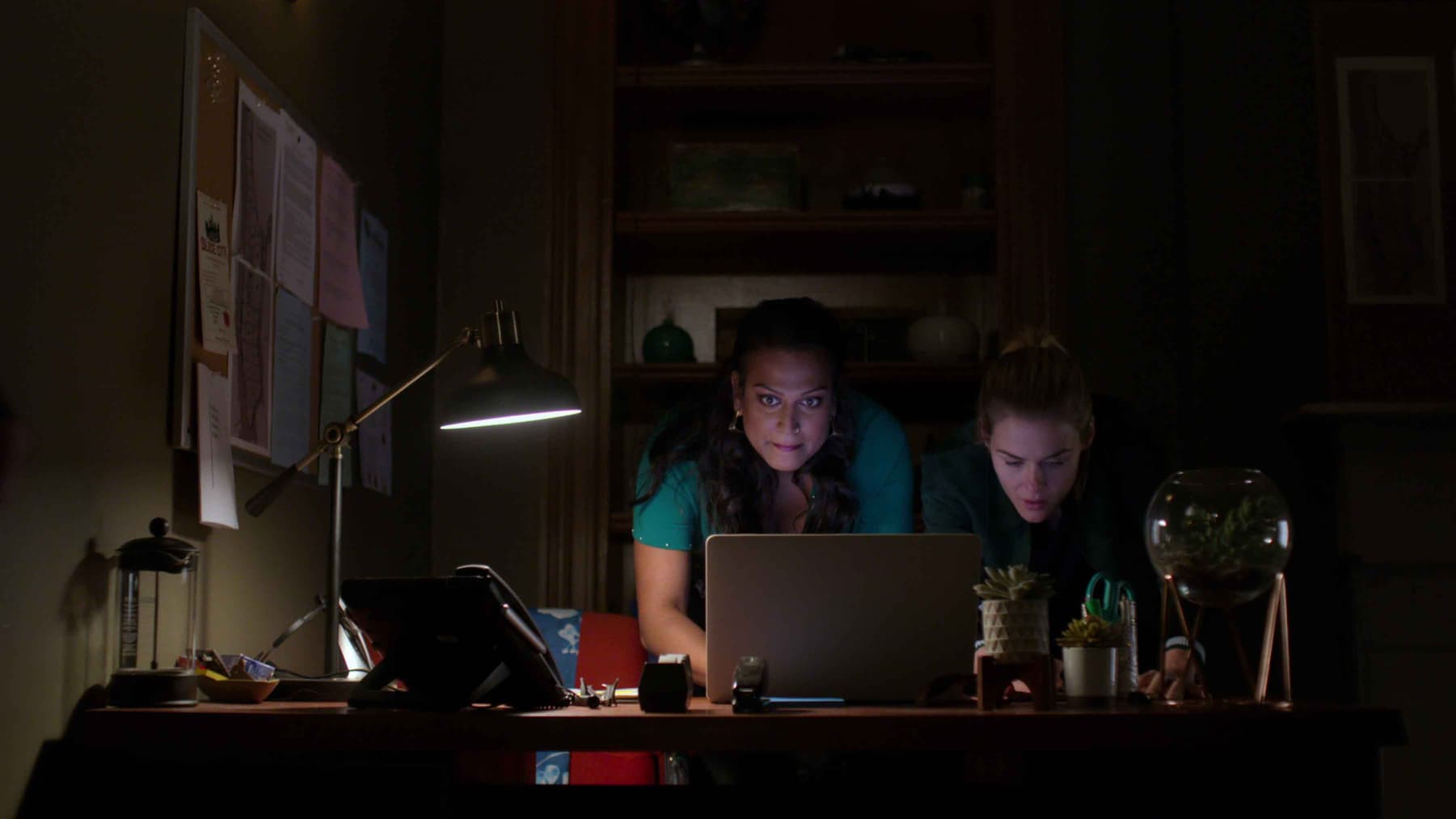 Jessica Jones remains a classic and Trish is a chameleon – when it came to dressing the two new characters coming this season, Gregory Sallinger (Jeremy Bobb) and Gillian (Aneesh Sheth), they also required very mindful approaches. Sallinger wants "to blend into his surroundings and never call attention to himself. I think we take that to the extreme on our show. And his palette is very, very muted, very anonymous. He's really using clothing in a way to be nobody in a sense, or be anybody." Vastola referred to his wardrobe as an "anti-costume" design.
Gillian, on the other hand, was a lot more fun. "Gillian is so fun because she works for Jessica, and that space, the Alias office, is very dark, very dingy. I feel like when you're in there with Jessica, you also sort of feel hungover. It's very hazy and misty. And Gillian comes in there and just blows the doors off the place, and it's just bright and colorful, but still feels very 'city' and strong. And in some ways, it's a really interesting foil for the way Jessica dresses. She has a similar sense of self, but instead of disregarding clothing in a way, she's much more embraces it as a form of expression. It's been great dressing that character. It's very feminine but still very strong, and a really great match for Jessica."
All of this will be on full display in Marvel's Jessica Jones Season 3, coming to Netflix on June 14!
You can stream "Marvel's Jessica Jones" Season 1 and Season 2 now on Netflix.
Marvel's Jessica Jones stars Krysten Ritter as Jessica Jones, with Rachael Taylor as Trish Walker, Carrie-Anne Moss as Jeri Hogarth, and Eka Darville as Malcolm Ducasse. The series is executive produced by showrunner Melissa Rosenberg along with Marvel's Jeph Loeb. Marvel's Jessica Jones is produced by Marvel Television in association with ABC Studios for Netflix.
The Hype Box
Can't-miss news and updates from across the Marvel Universe!