TV Shows
Published October 12, 2021
Elizabeth Olsen Reflects on Wanda Maximoff's Journey from 'Avengers: Age of Ultron' to 'WandaVision'
The deluxe 'Marvel's WandaVision Collector's Special,' out now, takes you behind-the-scenes of the hit Marvel Studios series!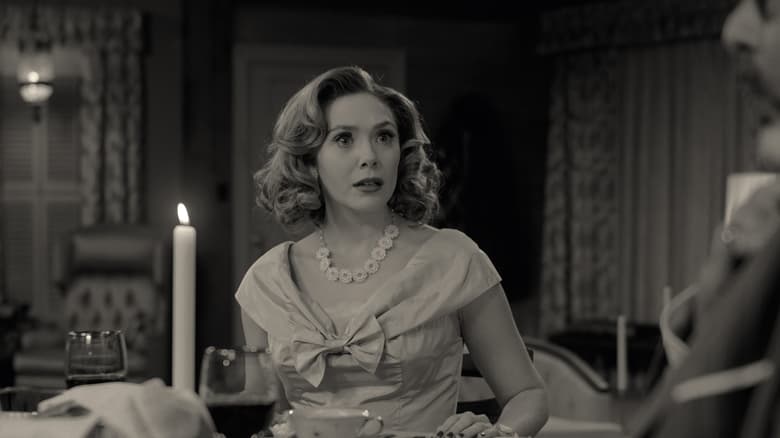 Elizabeth Olsen made her Marvel Cinematic Universe debut as Wanda Maximoff in the end credits of Marvel Studios' Captain America: The Winter Soldier and then fully in Avengers: Age of Ultron. Wanda endured a lot of loss and pain through her MCU journey, and it all bubbled up to the surface as she accepted her prophecy as the Scarlet Witch in the first original series for Disney+ with WandaVision, all episodes now streaming on Disney+.
Titan Comics, in partnership with Marvel, drops a deluxe hardcover, Marvel's WandaVision Collector's Special, which is now available everywhere books are sold. Grab a copy from your preferred retailer!
Go back to Westview, the mysterious town where nothing is as it seems, with this official guide to the Marvel Studios and Disney+ phenomenon that is WandaVision. The deluxe collector's volume features all-new interviews with the cast and crew, such as Elizabeth Olsen (Wanda Maximoff), Paul Bettany (Vision), Kathryn Hahn (Agatha Harkness), Randall Park (Jimmy Woo), Teyonah Parris (Monica Rambeau), Kat Dennings (Darcy Lewis), and the head writer of the series, Jac Schaeffer. Learn the backstories of the beloved super-powered couple, Wanda and Vision, profiles of all the new characters (and returning favorites), as well as an essential episode guide detailing all the magical twists and turns! With stunning photography, insightful trivia, and an in-depth episode guide, Marvel's WandaVision Collector's Special is essential for all fans of this most intriguing show from Marvel Studios!
Thanks to our friends at Titan Comics, we have a preview of Elizabeth Olsen's interview, below!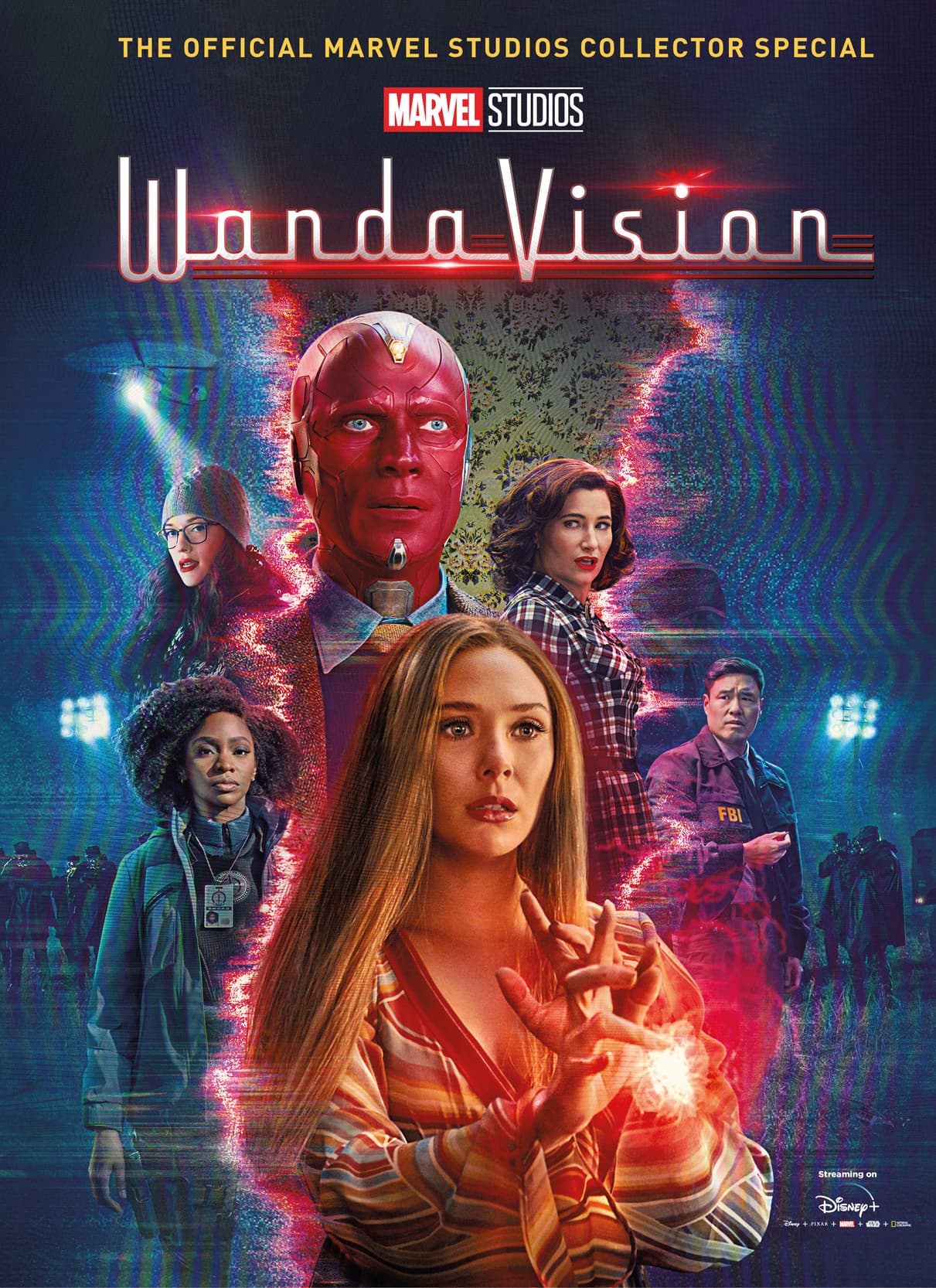 What was Wanda's journey through the Marvel Cinematic Universe like?
ELIZABETH OLSEN: Joss Whedon [writer and director of Marvel Studios' Avengers: Age of Ultron] really loved Wanda a lot, and was so excited to bring her into the MCU. He was teeing me up for possibilities that he didn't know if we would actually fulfill or not. But he still wanted to create just little Easter eggs. So we would place Easter Eggs in certain places, like a glance too long with Vision.
And then, obviously, her emotional journey was the loss of her parents, and Wanda and her brother becoming these rebel fighters in Sokovia before realizing where the good fight was, and wanting to be a part of it. In Marvel Studios' Captain America: Civil War, we find Wanda just completely without any family now, without any anchor, and being completely alone. Wanda was trying to figure out her own place in the Avengers compound and finding solace in Vision, finding a friend in him, while also dealing with her own shame of who she is and not really understanding it. And then we kind of further that story in Marvel Studios' Avengers: Infinity War.
And I think Paul [Bettany] and I both really believed that, as much as it's fun to be part of the humor and the playfulness of the Avengers, we've created an emotional foundation for our characters that doesn't play around with irony, really. Which is kind of odd in these movies, when so much is ironic and funny and fun to watch. But it's also kind of lovely.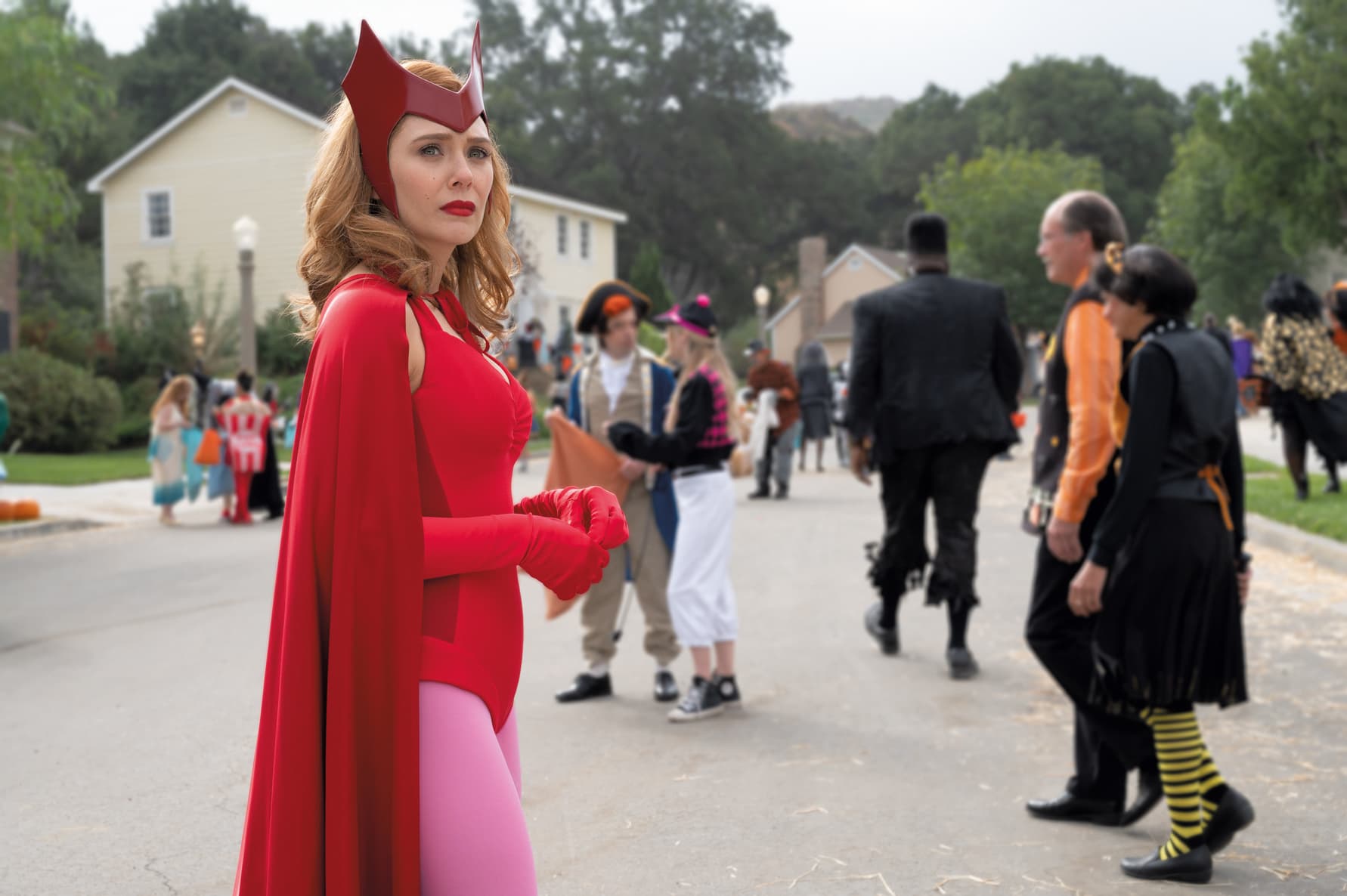 What was your reaction when you first heard the concept for WandaVision?
ELIZABETH OLSEN: The first time I heard about the concept was in [Marvel Studios President] Kevin Feige's office, and I thought it was brilliant. And we are putting our own spin on it, like we always do. And I just think it's going to be so shocking and confusing and exciting for our fans to dissect what we're doing and why.
WandaVision is heavily inspired by different eras of television history. How did you and the team approach that?
ELIZABETH OLSEN: For the first episode, it's the 1950s. There are no close-ups. We filmed it in front of a live audience. And that bleeds into the 1960s, the second episode. That's when the camera starts coming inside the show, and the tone doesn't change too much. We allow Wanda to become more of a modern woman, instead of trying to play the housewife.
The thing that we loved so much in the '50s and in the '60s in those shows, is that the marriages were really funny and honest, lovely and beautiful. And then we get into the '70s and the '80s, that's when it's really about all the lessons we're gonna learn, and all the sighs with the audiences and all the fake sounds. And then the '90s, we make a big turn to things being cynical — it's about kids creating distraction, and parents can't control their kids. That leads us then into the modern era, where it's just like straight, flat, cynical. Everyone's kind of angry and depressed, but there's so much love underneath.
How was it shooting in front of a live audience?
ELIZABETH OLSEN: I've done theater before, but shooting a TV show in front of a live audience was like a strange meta experience for me. I grew up on sitcom sets, watching these live tapings on Fridays, never thinking that would ever be my reality, truly! I wish we got to do it again, because you always learn when you have an audience. You learn more about the timing. But it was magical. It was amazing, and even our director of photography, Jess Hall, has done such an honorable job for every decade by using the lighting equipment and the camera lenses [of that era]. And the show looks so authentic, because he is truly re-creating the experience, decade by decade.
Every episode of Marvel Studios' WandaVision is now streaming on Disney+.
Want more exciting information about Phase 4? Find the latest Marvel Cinematic Universe news right here — and stay tuned for more!
This is just the beginning of the Phase 4 news. Stay tuned to Marvel.com for more details! And be sure to follow Marvel on Facebook, Twitter, and Instagram.
Looking for more Marvel movies and shows to stream? Check out everything on Disney+, Hulu, and ESPN+ right here, and where to find all your favorite Super Heroes right here. Sign up for Disney+ and start streaming now!
The Hype Box
Can't-miss news and updates from across the Marvel Universe!