TV Shows
Published May 31, 2018
Executive Producers of 'Marvel's Agents of S.H.I.E.L.D.' Discuss the Season 5 Finale
Did our agents save the world or save Coulson?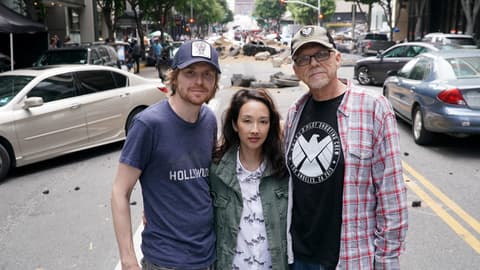 Agents, we know you're all pumped with the news that "Marvel's Agents of S.H.I.E.L.D." is returning for Season 6! But have you recovered from the earth-shattering (figuratively, thankfully) Season 5 finale?!
Our agents prevented the end of the world and Daisy didn't fulfill the Destroyer of Worlds prophecy, but at what cost? Weighing on our agents the past few episodes of Season 5 was: do they save Coulson with the Centipede serum, or do they save the world by injecting Talbot AKA Graviton with a mixture of the serum and Odium? Does the team break the time loop they've been stuck in all season?
Marvel.com talked to the executive producers and showrunners of "Marvel's Agents of S.H.I.E.L.D." Jed Whedon, Maurissa Tanchaeroen and Jeff Bell about the finale episode titled "The End." [Note: This interview was conducted before the Season 6 announcement and the Season 5 finale was written as a series ender as they awaited news about the Season 6 pickup.]
Marvel: Right off the bat, you've never killed your children before. How could you do that to Fitz? After making him part of Invincible Three, and letting him get married, why Fitz?
Maurissa Tanchaeroen: That's exactly why. We'd given them way too much happiness. It was time to take it away. But you know, there's the loophole.
Jeff Bell: Plus, you know we had a fix in our pocket so —
Jed Whedon: In a season that was about time, which we don't recommend to any other writers out there, we had a couple of big problems we had to solve in our writers' room and one of them was this problem of Fitz traveling back in time and where we would place them and it was this big discussion. We spent a lot of time with this problem and at some point we realized, "Wait a second, this isn't a problem. It's an opportunity." We always refer to writers' problems as writers' opportunities. We got pretty excited that we could get a real emotional impact and we knew he would give that.
Marvel.com: I was destroyed.
Jed Whedon: We were excited about that and the fact that we had a loophole.
Jeff Bell: We didn't feel like it was like buying it back. There are some fans that are like "What about the Fitz in space?" And they will feel so smart. Hopefully, they will forget for about ten minutes and then go "Oh wait!"
Marvel.com: Our team, they've had quarrels before but at the start of the episode, it really felt that there were going to be a lot of hurt feelings. I know towards the end of the episode, apologies were made but do you think they can move on as a team, together, after realizing that there are always going to be decisions made that really went against the mission of S.H.I.E.L.D.?
Jed Whedon: We'll have to see how that plays out in a — fingers crossed — next season. But one of the things that we felt about the last act of is it that after all the devastation and their little retirement party that they've been brought together by all this pain and as Coulson says, "We've all suffered losses." And him saying that is him saying "We've all been in this position. We all have separate reasons for doing things we do and feeling the way we feel and that unifies us." So, whether or not some of this ripples into another season we'll wait and see but we do think the bond is going to seem stronger than ever.
Jeff Bell: I always say one of the things we love about the show and there are even pieces of it in this episode — is it's about heroes. It's not anti-heroes. It's about people who are working for the larger good. Sometimes they disagree on what the larger good is but in the end they find a way to come back together. That's also something I love about this team. They fight, they disagree, but they find a way to come back together at the end.
Marvel.com: Did you always know that you wanted Mack to be the new Director?
Maurissa Tanchaeroen: Coming into this season, we definitely had a lot of conversations about Mack the character and Henry [Simmons] as an actor. We just saw the potential in him really being in the forefront this year and that's sort of what we lead up to, story wise.
Jed Whedon: We're sort of returning to the dynamic that we established in Season 3, which we loved, which was Mack and Daisy as partners and that sort of brother-sister feeling they had between them. It's something that we think really shines and the idea that as she's losing a father figure she's gaining a sibling, and letting that dynamic play and her realizing his strength and also realizing her own strength. We think of this moment of her installing him as director as her greatest leadership moment. It's the thing that Coulson wanted her to do is figure this out, as he said, he couldn't have said it better himself. We don't think of it as her not being a leader of this team. She clearly is.
Maurissa Tanchaeroen: It's still a part of her journey of becoming a leader.
Jeff Bell: The other piece of it is there's not a lot of distance between Henry and Mack. Henry really does bring a grounded decency and that moral compass to everything he does and we've learned into that writing Mack. So what we all and Daisy sees in that character didn't make it a huge surprise when she handled him the mantle.
Jed Whedon: We see in a previous episode — Mack and Yo-Yo haven't been able to resolve their stuff but they have to work together to try and go after Talbot and try to save lives. His speech during the first argument saying that they're held together by hope, he's the one who is carrying that torch. I think that Daisy sees in him the things that are needed and she's smart enough of a leader to make him the leader.
Marvel.com: Echoing what Jemma said in the finale episode, that the agents are very different people from when they first walked on to the bus. Where do we see all of our characters at the end? Is S.H.I.E.L.D. now all of a sudden okay again? Especially after seeing this whole organization — after seeing another leader defect. What is S.H.I.E.L.D.'s standing with the world?
Jed Whedon: You know, we don't really know. That's a little bit of a mystery
Jeff Bell: It's complicated because of the movies.
Jed Whedon: But we did want to put into this episode a moment where the people of the city are in peril, they hear that S.H.I.E.L.D. is coming and they're relieved and a little bit of the sense that the public still wants S.H.I.E.L.D. to be in their lives and wants them to be the heroes they're supposed to be. And how that plays —
Maurissa Tanchaeroen: And their standing with the world is something we hope to define if we get another chance to tell more story.
Marvel.com: The season was really emotional and provided more layers to Agent May. After laying her feelings on the line, where does she go from here? Does she retire? I don't think this is on the lines of Bahrain but I feel like she's also been through a lot, like FitzSimmons.
Jed Whedon: Yeah, she has and I think that given another season, I think we will see a different side of May, a changed May. She and Coulson really were sort of the veterans and she's also someone who has moved into a leadership role when she did not intend to. At this point, everybody on that plane is someone in that role and will probably have to fill the ranks in some way.
Marvel.com: Now that they don't have to operate in the shadows or underground, does that mean that Daisy has been absolved from fake Daisy shooting Talbot in the head?
Maurissa Tanchaeroen: These are all really great questions. You're giving us great ideas right now of all the things we need to tackle if we have a season 6.
Jed Whedon: But I will say, usually there's a bit of feeling as the world is almost torn apart.
Maurissa Tanchaeroen: With the display of heroism they showed in Chicago, I think that they will be absolved of all —
Jeff Bell: The last world perception of Talbot is antagonistic and she's the one who defends and saved people from him. So I think she has a pretty good chance of not going to jail.
Marvel.com: Just between us, is Deke out having fun in Chicago, and he didn't just disappear from existence?
Jeff Bell: Just between us that's a great question.
Maurissa Tanchaeroen: We hope to see some online debate about whether he blinked out of existence or is still around.
Marvel.com: I just want him drinking Zima in Chicago.
Jed Whedon: He's right now touring the Zima factory.
"Marvel's Agents of S.H.I.E.L.D." will return for Season 6 on ABC. For more information on "Marvel's Agents of S.H.I.E.L.D.," visit ABC.com, follow @AgentsofSHIELD on Twitter, and like "Marvel's Agents Of S.H.I.E.L.D."on Facebook for all the latest news and updates!
The Hype Box
Can't-miss news and updates from across the Marvel Universe!