TV Shows
Published May 10, 2018
Marvel's Agents of S.H.I.E.L.D.'s Adrian Pasdar on the One Who Will Save Us All
Get a glimpse of Pasdar's Graviton in a sneak peek of tomorrow's new episode!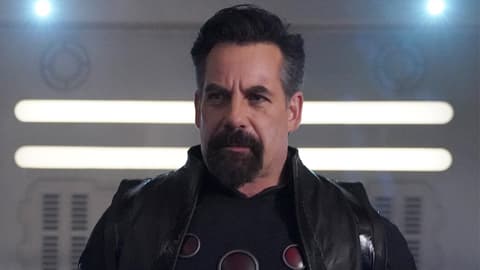 In last week's episode of Marvel's Agents of S.H.I.E.L.D., we witnessed a newly determined Talbot, whose cells have been bonded by gravitonium, take Coulson to face the Confederacy and attempt to stave off the destruction of Earth.
Speaking with Marvel.com, Adrian Pasdar discussed General Talbot's mindset, the one who will save us all, and what we can expect from his alter-ego, Graviton. Before you dive in, we have a sneak peek at this week's next episode where Talbot reconnects with his family, see above!
Marvel.com: This week's episode is a real doozy. As we saw in Episode 519, you absorbed all the gravitonium and now, not only do you take on the mantle of Destroyer of Worlds, you're also Graviton. Can you share with us what you thought when you found out that you were taking on this character?
Adrian Pasdar: Well, this was — they told me about it in the beginning of the season that this was where we were going. The hardest thing about the whole thing was keeping it all under wraps, which is something Marvel is able to do really well, as you know. That's the hardest thing, keeping it all quiet and not really shooting on location and being controlled on the set and not letting people see the suit. I knew about it from the beginning so it was fantastic and so exciting to bring it to life.
Marvel.com: Did you read any of the source materials just to like get you ready for the mindset?
Adrian Pasdar: Oh yeah, when I talked to Jed [Whedon] about it, it was very exciting because when you look at the Graviton from the 1977 comic books, it was very similar to what we ended up doing costume-wise. While the genesis of the character comes from the comic books, we had to tie it into the real day, modern-time situation that we're in. It was kind of a cross between a historical manifestation of who the character is, infused with present day where we are, and how it's observed in this show. That was really fun to put together.
Marvel.com: So in this episode we see that your character is trying to face off Qovas and the alien Confederacy. Talbot tells Coulson that this is war and it's time to assert dominance. Is that remnants of the old general or is that a glimpse into the man who now has limitless powers?
Adrian Pasdar: Well, I think what makes it interesting is that it's a little bit of both. You know what I mean? He feels he's being driven by who he is and his personality and his desire, his discipline and his sense of patriotism, country, family. He feels he's being driven by that and yet at the same time he's taken a hundred percent of the gravitonium so there are a lot of other things in his way, a lot of other things and influences in his psyche. Which one is going to win or who is going to be dominant is kind of the struggle everyone wrestles with on gravitonium and is it going to serve or distract from his perceived mission? I guess that's the whole thing.
Marvel.com: How does he quiet all the voices from the gravitonium?
Adrian Pasdar: Nobody has taken a hundred percent of it yet. It's not similar to the other characters' experiences for instance, Creel. It's arguable that within Talbot there was a tremendous amount of discipline and that his shell was cracked by being brainwashed with HYDRA. Yet underneath it all, there's a real sense of discipline, order and structure. He's a military man and not just a military man but a lifer and general and a leader. Maybe that sense of discipline and sense of order and structure serves him well and he's able to fight off the voices that have brought everyone else down. But we haven't seen the last of…we don't know where it's going to manifest or how it's going to end up.
Marvel.com: There's a lot of anger and resentment brewing in Talbot. He wants to join the Confederacy. What is his play now especially as he views Coulson as a constant antagonist in his life and career? Does he fully align with S.H.I.E.L.D. if he joins the Confederacy?
Adrian Pasdar: That's a great question. More than trying to join the Confederacy, Talbot's trying to get the Confederacy to join him. He thinks he's the center of everything. "If they won't do this, I'll do it for them" kind of thing.
Yes, Coulson and Talbot have always had this contentious relationship but it's always managed to find its way around its own shortcomings and lead them to where they need to go. One of the things that Talbot starts to realize is that he doesn't have the faith and the confidence coming at him from the other people that he needs. If they don't bring it, he's going to deliver it on his own.
The ego is running a little rampant in this guy and that, in line with the power, makes it difficult for him to perceive the judgement being put on him by the Confederacy.
Your question of who he is going to side with, ultimately, he's going to side with himself. But we'll see. I can't really give too much away without saying that…. He has a very short fuse, limited patience, and a lot of power and that's a deadly combination.
Marvel.com: It's interesting just in this episode, we see Hale, a HYDRA member who went rogue trying to save humanity. Then we have Talbot, who views himself as this shield for humanity. And now it's all coming to a head where we're just trying to get rid of all these alien presences.
Adrian Pasdar: Right.
Marvel.com: How does Talbot really come to grips with all this, while also facing two people who represent each organization that he views as betrayed him and let him down?
Adrian Pasdar: He has to deal with these other variables that are presented in front of him. Which one is going to serve him the best in executing his plan to redeem himself from the situation that has befallen him; losing his family, losing his status as a father and a husband, losing his marbles.
He's really just trying to get to redeem himself from having been ineffective. He's in control all the time and then he finds himself locked in a room and going batty. It's been difficult for him to accept that. So here he is in a situation where he can make some moves that will possibly redeem him, and either you're with me or you're against me. It's that kind of mentality. And once again, that's just dangerous when you have the kind of power and attitude that Graviton has.
Marvel.com: What's really important to Talbot is his family. Now that he's on this mission he has set forth for himself, do we see him reach out to Carla and George and how will they come to grips with the person Talbot is trying to be now?
Adrian Pasdar: I can only speak in the hypothetical, but I think if he were to reach out to his wife and child, it would be to assure them that he loves them and that he's there to protect them, and that he has to go away but he will return.
Now that outer space has been introduced, he'd probably try to impress on his son that he still loves him. Although, you have to remember that Carla was the one — whether she was wittingly or not or thought she was helping or not — assisted HYDRA in the brainwashing with that phone call. So maybe there's some resentment, reluctance, anger coming from Talbot.
Is he ready to forgive her or is it an unforgivable thing? Obviously his son didn't do anything. I think since he is a family guy, I don't think it's far off to assume that he'd do everything he could to try to visit his family. And wouldn't that be a scene? He looks a lot different than he did last time they saw him.
Watch the penultimate episode of Marvel's Agents of S.H.I.E.L.D. Friday, May 10, at 9|8c on ABC, and don't miss the Season 5 finale next week! 
For more information on "Marvel's Agents of S.H.I.E.L.D.," visit ABC.com, follow @AgentsofSHIELD on Twitter, and like "Marvel's Agents Of S.H.I.E.L.D."on Facebook for all the latest news and updates!
The Hype Box
Can't-miss news and updates from across the Marvel Universe!