TV Shows
Published March 11, 2021
'The Falcon and The Winter Soldier' Primer: Where We Last Left Off with Sam Wilson
Let's catch up with the Air Force Veteran before the March 19 premiere on Disney+!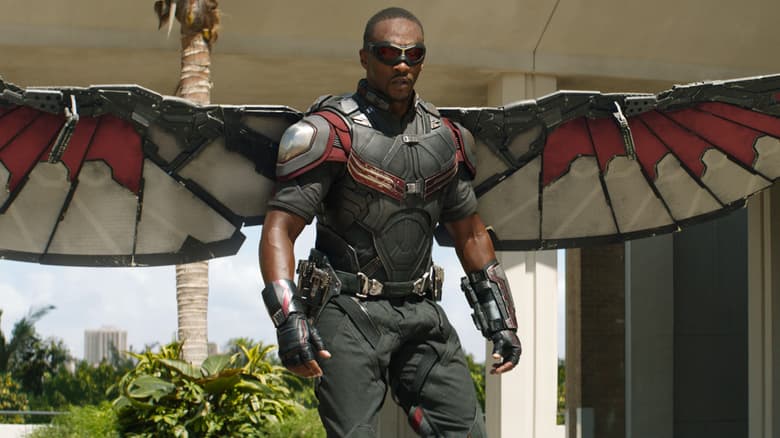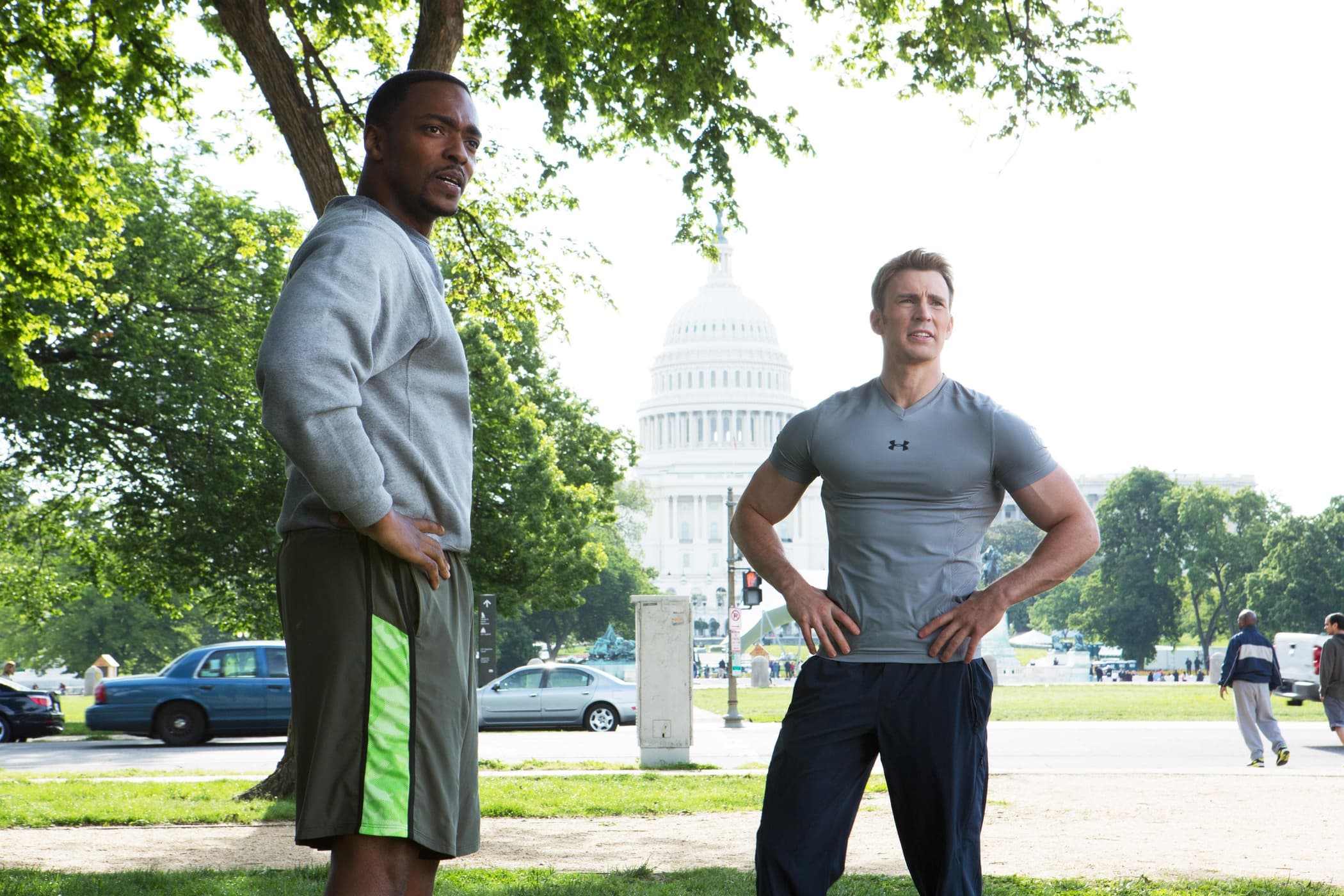 Following the explosive events at Camp Lehigh, Natasha and Steve, on the run from S.H.I.E.L.D. and Hydra embedded within, turned to Sam for help. Sam put his trust in Cap and decided to help them take down Secretary Alexander Pierce. While they interrogated Agent Jasper Sitwell, Sam debuted his Falcon jetpack, which he used during his time as pararescue in the Air Force. 
Even though Falcon's wings were damaged by the Winter Soldier during the Triskelion battle, Sam proved that you don't need gadgets to be a hero, as he kept Rumlow at bay while Cap deprogrammed the last of the Helicarriers.
With S.H.I.E.L.D. now in disarray and the Winter Soldier on the run, Steve's new goal was to find him. When he told Sam this wasn't his fight, Sam's only reply was, 'When do we start," which solidified his friendship with the Avenger.
After some time, we next see Sam during a celebration at Avengers Tower following the last Hydra base's capture. He told Steve that the search for Bucky had grown cold. After the battle with Ultron in Sokovia, however, Falcon finally took his place as a new Avengers team member.
Sam, the rookie, was in charge of guarding the Avengers Compound while the rest of the group were on a mission. Let's just say it didn't go too well after a run-in with Scott Lang (Ant-Man). Don't worry; Cap still doesn't know.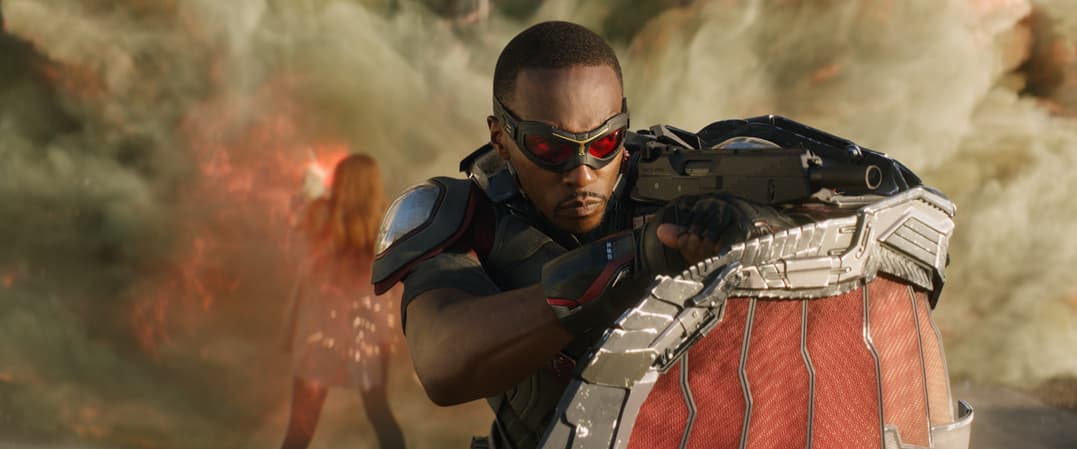 Now a full-fledged Avenger, Sam and the team traveled to Lagos, attempting to take down Rumlow, who was after a biological weapon. As Sam and Natasha secured the stolen weapon, Wanda Maximoff inadvertently killed innocent civilians while trying to stop Rumlow's bomb attempt.
This event led to the Sokovia Accords' creation, which put the Avengers at odds with one another. Sam, who took Cap's side against the Accords, got into a heated argument with Rhodey (War Machine) about their purpose.
When the Accords' signing was bombed (supposedly) by Bucky, Sam and Steve tracked down the latter's former best friend to Bucharest. All three were captured thanks to the emergence of T'Challa, the Black Panther, who held Bucky responsible for the death of his father and King of Wakanda, T'Chaka.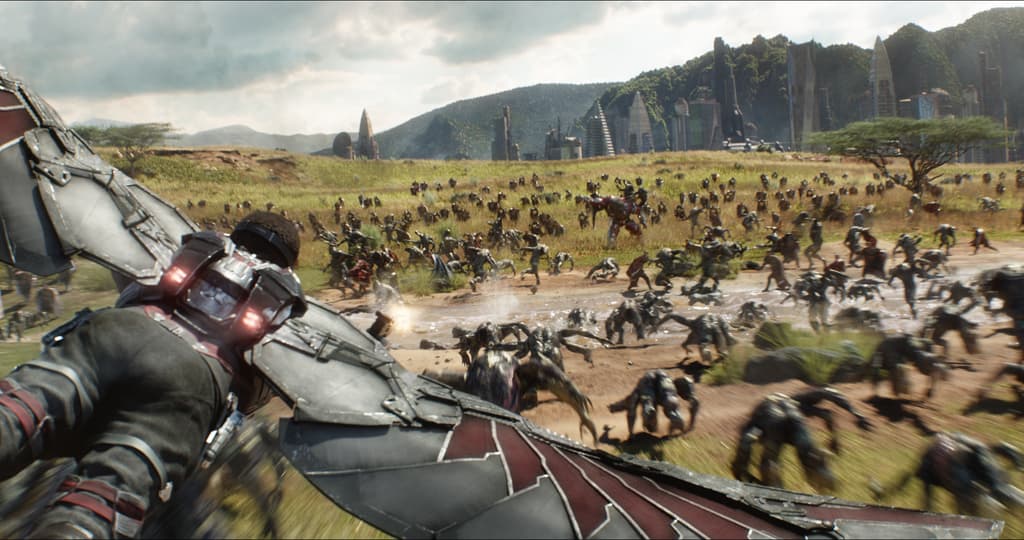 Sam, Bucky, and Steve were eventually able to escape capture. After gathering a team, including Wanda, Hawkeye, and Ant-Man, they attempted to steal a Quinjet and head to Siberia, where they thought Zemo wanted to unleash more Winter Soldiers into the world.
After being blocked by Iron Man's team, Falcon and the team sacrifice themselves for capture so Bucky and Cap can escape. Taken to the Raft, a high-security prison, Sam reluctantly tells Tony where Steve went. Eventually, Steve breaks Sam and Wanda out of jail, and they go on the run.
When the Children of Thanos attacked Wanda and Vision to acquire the Mind Stone, thankfully, Falcon, Cap, and Black Widow, were nearby to rescue them. The team then travels to Wakanda to try and remove the Stone from Vision while keeping him alive. The Children of Thanos tracked them and attacked Wakanda. Sam and the Avengers fight as best they can, but they could not prevent Thanos from gathering all the Infinity Stones and wiping out half of all living creatures. Unfortunately, this included Sam.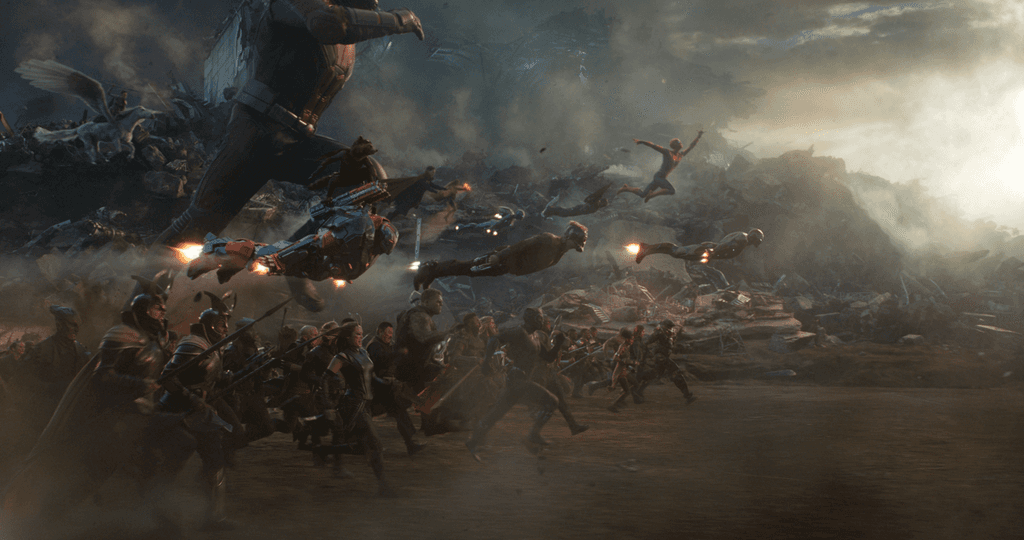 Five years later, after gathering the Infinity Stones throughout its timeline, the remaining Avengers were able restore everyone lost to the Blip. Cap learns that their plan worked when over his communicator, he hears a familiar phrase, "On your left." Sam Wilson was back, and the full might of Earth's Mightiest Heroes was able to defeat Thanos once and for all.
When Cap goes back into the Quantum Realm to restore the Stones to their rightful places, Sam is concerned when he doesn't return at the scheduled time. Bucky then points him to an older man sitting at a nearby lake. A much older Cap, who decided to "live that life" Tony had always talked about, thanked Sam for being a good friend. With Bucky's blessing, Cap gifted Sam with the shield of Captain America.
To find out how Sam and Bucky's story continues, watch Marvel Studios' The Falcon and The Winter Soldier, premiering March 19 on Disney+!
Marvel Studios' The Falcon and The Winter Soldier, a six-episode series, will start streaming on March 19 on Disney+!
Want more 'The Falcon and The Winter Soldier'? Follow the series on Facebook, Twitter, and Instagram!
Stay tuned to Marvel.com for more details! And be sure to follow Marvel on Facebook, Twitter, and Instagram. 
Looking for more Marvel movies and shows to stream? Check out everything on Disney+, Hulu, and ESPN+ right here, and where to find all your favorite Super Heroes right here. Sign up for Disney+ and start streaming now! 
The Hype Box
Can't-miss news and updates from across the Marvel Universe!