TV Shows
Published May 10, 2019
How 'Marvel's Cloak & Dagger' Tackles Real World Problems Like Human Trafficking
Niceole Levy, Mary-Margaret Kunze, and Kate Rorick join The Marvel After Show for an in-depth discussion.
NOTE: If you haven't watched Season 2 of "Marvel's Cloak & Dagger," there are unfiltered SPOILERS ahead!
The Marvel After Show: "Marvel's Cloak & Dagger" Season 2, the official companion podcast, gives you behind-the-scenes insight with stars Olivia Holt, Aubrey Joseph, and the rest of the cast and creators as they discuss each episode directly after it airs.
On Episode 7 "Vikingtown Sound," producer & writer Niceole Levy, Marvel creative executive Mary-Margaret Kunze, and co-executive producer & writer Kate Rorick join hosts Lorraine Cink and Angélique Roché on The Marvel After Show to discuss the seventh episode of "Marvel's Cloak & Dagger" Season 2, the ways in which it addressed human trafficking, as well as the writing process as a whole for the second season.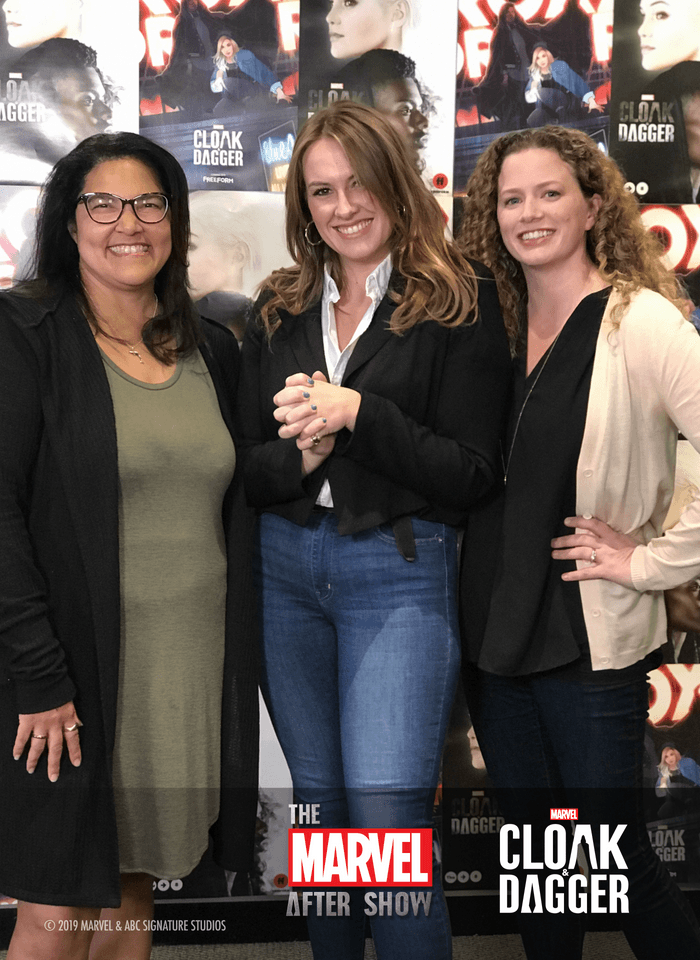 Human trafficking takes center stage this season, and this special real-world issue was something the creators wanted to address with truth and realism. To kick off the storyline, showrunner and executive producer Joe Pokaski encouraged the team to write a letter, and get down their thoughts about why the subject was so important to them.
For Rorick, it was deeply personal. "I'm a parent," shared Rorick. "I have two small kids, one's a daughter. The idea that they could get lost, the idea that they could be preyed upon—that something like this could happen to them at any point in the future—you want to be as prepared as possible. You want people to know that this is a possibility. So that's where I went with my part of the letter."
"We wanted to shine a light on the fact that this is happening to young men and women," explained Levy. "Mostly women, but there are young men victimized as well, who are just falling through the cracks in our society and being victimized by these traffickers and we wanted people to understand that and provoke them to care about it and to maybe support organizations that are trying to fight against it," explained Levy. "We definitely wanted to shine a light on the idea that these women are not responsible for what is happening to them, that they are true victims and that we need to have a compassion for them that is sometimes absent from the conversation."
"From the early season pitch of the show, the intention was always to not just tell an entertaining story, but to educate and discuss something that is something nobody wants to talk about, to be perfectly frank," said Kunze. She explained why it was important to get the story right, "It's an incredibly uncomfortable conversation to have; I think we all have partial responsibility in fixing and a lot of people are loathe to accept. You have the opportunity when you work in the storytelling business to say what's more important than something else and to highlight the uncomfortable things when necessary. It was a privilege for us to move it in that direction."
To hear more about their experiences on "Marvel's Cloak & Dagger" Season 2, head to The Marvel After Show podcast!
And head over to PolarisProject.org for more resources on joining the fight to eradicate human trafficking.
Watch "Marvel's Cloak & Dagger" Season 2 every Thursday at 8|7c on Freeform! Stream new episodes the next day on Hulu, On Demand or Freeform.com.
A brand-new episode of The Marvel After Show podcast will be available for download at www.marvel.com/aftershow, Apple Podcasts, Spotify, and your favorite podcast app directly after each episode of "Marvel's Cloak & Dagger" airs on Freeform.
Stay tuned to Marvel.com for the latest on "Marvel's Cloak & Dagger" and Marvel Television! Be sure to follow @CloakandDaggeron Twitter and like the official "Marvel's Cloak & Dagger" Facebook page!
The Hype Box
Can't-miss news and updates from across the Marvel Universe!