TV Shows
Published September 21, 2017
Introducing Miles Morales to the 'Marvel's Spider-Man' Team
Nadji Jeter talks about the newest spider-family member in a brand new episode this weekend!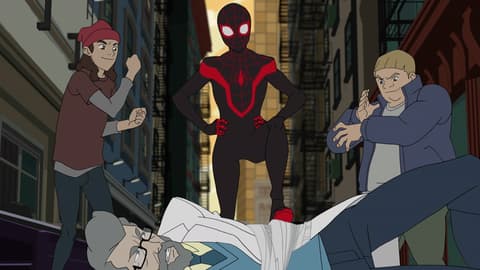 The animated series "Marvel's Spider-Man" is one big, happy, spider-family. This new original series on Disney XD features Peter Parker and friends coming into their powers while also navigating the life of a typical teen.
We spoke with Nadji Jeter about the impact of voicing the newest Spider-Man team member, Miles Morales. Jeter talked about how Miles's new powers come with new responsibilities. Now why does that phrase sound so familiar?
Marvel.com: What's it like being a part of the Marvel's Spider-Man team?
Nadji Jeter: It is such an honor and such a blessing to be a part of Marvel because Marvel has such an impact on kids. So when I got cast, I was speechless. To be a part of this family is such an honor.
Marvel.com: What does the character of Miles Morales mean to you?
Nadji Jeter: I love this kid because he's one of the smartest kids at Horizon High—but the youngest. And that gave me the opportunity to channel my inner kid, to really go back into that mindset of being a young boy again. At the same time, the difference between me and Miles is he has a great responsibility—to grow with him and watch him learn—and to see the world that he's in, is crazy.
Marvel.com: In the episode, you get to see how Miles realizes his powers as they're happening, how do you think he feels about this new responsibility?
Nadji Jeter: He's definitely handling it, he has a lot of mentors around in his school that are teaching him the ways of growing up and being a teenager. But with this responsibility he has the blessing of being Peter Parker's friend, and Peter's gone through the same exact thing. I just love seeing the growth of Miles.
Marvel.com: Miles gets a lot of super hero advice from Peter, how do you think that dynamic works for someone just coming into their powers?
Nadji Jeter: With Peter having these powers prior to Miles, I think it's going to make Miles ten times better than who he is as a super hero and a person. Peter is teaching Miles the mistakes that he made, so it's a blessing because Miles is going to learn so much more, with having the knowledge and wisdom from a legend and veteran in the world already.
Marvel.com: Miles seems a little reckless—in that he can't wait to tell his friends, he wants to avoid tests to make sure he's ok—do you think Peter is jealous of Miles impulsiveness?
Nadji Jeter: I don't think he's jealous; I just think he's trying to have more control. In telling Miles with great power comes great responsibility—that is Peter's main message to Miles—he really wants to get that through to his head. I mean he is 13-years-old, with a lot of superpowers—more than Peter has endured—so the world is going to see a lot.
He's taking matters into his own hands and learning and growing. We're going to see the impact it has on little kids now—with Miles being an African-American Spider-Man—we're going to see a lot of diversity and change, and it's going to be amazing.
Marvel.com: It's nice to see Miles interact with his dad, it's a funny dynamic as well since the father doesn't know who he's a super hero. How do you think their relationship factors into Miles developing his powers?
Nadji Jeter: Eventually Miles's dad is going to see the effect that Miles has on the world. You're going to see their connection—how he actually reveals to people who he is—at the same time he'll have some struggles.
Marvel.com: Miles was throwing out names for his super hero, like Spider-Kid and Kid Arachnid. If you could choose a name for a new team member of the Spider-Man family, what would it be?
Nadji Jeter: That's a really good question. I would want to say…well, there's already a Black Widow. That's ironic! Maybe she should just hop in because she's already in the spider-family!
Be sure to check out Nadji Jeter as Miles Morales in a brand-new episode of "Marvel's Spider-Man" titled 'Ultimate Spider-Man' this Saturday, September 23, 8:00 – 8:30 AM EDT on Disney XD!
The Hype Box
Can't-miss news and updates from across the Marvel Universe!