TV Shows
Published November 15, 2017
Josh Schwartz, Stephanie Savage and Jeph Loeb Talk About Bringing 'Marvel's Runaways' to Life
Catch 'Marvel's Runaways' when it debuts only on Hulu November 21!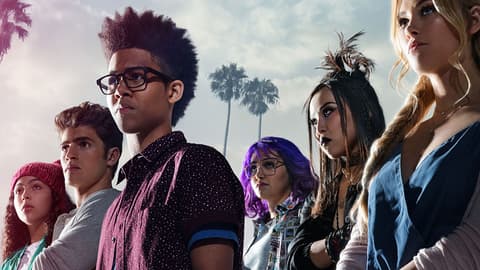 Fans of Brian K. Vaughan and Adrian Alphona's comic RUNAWAYS will finally get to see the fan-favorite series come to life when "Marvel's Runaways" premieres the first three episodes next Tuesday, November 21, on Hulu.
Producers and co-showrunners Josh Schwartz, Stephanie Savage, and Jeph Loeb talked with Marvel.com about bringing the Runaways to life, the characters, the setting, and of course, a genetically-engineered dinosaur.
Loeb was excited when talking about adapting the book for the small screen. "When we first started Marvel Television, which was not all that long ago, one of the things that we heard from our fans was these are the shows they'd really like to see. It's kind of remarkable, how many of them we've actually been successful at bringing forward. And so, one of the real jewels in the crown, that people had in their top three, was 'Marvel's Runaways.'"
Savage admitted she was not a comic book person, but fell in love with the world that Vaughan and Alphona created. "I loved the characters. I love that it was set in LA. I love the strong female characters, the diversity."
"Old Lace!" interjected Schwartz. "The dinosaur, the great cliffhangers at the end of every issue," continued Savage.  "Just the voice and the level of humor. And it felt so exciting, the possibility of being able to bring it to life."
Discussing the issues of transitioning from comics to TV, Loeb shared, "They're very strong characters. The inherited material, with its incredibly diverse cast, allowed different voices and different points of view. And that the show was set in LA, that was something that was very different for us. Being able to take all those things and put them together, and actually find a network that was supportive to us as Hulu was, this has been not just a large challenge, but it has something that has been extremely successful in terms of its execution."
Fans will appreciate that Vaughan was key to bringing his beloved characters to life. Schwartz said, "Having his endorsement, his encouragement, but also his ideas in the book, just empowered everybody to feel a lot of freedom in making sure we were still honoring the spirit of the original book, but also making it a show that could stand on its own."
Location is a key character to "Runaways" and Savage was proud to showcase the city. "It was super important to us and we were thrilled that Marvel was supportive of actually shooting the show in Los Angeles, and they weren't like 'we want it feel like Los Angeles, but you have to shoot it in Atlanta or Vancouver.' We got to shoot here. We're out shooting on location more than fifty percent of the time."
"We wanted to make sure that Los Angeles had as big a voice in terms of what it is that we're doing," said Loeb. "This is very much a group of different worlds and lifestyles and cultures." The city acted as a metaphor for the characters. "Each of them has a very diverse background; each of them have parents that come not just from where we originally find them, but where they originally started. How that affects them, what that background does to them, and what the city does to them; all of those things meld really nicely into telling a story that we're hopefully going to be able to tell for a very long time."
Schwartz talked about the role adults play in the television version of "Marvel's Runaways." "I'm now a parent—we're now adults, in a way that we weren't when we first starting doing those shows. So, we certainly relate to the parents as well. That was something that was really important to us; we've got to slow down the story in the comic and really dig in."
Savage seconded Schwartz's views on incorporating the parents. "I think that was something that Brian really responded to when he was in the room with us, that the parents don't get the deep dive in the same way that the kids do in the comic. This was an opportunity for him to do that and to sort of think about those relationships. Not just with the kids, with their own kids, but with each other and the dynamics inside Pride in a way that hadn't really been explored in the comic."
"As anyone who reads Marvel comics will tell you, it's actually more important that you understand the people that are inside the mask, as opposed to the mask and the cowl or anything else like that. If you don't care about the people themselves, then all the special effects in the world—except for the dinosaur—aren't really going to have you tune in every week."
Loeb hopes viewers will be invested in the story's characters. "And so, we need you to care about not just the kids, but the parents, and the predicament, and the show, and the adventure, and the humor. And we think that Josh and Stephanie have really delivered on this in a big way."
Get ready to run when "Marvel's Runaways" premieres its first three episodes exclusively on Hulu November 21! Be sure to follow @Runaways on Twitter and like the official "Marvel's Runaways" Facebook page!
The Hype Box
Can't-miss news and updates from across the Marvel Universe!