TV Shows
Published January 10, 2018
'Marvel's Runaways' Stars Ariela Barer and Allegra Acosta Discuss Season 1's Finale
Spoiler Warning! What could be next for Gert and Molly, as the first season wraps up on Hulu.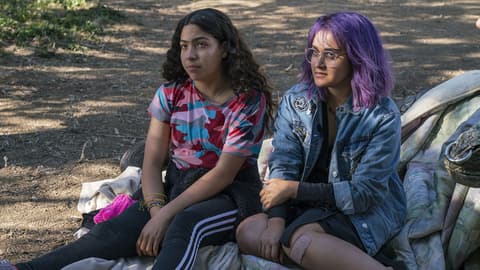 Warning: Full spoilers for the Season 1 finale for "Marvel's Runaways" follows. Need to catch up? You can watch all the episodes now on Hulu!
The "Marvel's Runaways" season finale debuted this week on Hulu, and in the wake of the big events that occurred — and helped set up the just-ordered Season 2 for the series! — Marvel.com spoke to stars Ariela Barer ("Gert Yorke") and Allegra Acosta ("Molly Hernandez") about what happened and what could be next for their characters.
Marvel.com: So, at the end, you guys… ran away! 
Ariela Barer: We did the thing!
Allegra Acosta: We did that one thing in the title!
Marvel.com: Were you excited by that – to see it all come to fruition?
Ariela Barer: Yeah. Even just the line that Rhenzy [Feliz] says. I took pictures of myself after reading it, crying. Because there's just something about… It's all the more impactful after what these characters have gone through for a full season. When it finally happens it's this release, but this fear. What's going to happen next? It gets your mind racing in a very exciting way.
Allegra Acosta: And it kind of ended on a cliffhanger, so it's exciting!
Marvel.com: And they had some nice costume nods to the comics there as well. 
Ariela Barer: Karolina! That was amazing.
Allegra Acosta: That was gorgeous, with the star [on her shirt]. 
Marvel.com: Ariela, you had a very heartfelt scene with a dinosaur, which I imagine has to be a little difficult!
Ariela Barer: It wasn't easy but it was very important to me. That plotline specifically for Gert with her anxiety is very important to me and her relationship with her dinosaur, which she refers to as her comfort dinosaur at one point, is so important to me. And that day I was on set with a wonderful director and crew. We had gotten so close and everyone there cared so much about that relationship at that point that the feeling was there on set. Even Rhenzy and Gregg [Sulkin] were watching. They weren't even in the scene. They were just around because they wanted to be. It was lovely. It was a really great day.
Marvel.com: At the end of the episode, they see this news report that's been put out about them. It's bad for all of them but I feel like maybe for Molly especially, it's a tough situation. 
Allegra Acosta: "I'm not kidnapped. I would know." I keep remembering that line from the finale! [Laughs] It's exciting. It leads to new story and we get to follow into a very exciting, real set of us superhero kids who are runaways. It gives us our name! I remember watching episode nine and Rhenzy was like "How about the Runaways for all the kids we didn't safe." I was like, oh my god, hint hint!
Marvel.com: We see the parents side of things and that they do care about the kids. With the Yorkes specifically, there's a lot to like and sympathize with, but they've also been a part of some bad stuff… 
Allegra Acosta: Not as intentionally, I think!
Marvel: True, not as intentionally! Do you think there's hope for reconciliation there? 
Allegra Acosta: I don't know… I love the parents and even though I don't have my biological parents, it was really fun to see that side of Molly. It made it really interesting. It was good that they made that side and represented the kids who don't have the set biological family that they can. It also made a good sister relationship with us. Just having that was really fun and hopefully for next season we can expand on that and explore those.
Marvel.com: I have to ask about Gert and Chase. Is she messing up a good thing here?
Ariela Barer: I don't know… You saw the finale. There's a moment they have! It's a little one but there's room for growth there. Also, I think at that point, after the conversation at prom, he knows when it's a defense mechanism and when it's genuine. So I just think now it has to come more from his side and the conversation he has with Nico is helpful for the relationship. But I think Gert's going to have her own problems. She left her meds at home. She's going to have her own problems to deal with so I think that's going to have to come more from Chase now. Or at least I want it to! [Laughs]
All 10 episodes of "Marvel's Runaways" Season 1 can be watched now on Hulu. Be sure to follow @Runaways on Twitter and like the official "Marvel's Runaways" Facebook page!
The Hype Box
Can't-miss news and updates from across the Marvel Universe!