TV Shows
Published June 14, 2019
Krysten Ritter and Rachael Taylor on the Broken Friendship at the Core of 'Marvel's Jessica Jones'
The show's two stars talk about the rift between Jessica and Trish – and how they each view their own super powers!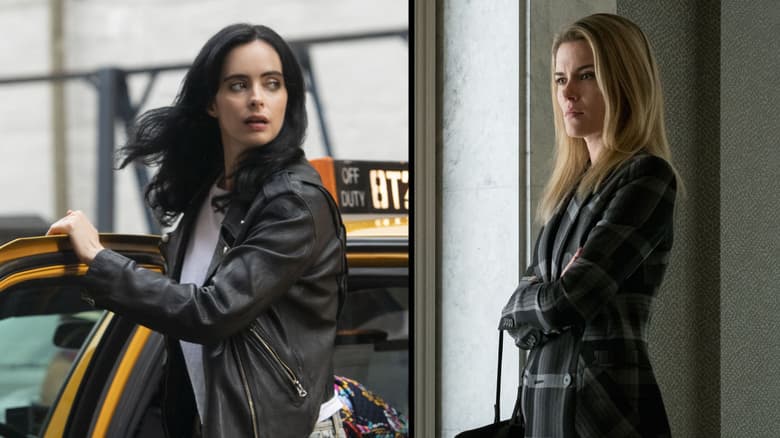 Now that Marvel's Jessica Jones Season 3 is streaming on Netflix, fans can finally find out what's going to happen to the shattered relationship between Jessica Jones (Krysten Ritter) and Trish Walker (Rachael Taylor). As Jessica continued to balance her present with her past, Trish struggled to shape her future by turning herself into a hero – no matter what the cost.
And then Trish killed Jessica's mother. So that changed the dynamic a bit.
How will Jessica and Trish ever come back together after this? Can they work together as heroes? Will they find room for common ground and forgiveness? Marvel.com visited the set to ask the stars directly – and they told us what they could!
Right off the bat – no, Jessica and Trish are not on good terms at the beginning of Season 3. Ritter described the state of the relationship when we meet up with them again – in no uncertain terms: "Well, things were pretty &%$@#% up at the end of season two with Trish and Jessica."
Taylor went into a bit more detail: "I think Season 3 is really about looking at that friendship more deeply and the strengths of that friendship, and also the limitations of that friendship as well. Obviously there is a little bit of runway for them to get back on the same page. And it's my hope, because I love working with Krysten, and love playing different facets of that friendship, that they team up and get back on that same page. But there is a lot of healing that needs to take place between those two women."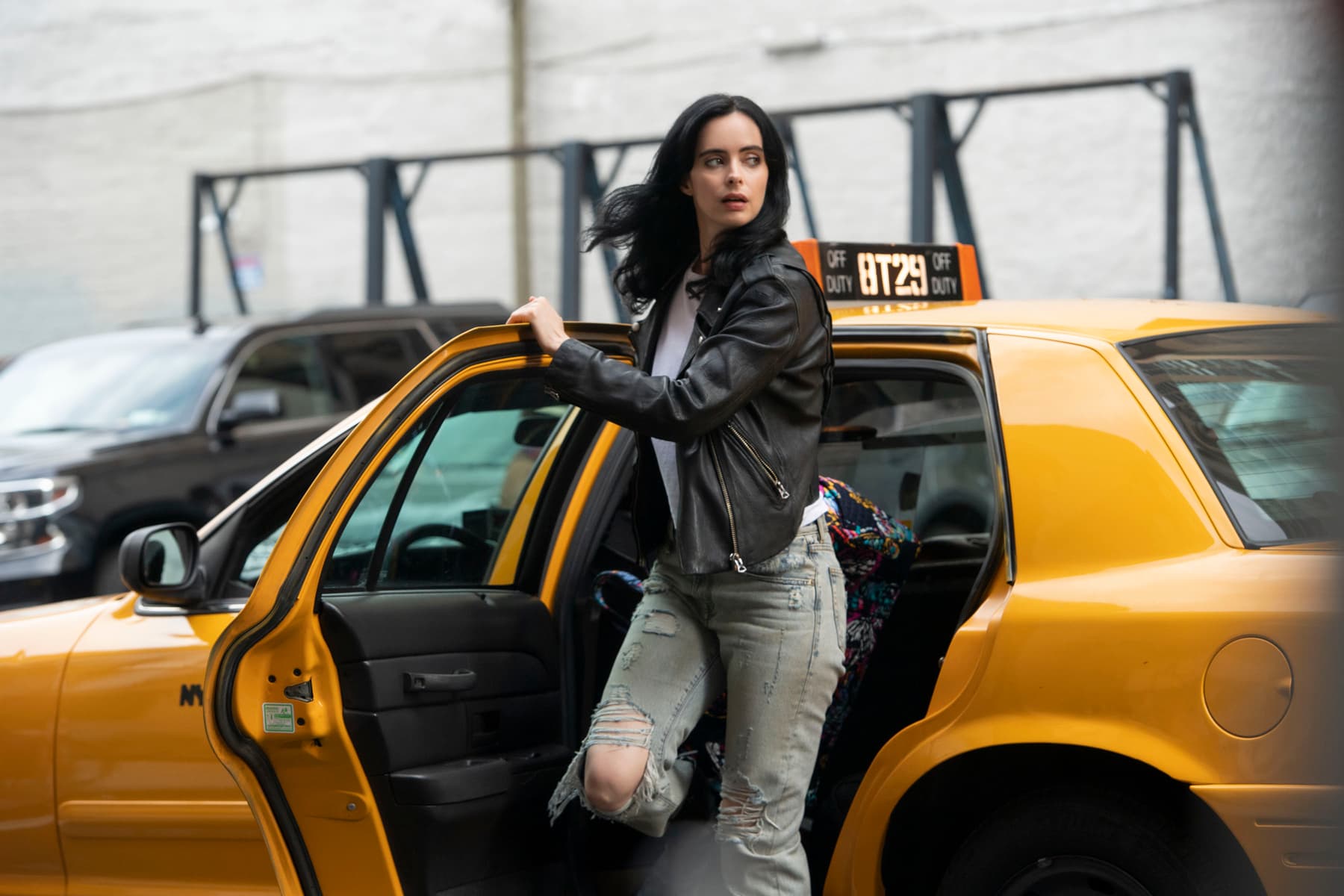 We were able to view a scene from one of the episodes in production, and without spoiling anything, Jessica and Trish are in the same room, talking to each other. So that's one hint of progress – maybe. Taylor said "maybe for that particular moment" there was an ounce of understanding. "But very much, the first order of business I would say is rebuilding the trust between the two women and a really interesting process of them learning to see things from each other's sides. That was something I was really excited to play going into Season 3, which is figuring out where Jessica was coming from and maybe potentially having Jessica discover or see if she can discover where Trish might have been coming from when she did what she did at the end of Season 2. There's a lot of process that goes on between the two of them healing. It takes a lot of effort for them to get back to understanding each other."
One thing that is bridging the two women is super powers. Last season, Trish made it her quest to gain super powers and become a hero in her own right. Meanwhile, Jessica started delving into her past to better understand her own powers and how she processed the trauma of her childhood.
Ritter: "In Seasons 1 and 2, we learned so much about Jessica's history, what she's been through, how her family died, and how that informed who she is – why she's so hard, why she has problems with alcohol and PTSD. At the end of Season 2 when her mother was killed, the last thing she said to her was 'You do give a %#$@.' She's trying to figure out 'Do I actually care? Can I actually show up?' And be the hero she's destined to be."
She continued: "I think Jessica is figuring out her place in the world and what it means to be a hero. I think she is coming to terms with the idea that many are called and few are chosen, and she has been chosen. And because of that, she needs to rise to the occasion, and I think that's a cool thing."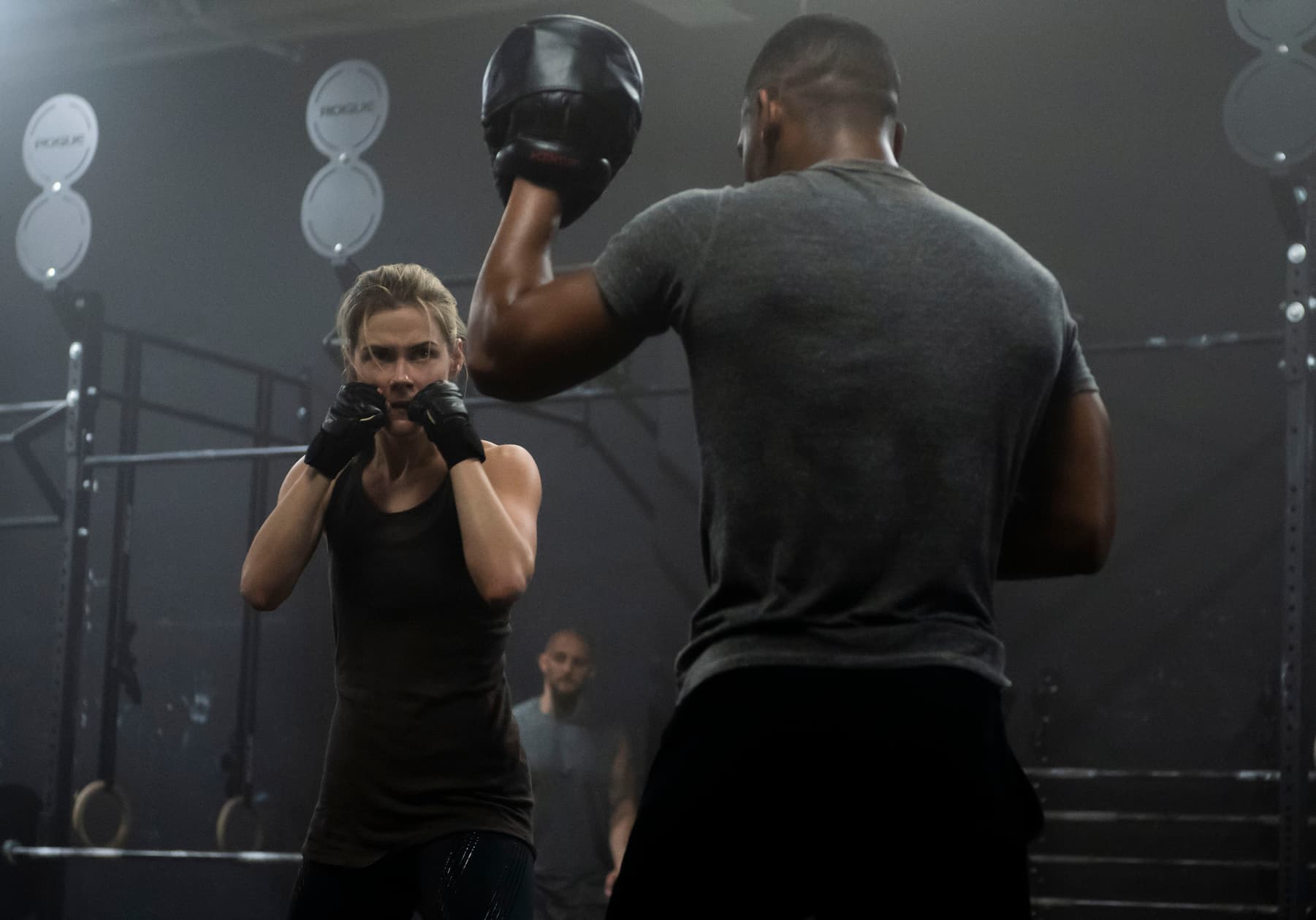 When it comes to Trish and her newly-acquired super powers, Taylor noted that there was a whole different level to her motivations beyond just being able to throw a powerful punch.
"I think what's so clever about Jessica Jones and all of the Marvel Netflix shows is that Super Hero powers are really just an allegory. We really don't hang a lantern that if you have super powers all is well. Trish's true quest in Season 2 was that she wanted to matter. I think fundamentally who she is as a woman is that she feels like she's not enough. And I don't think if you truly feel like you're not enough, there is nothing you can throw at that to make you enough, and I don't think Super Hero powers is going to be the thing either.
"What I think is smart about the show, and what I love playing, is that those Super Hero powers, you can sub in the word 'self-esteem' and it still plays, or 'personal power' or your power as a woman, and how we wield that and what the limitations are. I think Trish is a character that is marked by a certain deficit in how she feels about herself because of her upbringing and being a child star, and having to win other people's love rather than feeling like she truly deserves it. That's a really interesting character to play, but I'd be surprised if her getting powers would be the thing to remedy all. Also, knowing the show that I'm on, women play flawed characters and that's what's interesting about it. Neither Jessica or Trish or [Jeri Hogarth] are perfect. They all have power in some areas and deficiencies in other areas, and that keeps it exciting."
For Ritter's part, she's a lot more excited about Jessica's powers as an actor. "I love that Jessica can do something that looks really simple and it has a huge impact. I love that. I love that I can punch somebody and they go flying through a wall. I do something simple but something huge happens. I think it's so fun."
Ritter also said that Jessica is her longest-running character in her career: "What's interesting about playing a character for this long is that a lot of times when you're acting, you have to write your own backstory and fill that in yourself and imagine it. Now I've actually lived a lot of this stuff, so I know the character very well and she becomes a part of you in a way, which is cool. I never thought about that before. This is the first time I've played a character for four years. I'm like 'Oh, this stuff we're talking about I've actually done and did.'"
And after that many years, Ritter also was ready to take herself to a different level of the show – as a director. "It was the most exciting thing that's ever happened. We had the best time. Nobody knows this show better than I do, and knows the characters. I know Jessica very well, and [showrunner Melissa Rosenberg] and I have such a great shorthand. I was begging her to direct for about a year and a half. I just kept asking. I would always show up with lists of actors who were number one on the call sheet who directed their own shows. Because it's a huge undertaking! It's a lot of work when you're number one on the call sheet and you want to direct. And finally Melissa convinced Marvel to let me do it, and I was so thrilled and brought my A-game and studied. It was a big celebration on set. I loved it. My episode turned out great. Apparently, it's the episode to beat so far for the season."
Ritter described her "on the job training" in preparation for her new gig: "We've had so many amazing directors from the beginning with S. J. Clarkson, and all the way into Season 2 we had a string of amazing directors who have all become buddies of mine. Everyone was willing to get on the phone with me and talk through what it's like before you get on set, what the politics are, behind the scenes, what you have to go through and all the hoops you have to jump through. I was able to get everybody's different opinions and takeaways and do my own thing with it."
Doing her own thing both onscreen and off has made Krysten Ritter a true force in the Marvel Netflix Universe. Marvel's Jessica Jones has been a game-changer for series television, and the third and final season promises to bring the story of Jessica Jones to a dynamic close.
You can stream Marvel's Jessica Jones Seasons 1 - 3 now on Netflix.
Marvel's Jessica Jones stars Krysten Ritter as Jessica Jones, with Rachael Taylor as Trish Walker, Carrie-Anne Moss as Jeri Hogarth, and Eka Darville as Malcolm Ducasse. The series is executive produced by showrunner Melissa Rosenberg along with Marvel's Jeph Loeb. Marvel's Jessica Jones is produced by Marvel Television in association with ABC Studios for Netflix.
The Hype Box
Can't-miss news and updates from across the Marvel Universe!