TV Shows
Published April 6, 2018
'Legion': Aubrey Plaza on Lenny's Struggle as a Prisoner of the Shadow King
The 'Legion' star on going from embodying the Shadow King to becoming controlled by him.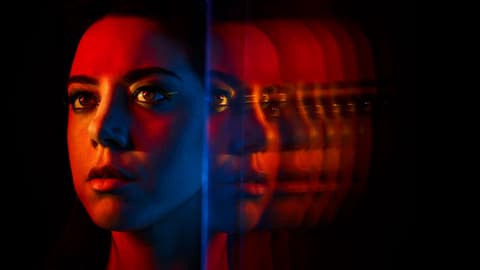 Aubrey Plaza got to go to a lot of memorable places as an actor in the first season of "Legion," which was especially impressive given her character, Lenny, died in the first episode of the series. However, both the audience and David Haller (Dan Stevens) would continue to see Lenny, as she appeared to him, and eventually came to be known as the main representation for the Shadow King, who was hidden inside David's mind.
With "Legion" Season 2 underway, following this past Tuesday's season premiere, the Shadow King is now inhabiting the body of Oliver Bird (Jemaine Clement), even as we see that both Oliver and Lenny are trapped inside with him.
On the set of "Legion," Marvel.com spoke to Plaza about the path Lenny has taken, the conversations she's had with showrunner Noah Hawley about Lenny's current status as an undead, mental prisoner of the Shadow King, and more…
Marvel.com: What can you say about where Lenny at in Season 2? She's clearly changed a lot.
Aubrey Plaza: Lenny's power has been stripped away. She's no longer embodying the Shadow King. She's now being controlled by him. Lenny has become a puppet trapped in the astral plane and really in her own afterlife because Lenny, as a human, died. So it's a really different energy for Season 2.
Marvel.com: In Season 1, Lenny eventually became the avatar for the Shadow King and you got to go all Super Villain there. Is it interesting for you to take a step back and have this very different perspective on her and who she is?
Aubrey Plaza: It's definitely interesting. The initial conversations I had with Noah [Hawley], he was really interested in exploring Lenny's human side and getting back to who she was as a human and her own vulnerability. It was about stripping down all of the personas and figuring out who she really is at the core, which is interesting when you have a character that's morphed into all these different characters. To get back to the real Lenny is a challenge.
Marvel.com: Lenny and Oliver are sort of stuck in the same predicament now.
Aubrey Plaza: Yeah, I think we are. Maybe he's kind of embodying [the Shadow King] more than Lenny is this season, in a way that she did last season, but in that first scene we're both laying side by side in bathing suits, floating in a pool in the blazing, 106 degree sun and we're kind of trapped together. It's been fun!
Marvel.com: What's it like to work with Jemaine?
Aubrey Plaza: He's a ridiculous person! [Laughs] We actually shot a movie together a couple months ago which was a total coincidence. We were attached to that movie before he was cast in this show so we have a really fun dynamic. Those were really different characters. But we both come from the comedy, improv world so we have a very playful vibe with each other. I love working with him.
Marvel.com: You knew Noah's talent from the start, but now that you've seen what the first year of "Legion" looked like, and how striking the series is, does it help to better visualize when you get a script and it's got these strange aspects?
Aubrey Plaza: Yeah. I never know how these things are gonna be put together in the end. So the challenge for me is always to filter out all of the noise and really focus in on what Lenny really wants. It's sometimes hard to focus on that when the show is just so trippy and abstract and dealing with all kinds of weird dimensions, but I try to just focus on the human story.
Marvel.com: Lenny was fully this corrupt, Shadow King version of herself at the end of last season. But now that she has some of her true self back, what is she feeling about David? Does she want to help him?
Aubrey Plaza: Yeah, I think David was Lenny's only friend when she was a human. Like her only real friend that she ever had. So I think in a way, now that she's back and conscious of who she is and what she's doing and not being controlled by the Shadow King, I think she desperately wants to be friends with David again and to have him trust her again. But how can you trust someone that was trying to kill you for an entire season?
Watch 'Legion' Tuesdays at 10:00pm ET/PT on FX.
The Hype Box
Can't-miss news and updates from across the Marvel Universe!