TV Shows
Published July 10, 2019
'Legion' Cements Charles Xavier and Gabrielle's Tragic Love Story and David's Doomed Fate
Harry Lloyd and Stephanie Corneliussen shed light on their approach to two of Marvel's iconic characters.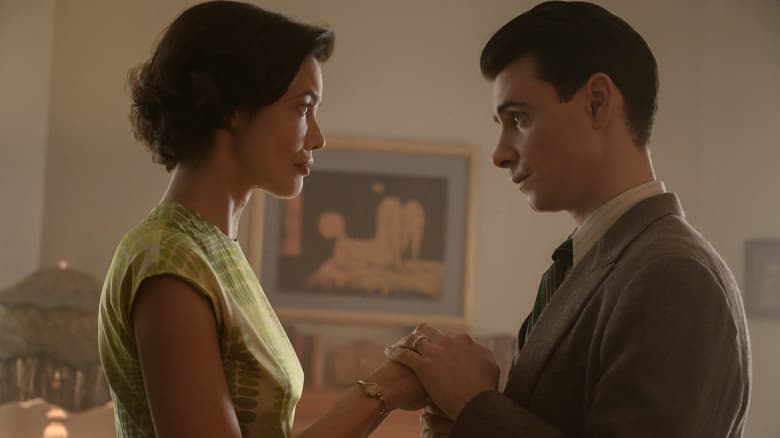 In this week's "Chapter 22" of Legion, we (and David Haller) finally meet David's parents and learn how their love story unfolded. However, it was his own meddling that cemented his own dire fate that he was trying to change.
After the war, Charles Xavier (played by Harry Lloyd) and Gabrielle Haller (played by Stephanie Corneliussen) met a psychiatric institution, much like how their son met his love, Syd. In fact, Charles and Gabrielle's dating sequence plays to the same song David heard the first time he met Syd. As a Holocaust survivor, the camps left Gabrielle in a catatonic state. Luckily, using his gifts, a young Charles was able to coax her out of it and heal her troubled mind.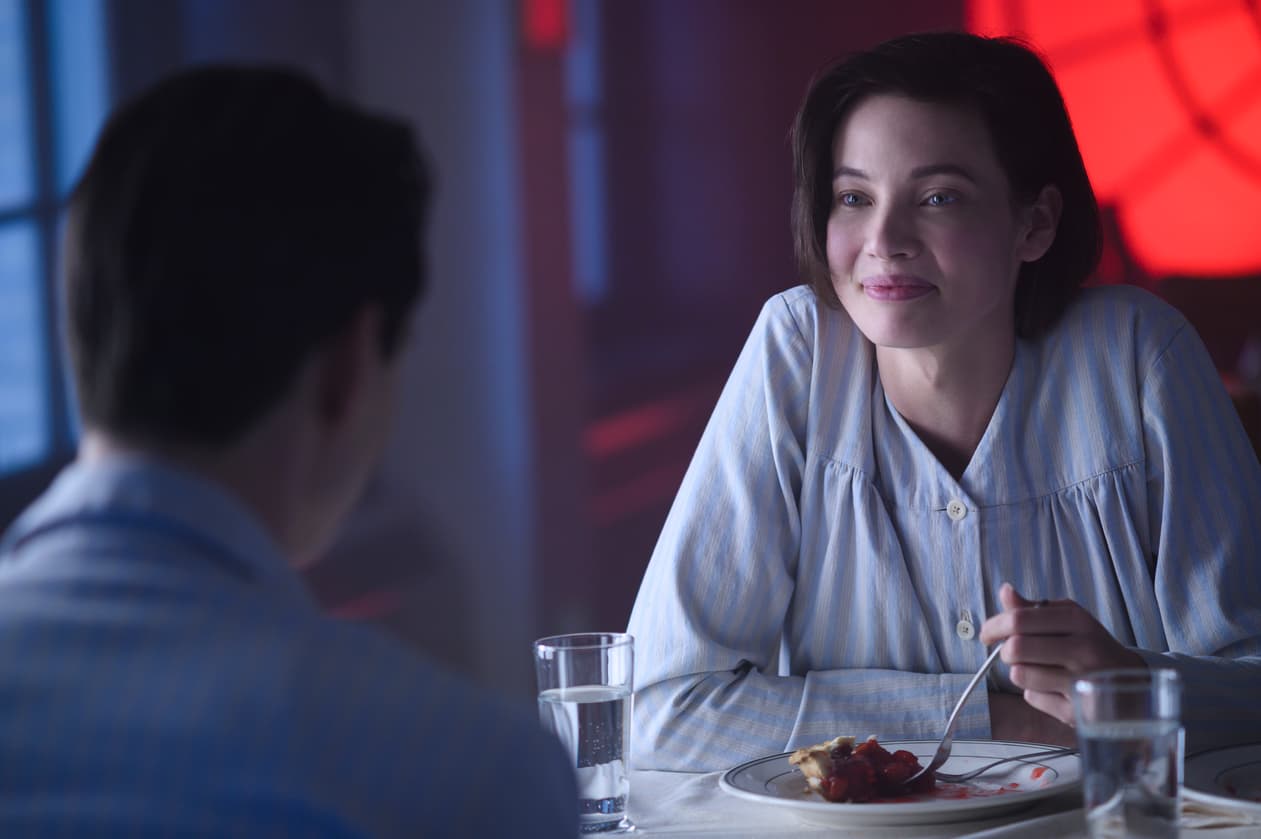 Not long after, Charles and Gabrielle leave the hospital together and settle down in a love nest together. Soon, they have a young child, David. Previously hinted, Charles expresses concern that his son will end up like him, and yet he becomes obsessed with the notion to find others like him. After tinkering with the first iteration of Cerebro, he discovers there's another mutant out there, in Morocco — who we know is Amahl Farouk AKA The Shadow King.
Echoing David's self-serving desires, Charles leaves new mother Gabrielle alone with their son. It turns out present-day David and Switch were haunting Gabrielle, not the Shadow King as David expected. Traveling that far back in time, they appeared as apparitions with strange whispers and music feeding into Gabrielle's unease leading her to think her home is haunted and unable to trust her mind. In trying to prevent the Shadow King from latching onto baby David like a parasite, David and Switch made it easier for Farouk to do so while also cementing his mother's insanity.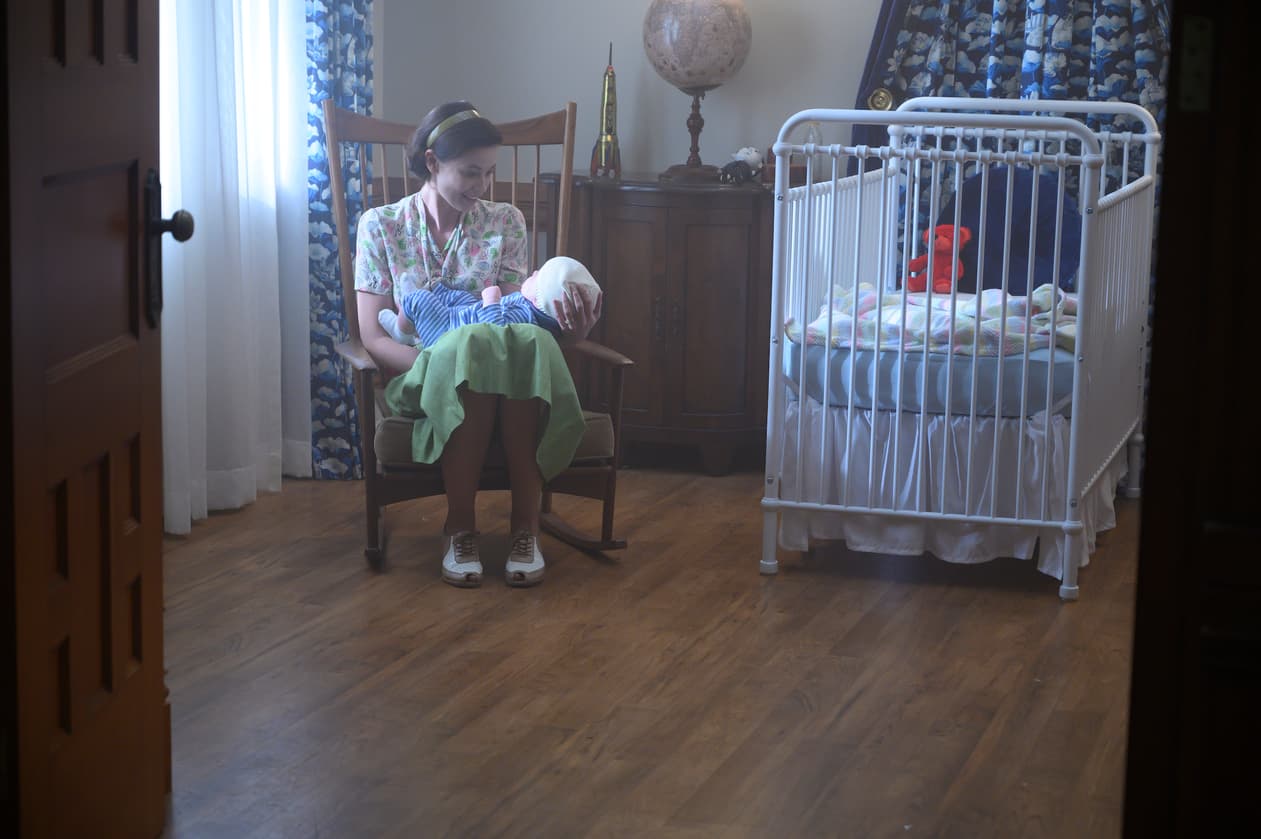 Earlier this year on a set visit, we had the opportunity to talk with Harry Lloyd and Stephanie Corneliussen about their characters, as well as showrunner and executive producer Noah Hawley and Dan Stevens, who plays David Haller.
When asked by a group of journalists about the weight of the character and the other actors who've played the iconic role, including James McAvoy and Patrick Stewart, Harry Lloyd responded, "You look at 'Legion,' and you kind of—it gives you permission to kind of throw that all away, to a certain extent."
"It's such an irreverent, ridiculous show, and it's surreal. I didn't feel that I had to be in debt to do the straitlaced Charles that we know," continued Lloyd. "The story that we're telling doesn't really allow for him to be always in control and very pope-like. He's actually a young man, and he's been thrown into his own story before he's ready because of what's happening in the future with David. So he's actually quite lost for most of it. To play someone who is normally quite grounded and thoughtful and deliberate in his actions, to see him before he gets there, to see him as a young man, confused and doubtful and exploring his own powers, that's been really fun."
How does Lloyd justify Charles' obsession in finding others like him? "He always imagined himself as a freak," explained Lloyd. "This guy has this telepathic ability. And it's raw and I use it for good as much as possible, but I keep a lid on it and it's local. To then find someone else who has exactly the same thing to feel that you're part of a breed. There is some horror or something dark connected to it. But he goes out looking for a friend or a brother. He actually, only then, is honest about quite how alone he's been his whole life. Even now married and with a child. And as soon as he finds a connection on that level, which I think he resigned himself to never having, he has to explore it."
As for Charles' other half. "True to the comic style, you see them meet in the hospital, and then they fall in love, and they actually have a really beautiful love story," shared Stephanie Corneliussen. "It's very easy to fall in love with Harry Lloyd, I'll say that much."
Much like Lloyd's Xavier, Corneliussen's Gabrielle deviates from its source material. "In the comic, you see this very strong side of Gabrielle Haller. She's a powerhouse; she works for the embassy, she's a lawyer, she's in human rights," explained Corneliussen. "Here you actually get to see the real, frail version of her, and when I read that that was what we were going at, for me, it was just important to make her a real person. For Marvel and for fans of 'Legion,' I thought it was my job to try and give her real life."
A lot of care was invested in these characters. "I feel like Noah made a point of going in depth with carving out these two characters," added Corneliussen. "Obviously, Professor X is a super important character for the whole universe, whether or not, you're kind of playing with your own alternate version. I mean, it's Professor X! And I think they're actually being done justice, for what it is."
What was Hawley's approach with revealing Xavier this season? "My goal is to look at Charles Xavier as a father, and a new father at that," revealed Noah Hawley. "Someone who falls in love under circumstances that echo his son's love story, of meeting his love after the war in a sanitarium, and helping her get back to a healthy place."
"The context of the story of Charles Xavier is really through that," continued Hawley. "It's very early in his development of discovering his own powers and what he can do with it, and discovering that there are other people out there like him."
As for Steven's character David, how does he feel? "Well it's been it's been on his mind since since day one really," exclaimed Dan Stevens. "It's it's been teased and teased, but it's quite exciting to see!"
Dive further into David's family history with brand new episodes of Legion every Monday 10 PM ET/PT on FX!
You can follow "Legion" on Twitter, Facebook, and Instagram.
The Hype Box
Can't-miss news and updates from across the Marvel Universe!