TV Shows
Published July 5, 2019
'Legion' Season 3: The Making of David Haller's Commune
Season 3 airing now on Mondays at 10 PM ET/PT on FX!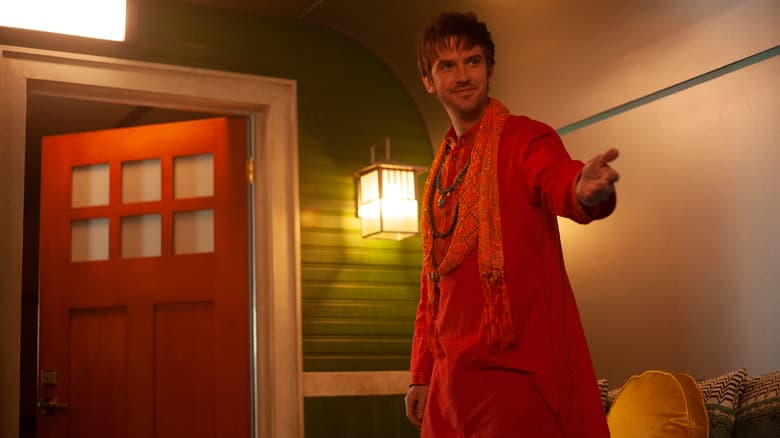 He's the Dream-Come-True-Man.
In this week's episode of Legion, David Haller explains to his ex, Syd, the true mission of his commune. "It's about love," pleads David. "I help people, open their minds. Teach them to care about each other, you know. Flaws and all. Because people make mistakes. We make mistakes. We do things we can't take back. And then we stop loving ourselves."
Earlier this year, during an intimate set visit, we had the opportunity to talk to behind-the-scenes creatives on the making of David's commune, including the set design, the music composition, and the mindset behind everything.
Production Designer Marco Niro explained one of the third season's new set piece. "I'm creating a complete new world," explained Niro on the Enlightenment House as well as David's personal cave. "With all his power, [David] created this space where we will see him levitating and doing a lot of things."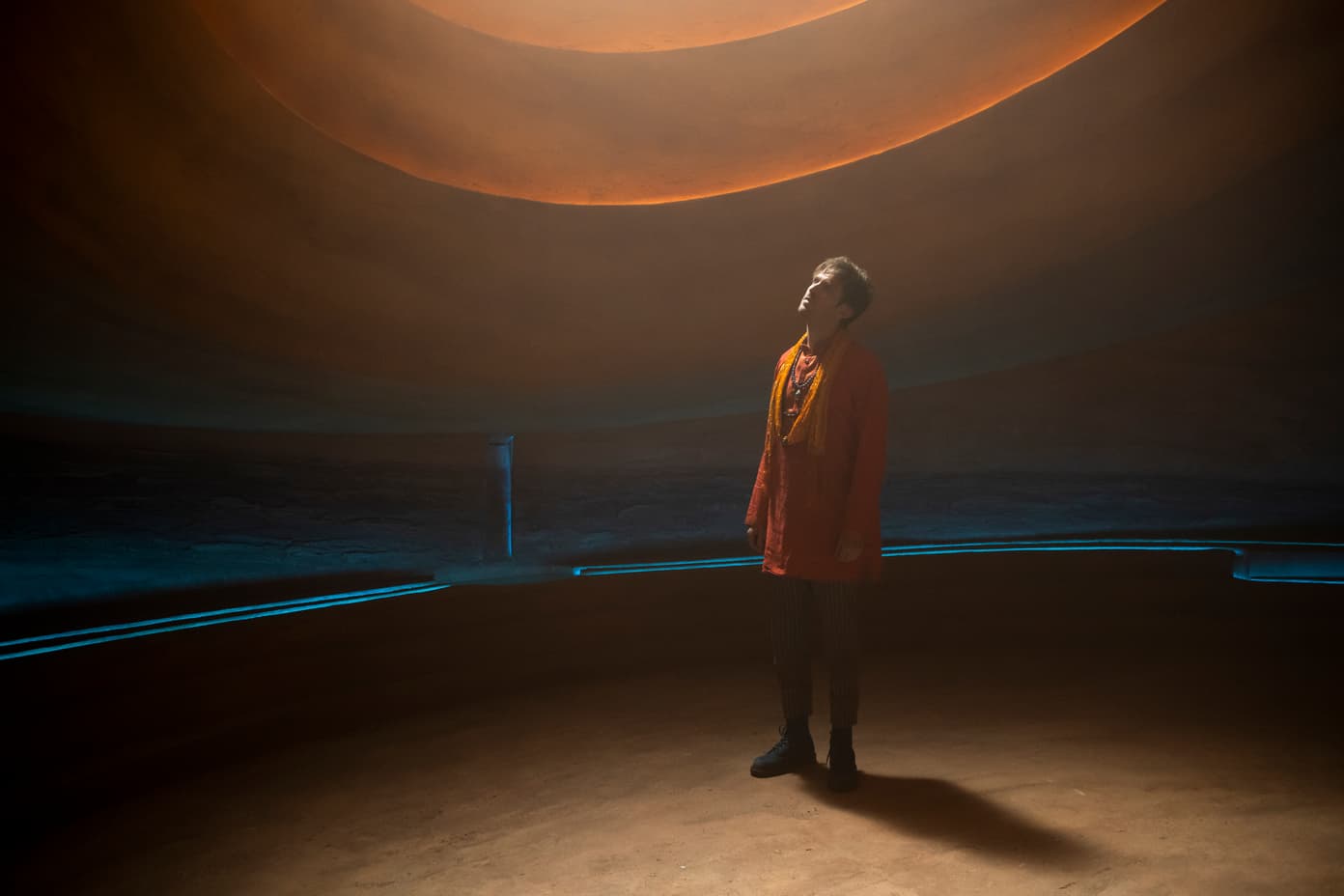 "This is a huge piece of sculpture," said Niro. "It's very complex element in terms of it's a sculpture that's across the set, and it has to be comfortable enough for everyone to work within. It involves a lot of talented people around to make all these lines and make it look right. He's supposed to scoop into the mountain, this element, with his powers. That's why you can read the veins of the geological eras. Beside it, it has a little house where he spends some of his time and he comes here as a chapel to meditate."
David's acolytes reside in the Enlightenment House. "I pitched to Noah [Hawley] that the big tree is David's memory," shared Niro. "[The Enlightenment House] is where the commune gathers and waits for David to show up and being enlightened by his words. So I created all these elements that we call banquets to feel very 60s, very commune. And there were harps and instruments and all kinds of things around this area. There is this water running all over the sets.  When David is floating inside his cave, he's evaporating good vibes and these dome is meant to be like to collect all those vapors and then drain it into that. That's supposed to be the rivers that feed the tree and the whole house with these fumes that are turning to liquid. Blue liquid. And from the blue liquid, these guys breathe, inhale and get into the Legion mode."
"The idea is that all these young people who don't fit in, who don't feel accepted by their family, by their world, have found their way to David," revealed Noah Hawley, Executive Producer and Showrunner. "He is taking away that pain. And because David is so fixated on being loved unconditionally, he has maybe exchanged that pain for a little unconditional love that they feel for him no matter what. He can't trust people to love him unconditionally anymore. So he's just going to help them do it."
"He's in a strange place," shared Dan Stevens, who plays David Haller. "[He's] a very different David that we'd seen previously in this commune, and everybody seems so full of adulation for him, and he seems a little bit sort of spaced out and tripped out."
The music adds to the trippy nature of this season. "The psychedelic nature of it allows for extreme playfulness," noted Stevens,  "In the writing, in the design and the camera work, but also acoustically. One of the things that blew me away when I first heard the finished sound mix of the first season was seeing that first episode in a big cinema with great sound. Just the things that are going on all around blew my mind. And they were not there on the day. That's all in the mind of Noah and the sound mixers. Musically, Noah and Jeff Russo have a great time. You know a lot of those covers that you hear are Noah. Smokey voice covers of emo and 80s tracks that which is in itself a remarkable thing. I don't know many showrunners who sing on their own shows. But for us, to get to be able to express a moment through a Pink Floyd song or Who song is very cool. It's also very strange and wonderful and adds a sort of wacky color at the show. And also any show that allows Bill Irwin to dance is just great in my mind."
On writing music for a cult, music composer Jeff Russo said, "We wanted to create something that had its own original feeling for the show yet still retain sort of cinematic Marvel-type thing in a very slight way and really support the narrative."
"The show consists of characters that have really intense connections to each, whether it's positive or negative," continued Russo. "That emotional context needs to be supported, and I think that I really enjoy writing melodic and interesting sounding music for the show. And we tend to play in a sandbox we don't really see or hear very often in television or in movies. The idea for us is to have a lot of fun. And we do. Doing this music is just a lot of fun."
"One cool thing about Noah and 'Legion,' he's really created this limitless playground," added Maggie Phillips, music supervisor for the series. "There's no parameters or rules. Like with the costume design and production design, too. We really can pull from any genre, any time period."
Building on a vibe or aesthetic for David's commune, Phillips revealed, "We definitely play with a lot of British type stuff. We've certainly got mod things going on and the music sometimes supports it."
See more of David and his commune when Legion returns with a brand new episode on Monday, July 8, at 10 PM ET/PT on FX!
You can follow "Legion" on Twitter, Facebook, and Instagram.
The Hype Box
Can't-miss news and updates from across the Marvel Universe!