TV Shows
Published November 2, 2023
'Loki': Mobius Finally Rides a Jet Ski!!
"We knew eventually we were going to have to pay it off, but it was just kind of waiting for the right moment so that it would be its most fulfilling."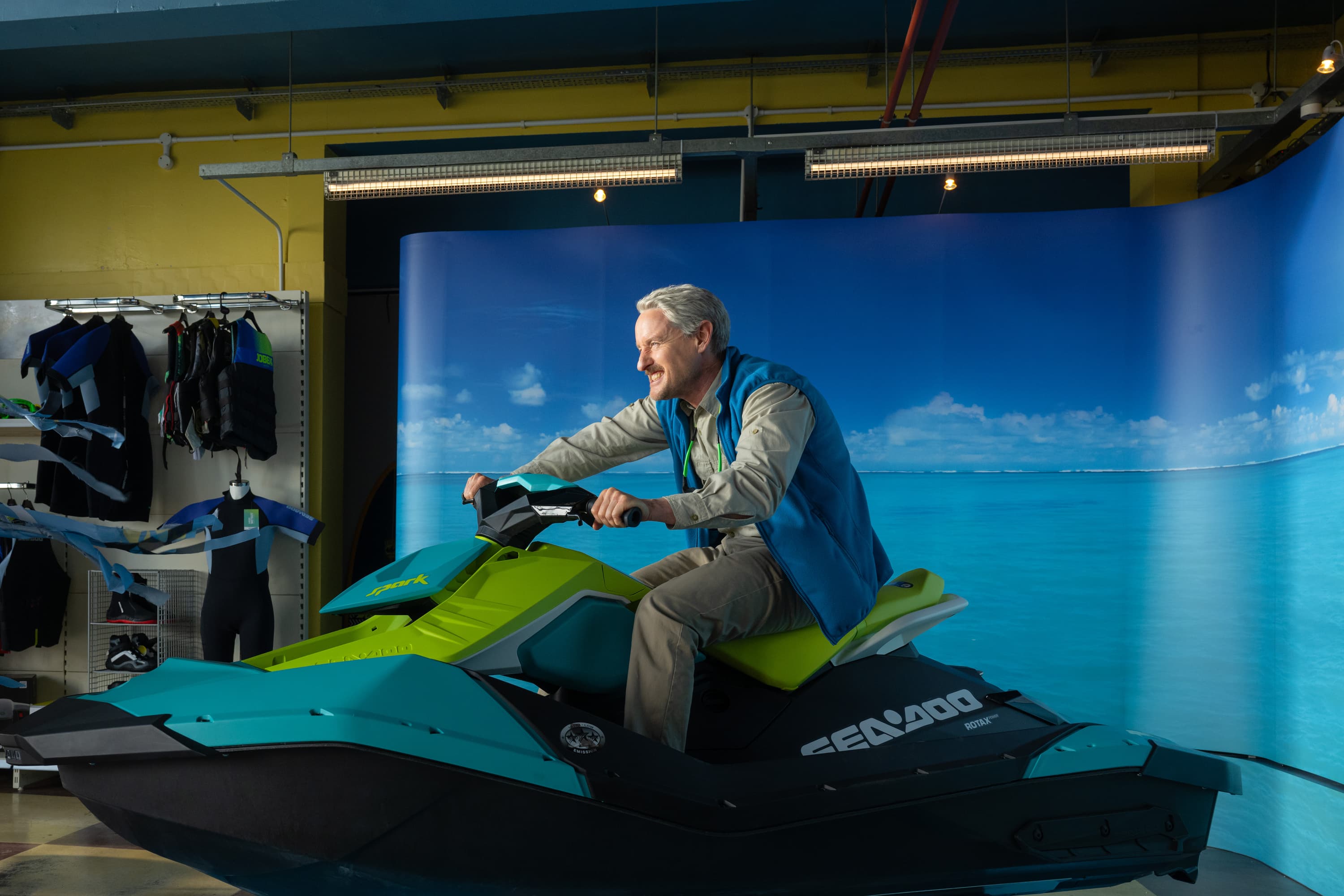 After years of anticipation. Patiently waiting week to week with bated breath for an answer. Finally, one of the most important moments to ever happen in the Marvel Cinematic Universe took place in Marvel Studios' Loki Episode 5, "Science/Fiction." The wait is over — Mobius rides a jet ski.
Back in Season 1 of the series, viewers learned that Owen Wilson's Time Variance Authority agent, Mobius, had a soft spot for the personal watercraft. He had a model on his desk and found himself musing about what it would be like to ride one out on the open water. As viewers quickly latched onto the character of Mobius, they latched onto his hopes and dreams, too. Could somewhere, anywhere, out on the timeline, Mobius find himself in a situation that would allow him to ride a jet ski? Could dreams come true?
Questions were finally answered, and that wish was granted in Episode 5. After the TVA goes kaboom at the end of Episode 4, Loki finds himself scattered across different branched timelines trying to, for a lack of better expression, get the gang back together. He comes across Mobius— er, "Don" on one of these timelines who happens to work at Piranha Powersports, hawking jet skis to anyone who will listen. He actually has two jet skis at home in the garage, too. Wanna see them?
Back in Season 1, the creative team behind Loki knew that they would eventually have to put Wilson on a jet ski with the wind in his hair. "We knew in the script [the jet ski] was going to be something funny," Executive Producer Kevin Wright explains to Marvel.com. "There was always joke ideas of tags for the end of Season 1 or other things. We knew eventually we were going to have to pay it off, but it was just kind of waiting for the right moment so that it would be its most fulfilling."
That led the team to Episode 5. Considering, as Wright continues, "the end of episode 4 with that crazy cliffhanger, we knew we needed to give people something that was going to lift their spirits in such a heavy, emotional, character-driven episode."
Enter Owen Wilson on a jet ski. But the creative team didn't just want to do it to do it, they wanted to make sure it still served a place in the story.
"We wanted to find a way to do it in an unexpected way," Wright adds. "I mean, there's been so much anticipation, and I think we could have just plopped him on a jet ski riding around a lake, and people would have been just as happy. Owen said something really funny, which was he compared it a little bit to an old TV romance — will they, won't they? He's like, well, the second you do it, the thing kind of is done. So he's like, if we're going to do it now, it's got to be really fun and really unexpected."
No one's prepared to see this "Don" on a stationary jet ski inside a building, a giant fan in front of him, but hey, it works.
"That was kind of the genesis of, well, what if we tease this out?" Wright laughs. "We know we can get some of that out there. He's working at a dealership. Also, the fun of, it is in Cleveland, which is not known for its water sports. It's the dream but not exactly the ideal version of it."
Though it might not be how viewers, let alone Mobius, expected to find himself on a jet ski the prophecy has finally been fulfilled. As Wright finishes, "There was something about that that just felt creatively exciting and delivered the sensation audiences wanted but the unexpected twists that I think they also have come to expect from our show."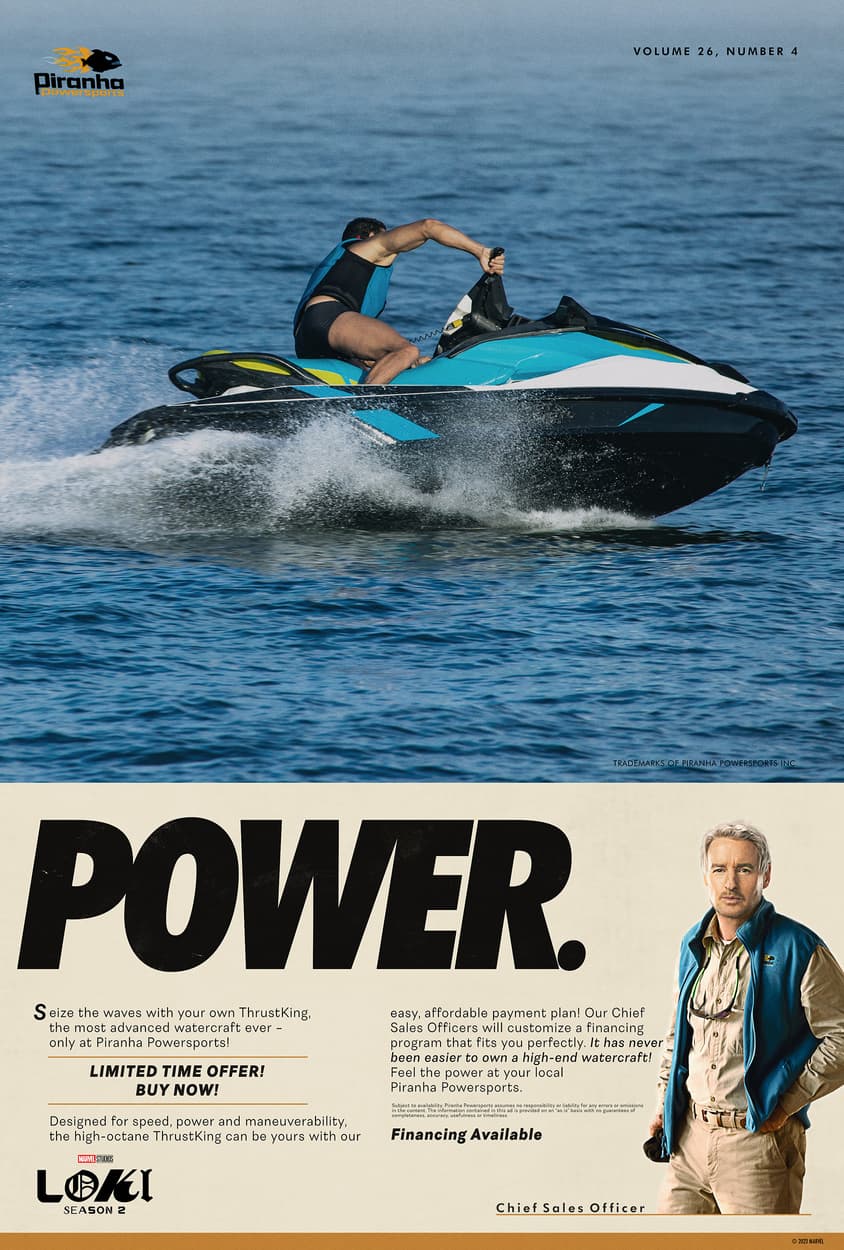 For all time, always! Loki Season 2 is now streaming exclusively on Disney+. New episodes arrive on the timeline Thursdays at 6:00 PM PT. 
The Hype Box
Can't-miss news and updates from across the Marvel Universe!