TV Shows
Published November 20, 2023
'Loki': Ke Huy Quan Embraces O.B.'s Endless Enthusiasm
Star Ke Huy Quan explains how O.B. inspired him—and why he should inspire you, too.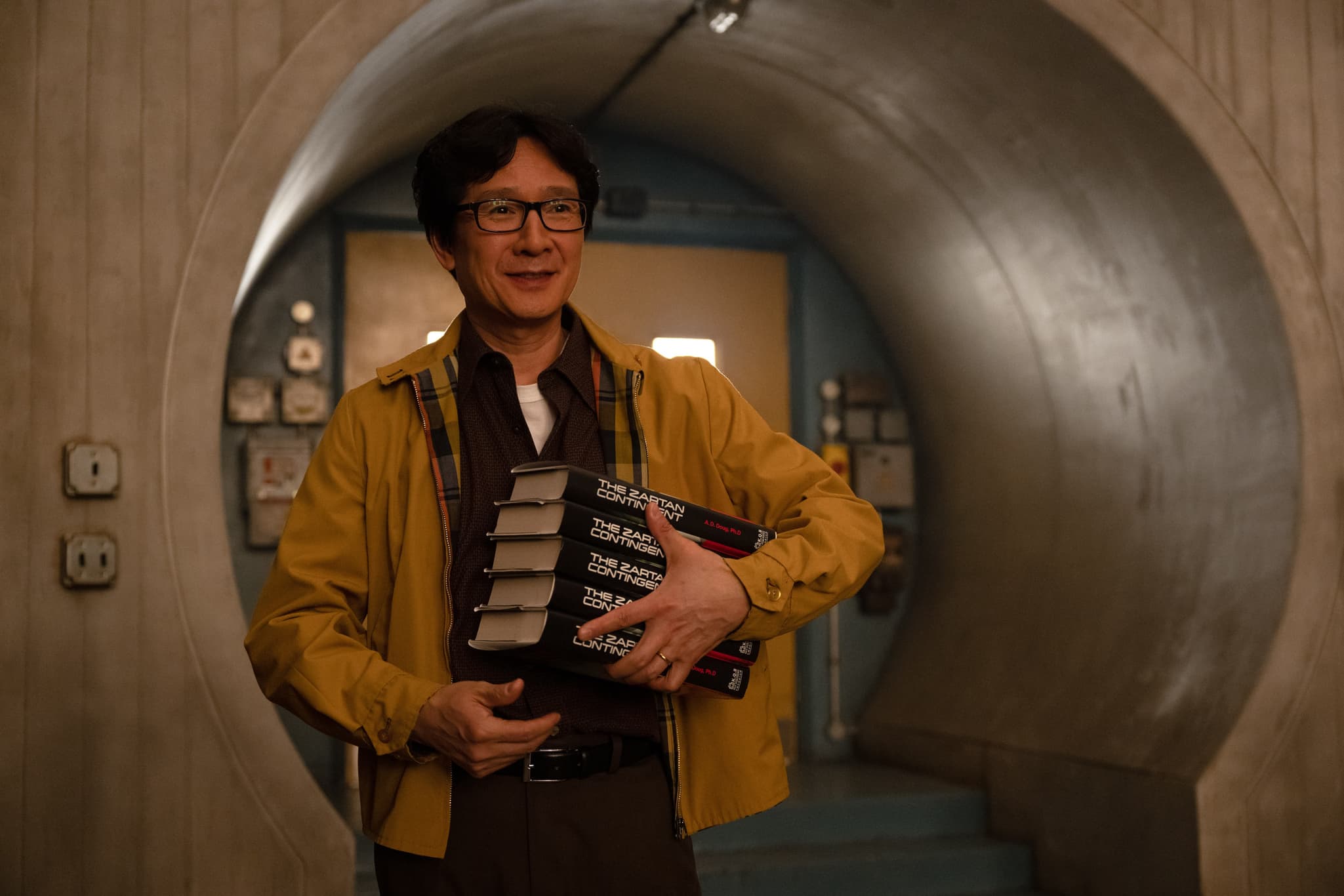 Ouroboros spends 400 years waiting for his moment and, in Marvel Studios' Loki Season 2, he finally gets it. After centuries toiling away in the basement of the Time Variance Authority, O.B. becomes one of the agents responsible for saving the timelines, thanks to his new friends Loki, Mobius, Sylvie, and B-15. This team-up leaves an indelible mark on O.B., who emerges with a newfound appreciation for his colleagues and his endless enthusiasm intact.
Speaking to Marvel.com, Loki star Ke Huy Quan shares the joys of playing a character like O.B., explaining all the reasons why he fell in love with O.B., as well as how the journey changes the character for the better.
Asked to pinpoint O.B.'s most important characteristic, Quan doesn't hesitate: "His enthusiasm. Here's this character that's worked at the basement of the TVA for more than 400 years by himself. No sleep, has zero connection with anybody, except that brief encounter with Mobius when he was lost, and he didn't even want to be there. Yet, when we see him for the very first time, he's so happy to see someone, and also to be a part of the team."
Quan also loves how much O.B. adores his job. "He loves writing the guidebook. That is something that really inspires me, because I think that's how we should be when we—you know, whatever we do—it doesn't matter what you do, but you should love it. You should be more passionate about it."
From the very first time Quan read the script, he loved O.B. so much, especially "his quirkiness. I love his humor. Even though he's not trying to be funny, but reading it, as a reader, he was so funny. The dialogue that comes out of him is incredible."
"That's why I love the talent of our executive producer, Kevin Wright, and our head writer, Eric Martin," Quan continues. "They created this character. It is completely different from the comics. They created him. The name Ouroboros is so fitting, especially now that I'm an actor again, you know? So everything about this character, I love," he said.
According to Quan, the physical spaces O.B. inhabits helped him to get into character. "I was just blown away [by the sets]. It really helped, as an actor, because I didn't have to imagine any of this. Everywhere you look, you can feel, you can touch, you can step on it," he says. "The only visual effects that we had was outside the window, beyond the Temporal Loom. But all the physical space was practical, and that was amazing."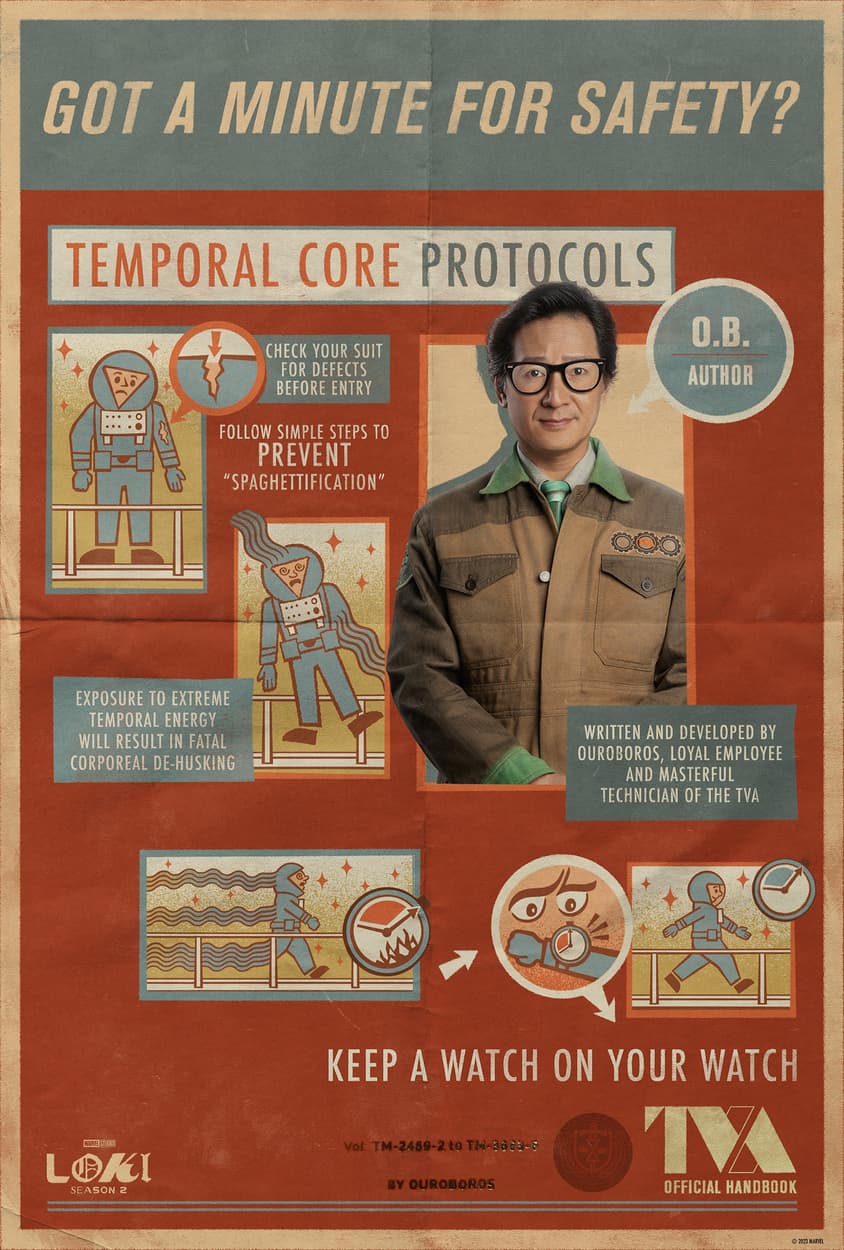 "Honestly, the team behind us are so talented, from Christine Wada, our costume designer—can you imagine how happy I am every single day I get to put on that jumpsuit? Oh, it's so incredible," he gushes. "Putting on that costume for the first time, and walking on the set in that character, and knowing that, wow, this is really happening for me, and whatever we are going to create on set, it's going to be watched and loved and by millions of people. [Loki] is such a beloved character, such a beloved show. I feel very fortunate to be a part of that."
Although he was delighted with O.B. from the get-go, Quan believes his character's introduction to Loki changed him for the better. "I think he's inspired by Loki. You have to understand, he has no human interaction for 400 years," he points out. "To witness the sacrifice that Loki made—I mean, to me, he's the ultimate hero. He made the ultimate sacrifice by exchanging his wants and needs and freedom for the greater good of the Multiverse."
"I feel like he finally earned the throne, and O.B. is able to see that, to see how much he cares about his friends. O.B. never had friends, and to see how much he cares about his friends, I think he's going to take that to heart forever," he explains.
As to his favorite interaction between O.B. and the rest of the team, Quan pinpoints his character's dynamic with Loki and Mobius, specifically the very first moment they all meet. "I love the chemistry between Loki and Mobius, especially the first episode, when we get to meet O.B. for the very first time. I thought it was so creative when they wrote those scenes, and I'm talking to Mobius in the present and having the very same conversation with Loki 400 years in the past," he recalled. "That is such a great scene."
Additionally, Quan hopes that O.B. will inspire others to embrace their passions. "I hope people love his passion, his enthusiasm," he says. "He loves being part of the team. Sometimes, it's not always about yourself. It's about the big team, about contributing."
"In Episode 5, we meet [O.B. as] A.D. Doug, who wants to be a science fiction writer. You can see he writes these books, he self-publishes them, and he secretly places them in a bookstore and buys his own books to show that people want his books. That energy, that enthusiasm, is incredible. I hope that people will have that with whatever they do," he concludes. "That's what I love about this character."
For all time, always! Loki Season 2 is now streaming exclusively on Disney+. 
The Hype Box
Can't-miss news and updates from across the Marvel Universe!