TV Shows
Published December 21, 2020
'Marvel's 616': "The Marvel Method" Pulls Back the Curtain on 'Iron Man 2020'
Writer Dan Slott details his writing process from plot to page in the seventh episode of the Disney+ series!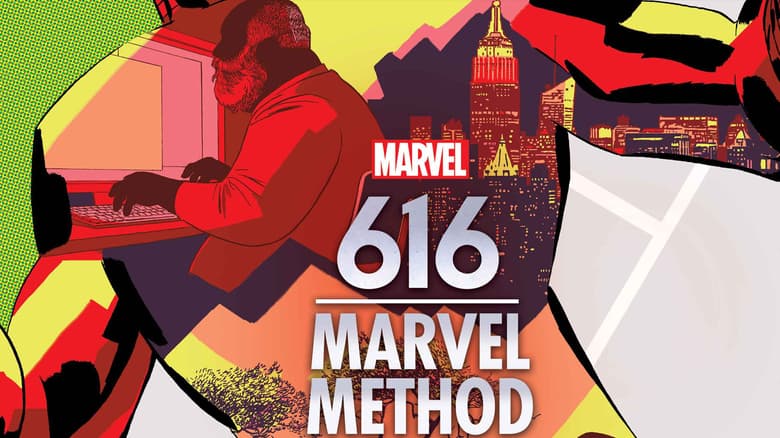 Now streaming exclusively on Disney+, Marvel's 616, " The Marvel Method" episode explores how Marvel's style of making comics has evolved – or really, how it hasn't changed much at all in the case of Marvel writer Dan Slott. In the episode, Marvel Comics' writer and editor Larry Hama described how the process of making comics in the 1950s and '60s was revamped at Marvel. Slott takes us back to the beginning with writer Stan Lee, whose process kicked off with writing brief descriptions. With those descriptions, the artist would then lay out the page—how the story unfolds—and then Stan would get the art back and fill in the dialogue, which became known as the Marvel Method!
In the episode, Slott said: "Nowadays, the Marvel Method isn't really used at all, everyone goes full scripts. I'm one of the dinosaurs, I'm one of the people, one of the last people doing Marvel-style. I want the creators to have fun, I want the creators to jump in and give you these gifts on the page. You're going to have an idea for a story, but it's always going to play out a little differently as your co-creator, your artist, starts to play with the idea."
Slott has been writing comics for 30 years. He has written SILVER SURFER (2016), SHE-HULK (2004), THE MIGHTY AVENGERS (2007), AVENGERS: THE INITIATIVE (2007), and spent 10 years on THE AMAZING SPIDER-MAN before moving on to FANTASTIC FOUR. The character that Slott tackled most recently with artist Peter M. Woods was Arno Stark, who was originally introduced in MACHINE MAN (1984) #2 as the Iron Man of the year 2020. "Nowadays, my new assignment is IRON MAN 2020, the adventures of Arno Stark. I get to be the guy who's writing about Iron Man 2020 in the year 2020, and they picked 2020 because it was a strange future year we would never ever reach," said Slott.
Let's pull back the curtain and take a look at IRON MAN 2020 #1 with Slott as our guide and see the Marvel Method in action and who else is involved in the process!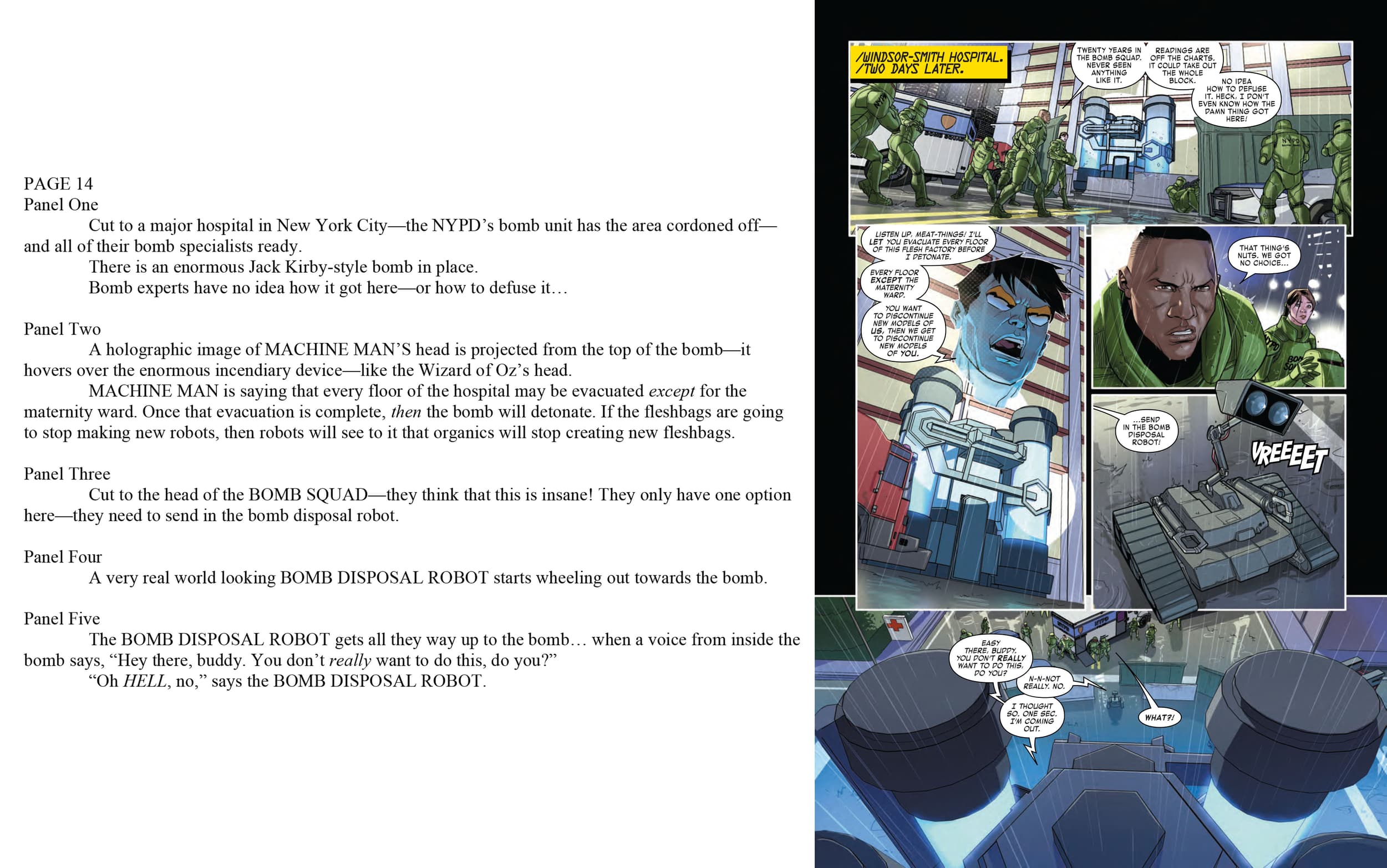 Slott first introduced his fellow collaborator and artist on IRON MAN 2020 #1: "Our artist for IRON MAN 2020 is Pete Woods, and what makes Pete Woods different is Pete Woods does everything! Pete Woods is the penciler and the inker and the colorist all in one… in his van driving around the country.
Describing his role as the writer, Slott said, "One of the things I have to do is I have to make sure that when all of these comics stitch together, it tells one big epic story, bah, bah, bah! Every individual chapter needs to be great. It needs to be edge of your seat. What's gonna happen next? Oooo! But when you get to the whole big picture, what's the bigger story we're telling? And I've got some crazy ideas."
"Every idea that I put in the plot is going to be painstaking labor for Pete Woods as he has to make it all reality. Page one, panel 1, we open on Arno Stark's reoccurring dream. He's a small, naked figure floating in space above the Earth, the only thing standing in the way between our planet and an unstoppable colossal creature, something larger than the Earth itself…"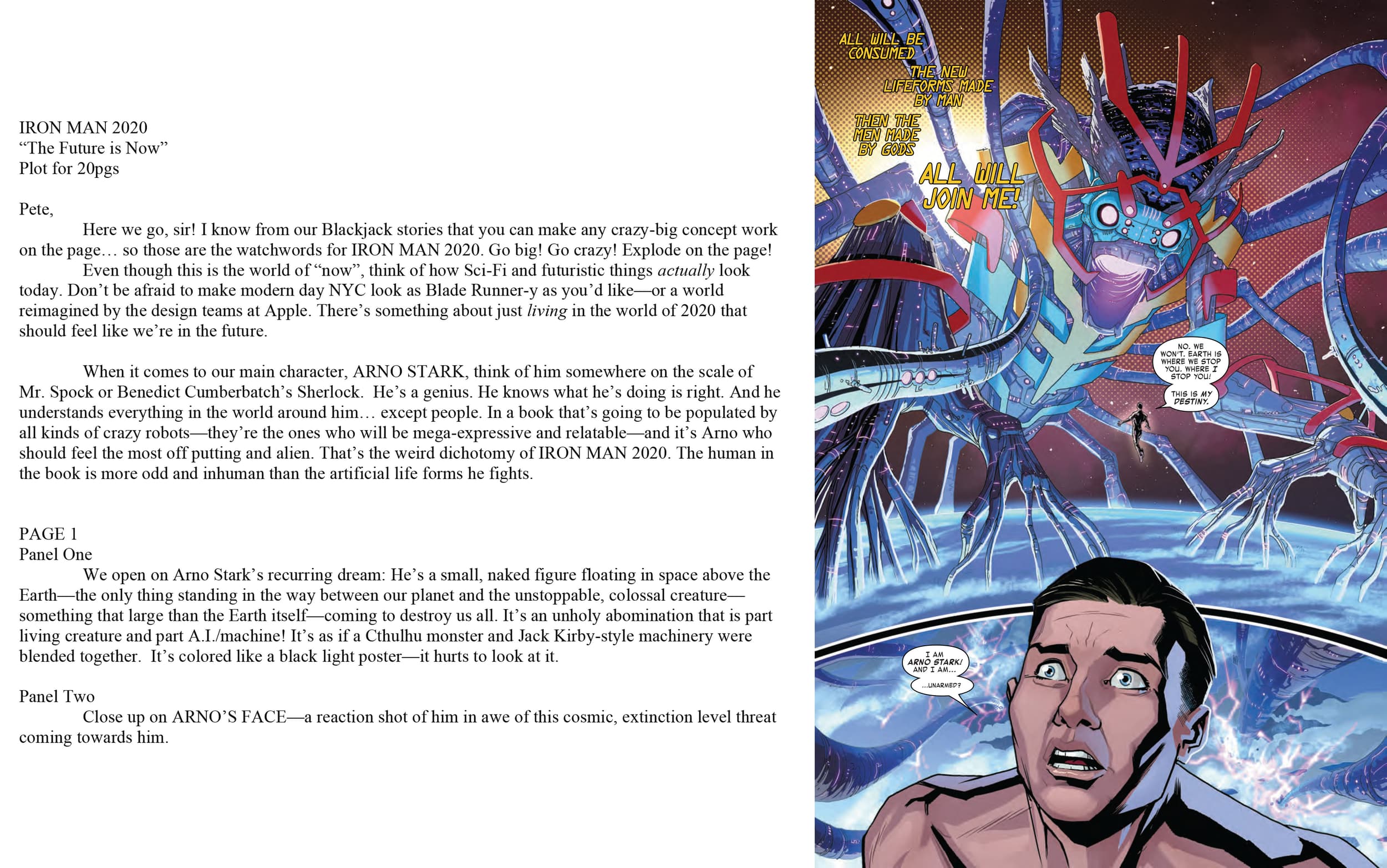 Slott then reminisced about the first time he saw Pete's drafts for the issue. "These are Pete's initial sketches for the first five pages of IRON MAN 2020. This was my first time seeing Pete's take on what the extinction event creature was gonna look like. And, oh, my god, it's gorgeous. Pete Woods nailed it, that's what's going to destroy us all, and I'd totally buy it."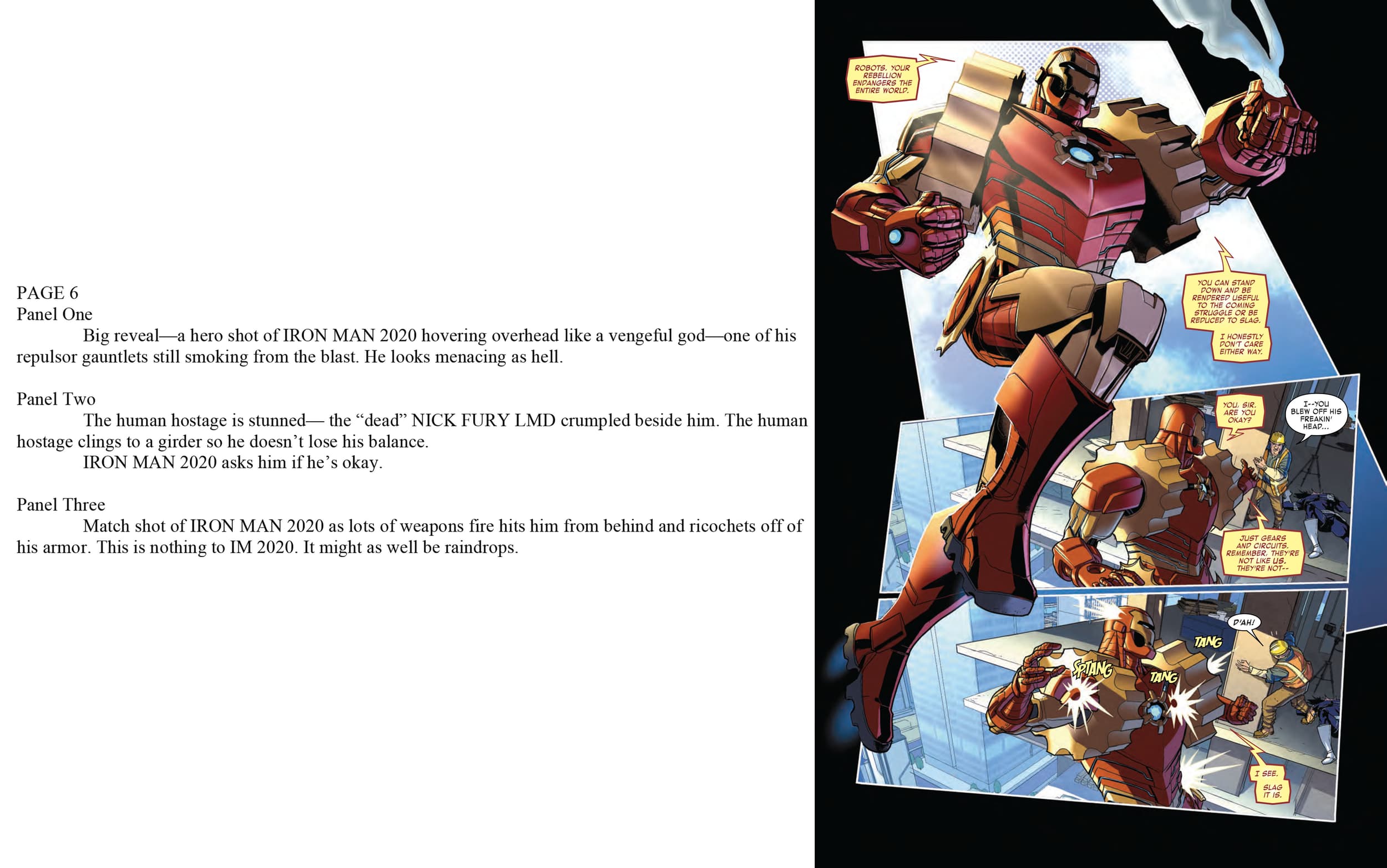 When it comes to the artistic direction and design of the character, Slott has a say in how it ties into the story, but also leaves some things to the artist. However, there are exceptions to the rule. "Half of the fun of comics is, you're the writer, write. Let the artist draw. Let their imagination go to crazy places. But then, I saw his initial sketches for the suit designs of Iron Man 2020. He said, 'Here's my first thought about Arno and his suit. I hate the gears.' Every visual of Iron Man 2020 in any comic book, it's his most defining thing. But Pete's like, 'I don't like the gears.' So, I wrote back to him, 'There's no sidestepping the gears. There's no downplaying the gears. They're his one signature look. Doing Iron Man 2020 without the gears would be like doing a Thor book without the hammer!' Or just a tiny hammer."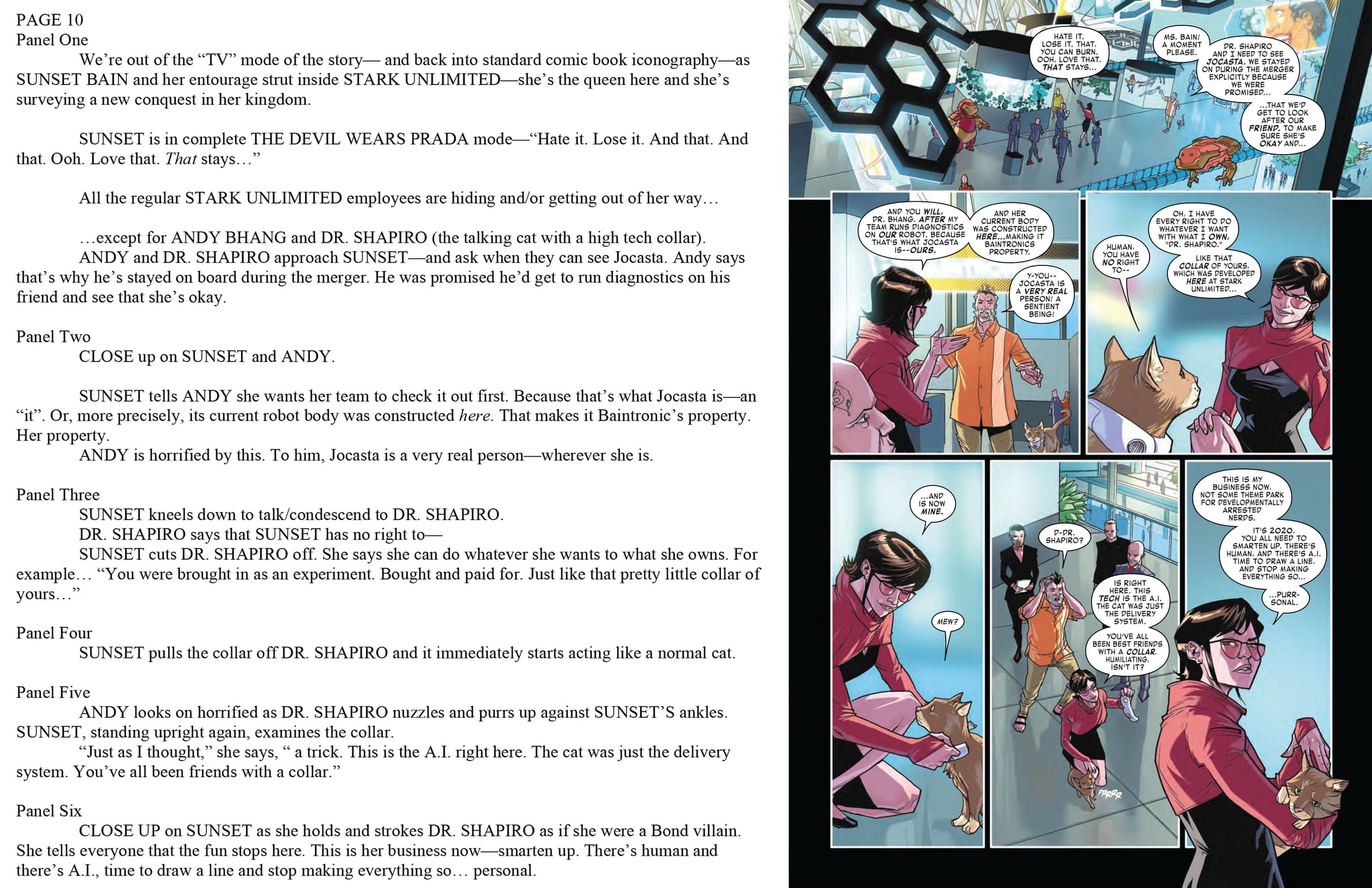 When Slott can't meet his deadlines, and particularly on IRON MAN 2020, writer Christos Gage is brought in as a co-author to assist with dialogue. On what it's like working Chris, Slott said, "Chris Gage is half of my brain. I love plotting stories, but Chris likes scripting. If deadlines are crunching, Chris is going to get me across."
One of the characters they went back and forth on was Dr. Shapiro, the genius talking cat. "Chris loves cats. Chris and his wife have tons of cats, and he lives for cats, and he was writing all these funny cat puns, and that's not the way I've been writing Dr. Shapiro. I had to explain to Chris how talking cats work in my mind. They're not making silly puns or jokes about their fur. It's selfish. It's self-centered. It thinks the way a cat thinks. It's one of the times that I end up rewriting Chris, and then Chris looks at what I rewrote and maybe he'll rewrite it again. And I'll go, 'Okay, now we're on the right path.' Now we're both thinking like a cat, instead of thinking about cat things."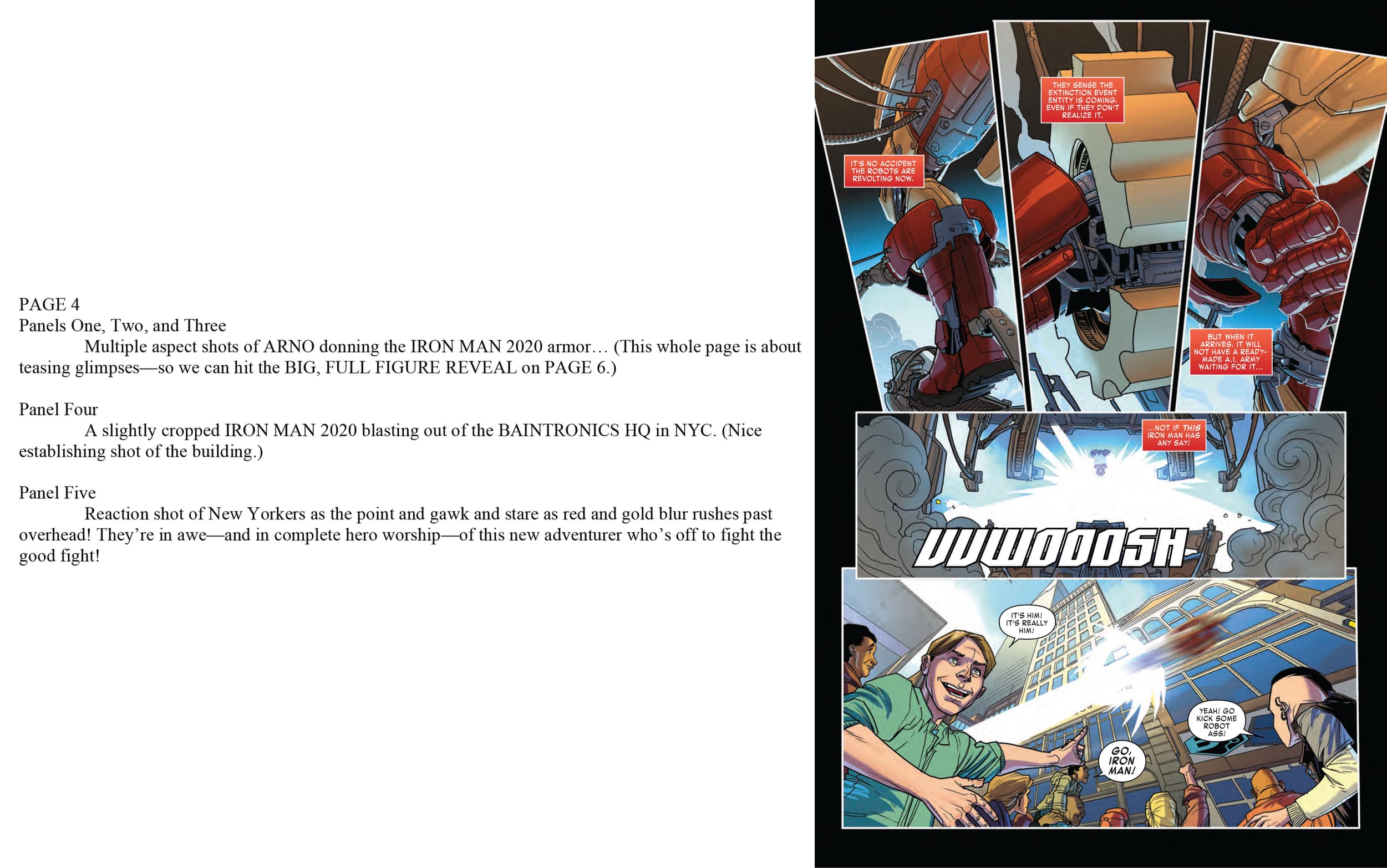 Last but never least is Slott's hot take on lettering, which as the writer, he isn't necessarily involved with but something he appreciates greatly. "The great unsung hero of comics is the letterer. The last person who's going to have to make the last changes to the very last second before the book has to leave house is Joe Caramagna. It rhymes with lasagna."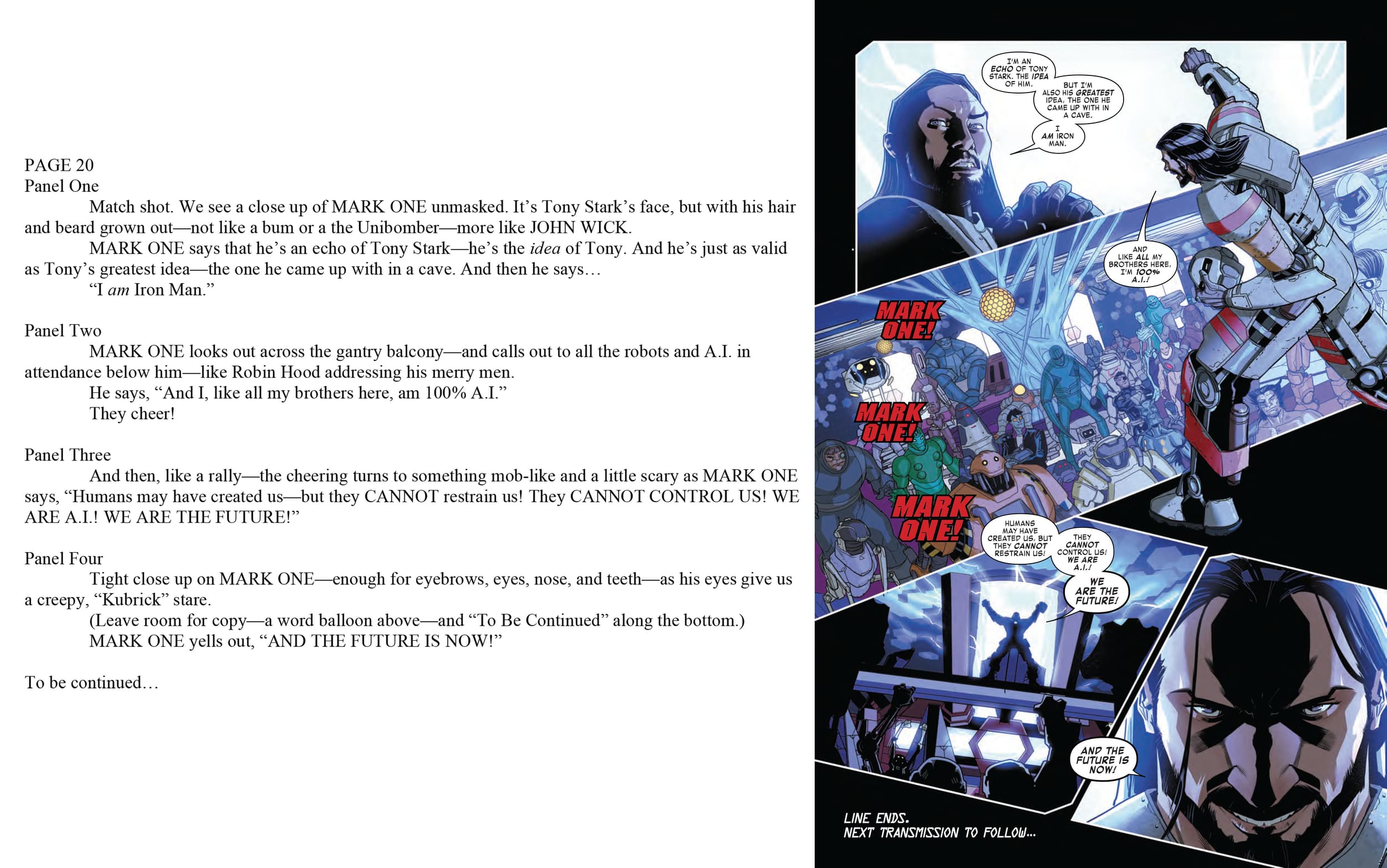 Talking more about lettering, Slott says, "The way they lay out the lettering balloons forces the eye to flow through the page the right way. It should feel very intuitive whenever you pick up a comic, if they know what they're doing, and Joe knows what he's doing. Joe is fantastic."
These are just some of the plot to page examples from Marvel's 616 "The Marvel Method," available now exclusively on Disney+! Check it out and learn more about the collaboration between Slott and Gage, Wood's inking and coloring process, the printing of the comic itself, and how editorial plays a major role at Marvel.
Don't forget, you can read IRON MAN 2020 #1 today – and the issues that came after it – on Marvel Unlimited!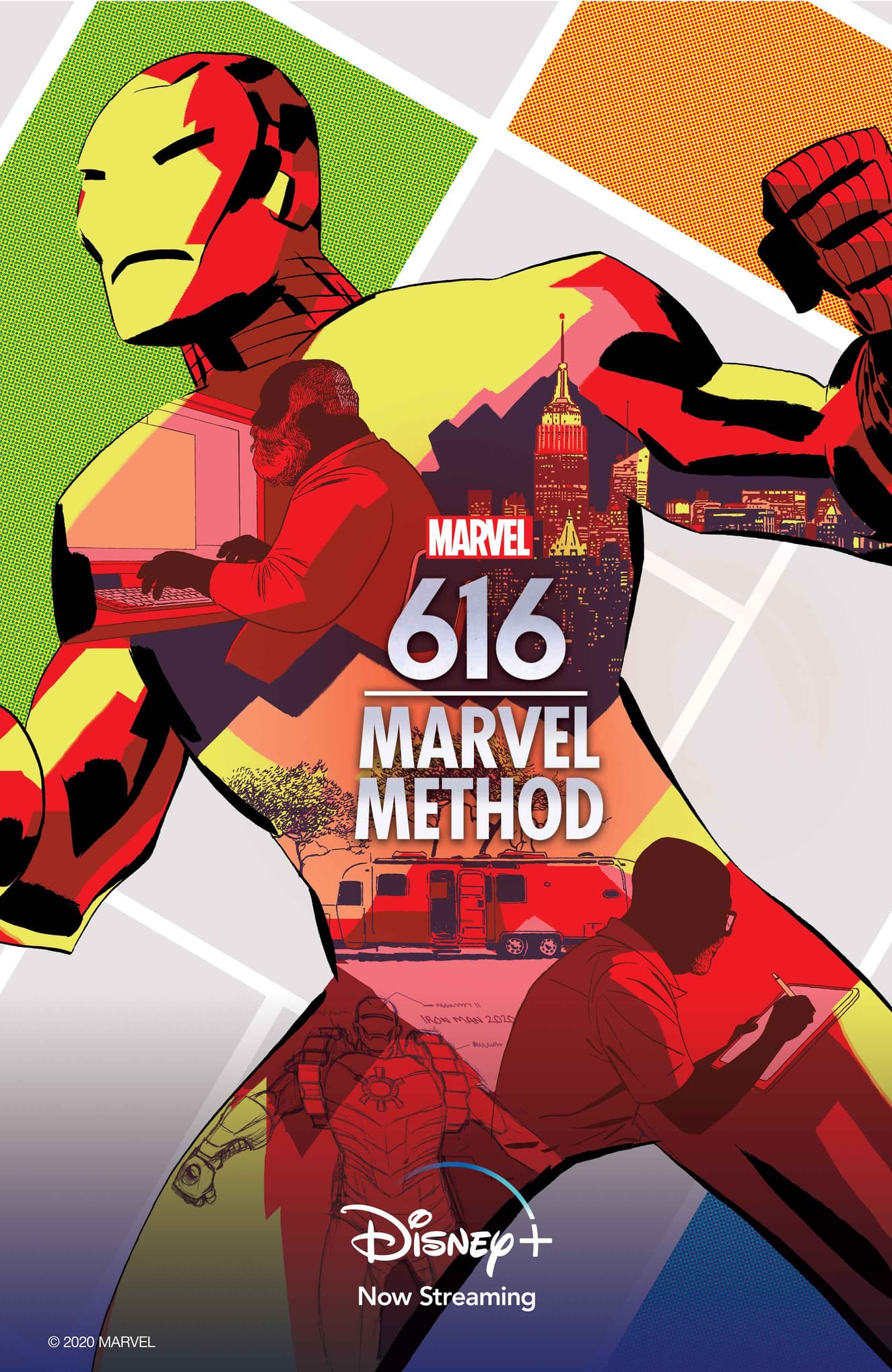 Marvel's 616 is streaming now exclusively on Disney+! For more about Marvel's 616, visit the show page right here at Marvel.com!
Looking for Marvel movies and shows to stream? Check out everything on Disney+, Hulu, and ESPN+ right here, and where to find all your favorite Super Heroes right here.
The Hype Box
Can't-miss news and updates from across the Marvel Universe!