TV Shows
Published February 7, 2018
'Marvel's Agents of S.H.I.E.L.D.: The Road to 100': Season 2 Spotlight
Geoffrey Colo relives the iconic moments from Season 2!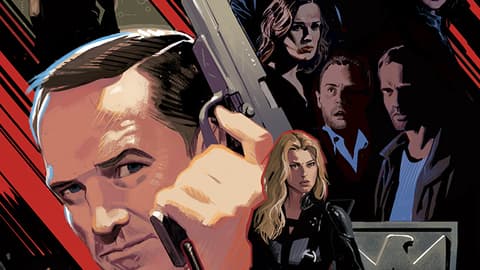 As we inch closer to the landmark 100th episode of "Marvel's Agents of S.H.I.E.L.D.," we continue to commemorate the series with the "Marvel's Agents of S.H.I.E.L.D.: The Road to 100" art program.
We previously spotlighted Season 1 with an art piece by Dale Keown. Marvel.com had the opportunity to reflect on Season 2 and the Season 2 art piece below from artist Daniel Acuña with Geoffrey Colo, Transmedia Producer at Marvel TV.
Marvel.com: Daniel Acuña highlights several noteworthy scenes of the second season in the art above. Can you share the significance of each scene depicted?
Geoffrey Colo: These four images represent key, life-changing moments for our S.H.I.E.L.D. characters in Season 2. Acuña did an amazing job at capturing them. I particularly love the badass Coulson profile.
We start at the top left with an image from the aptly-titled episode, "The Writing on the Wall." Curse that damn memory machine for driving Coulson to the brink of madness, but he did finally unlock the meaning behind his bizarre alien writing. It's a city. You know what that means. Road trip!
Bottom left, Skye breaks free from her Inhuman cocoon. It's the birth of Quake and, for me, one of the most iconic moments of the series.
At the center, we have our team, accompanied by the alt S.H.I.E.L.D. logo. The "real" S.H.I.E.L.D., headed by Robert Gonzales, and backed by Bobbi and Mack was philosophically opposed to Coulson's team who believed that Inhumans should be embraced, instead of feared. Can't we all just get along?
In our final image, bottom right, May clutches the lifeless body of Katya, an Inhuman girl May was forced to kill in the line of duty. This heartbreaking flashback episode revealed the dark, hidden truth behind May's infamous nickname, The Cavalry. Definitely one of my faves.
Marvel.com: You've been part of "Marvel's Agents of S.H.I.E.L.D." early on starting with Season 2. What has it been like brining the series to life, and seeing where we are today?
Geoffrey Colo: Watching the evolution from script to screen on a weekly basis is the most enjoyable part of my job. We have such a dedicated team of producers and writers, and a cast and crew who always go above and beyond. I'm just honored to be part of it all.
Marvel.com: That's so incredible! We can't talk about S.H.I.E.L.D. without mentioning the fans.
Geoffrey Colo: It's always rewarding when the show you work on has such a rabid fan base. Truth be told, we're all Marvel super fans ourselves. So, the same things our fans geek out over, we do as well. The fact that we're also able to connect with them directly at Comic-Con and other events, makes it even more special.
Marvel.com: Reflecting on Season 2, are there other key moments you'd like to spotlight on how they impacted the S.H.I.E.L.D. team and series?
Geoffrey Colo: There are so many more moments to spotlight. Don't touch the Obelisk. Hello Mockingbird. Goodbye Tripp. Hunter joins S.H.I.E.L.D. Welcome to Afterlife. You're killing me Ward. Deathlok to the rescue. Daisy has a daddy. Coulson loses an arm. Simmons meets the monolith.
Season Five will return Friday, March 2. Don't miss the 100th episode of "Marvel's Agents of S.H.I.E.L.D." will air Friday, March 9 at 9|8c on ABC!
For more information on "Marvel's Agents of S.H.I.E.L.D.," visit ABC.com, follow @AgentsofSHIELD on Twitter, and like "Marvel's Agents Of S.H.I.E.L.D." on Facebook for all the latest news and updates!
The Hype Box
Can't-miss news and updates from across the Marvel Universe!