TV Shows
Published March 13, 2020
'Marvel's Hero Project' Recap: Astonishing Austin
Austin dedicates his time to cultivating a community garden and promoting awareness of food insecurity.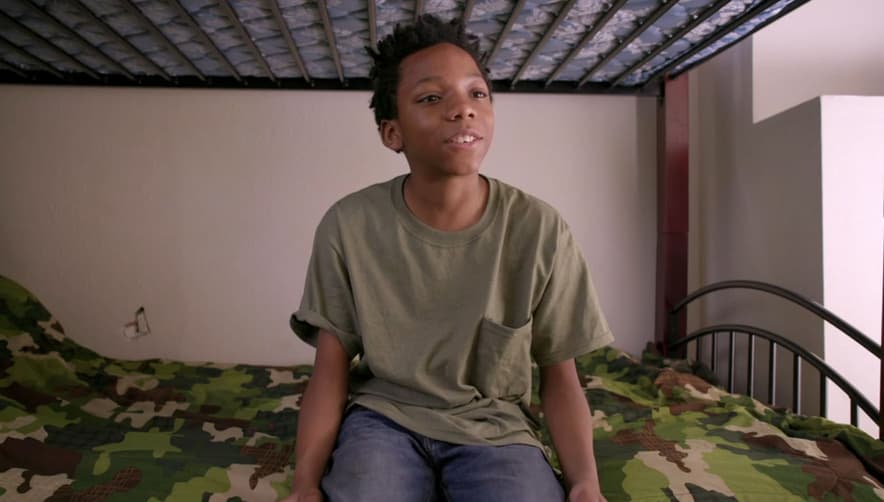 Every week on Marvel's Hero Project -- streaming exclusively on Disney+ -- you will meet a new young hero making a difference in their communities and all over the world! In this episode, meet Austin!
Austin knows from personal experience what it's like when food is scarce. It was during one of those times when he decided to grab a handful of beans and plant a garden. As his garden grew, he invited his community to pick what they wanted. Word spread and nearby farmers and volunteers came to help him work the soil and now, this local hero has shown an entire city how to sow the seeds of hope and reap the literal fruits of their labor.
Early in the episode as we learn Austin's story, his mother reveals that the family was homeless for a while. Once they found a home, they discovered they lived in a food desert – a community without the benefit of  a grocery store that sold fresh produce and other nutritious foods. To make things even more difficult, Austin's mother had trouble making ends meet, which sometimes meant that they went without regular meals. This was especially difficult during the summer when Austin and his siblings were out of school where they would have had access to regular meals. But one day, Austin took a bag of beans from the cabinet. "I threw them on the ground," Austin recalled in a video made when he was younger. "It was a very small bag of beans, not enough to feed everybody. So I had to make enough."
Austin started cultivating his own garden and at the same time, he began hosting a video blog under the name, Young Urban Gardener. Because he also had friends who also needed access to fresh produce, he broadened his goals and started planting  an even bigger garden that could provide enough food for more people in his community– at no cost to them. Austin said, "I'll grow it, you'll pick it." He was successful, and his garden started yielding results. But there were more setbacks. The garden was vandalized; and soon after, Austin and his family had to leave their home and move across town. But, Austin maintained his positive attitude. No matter where he was, he still wanted to grow a garden for his community. Soon enough, he found a vacant lot near his new home and, with some help, he got permission to start a new garden on the lot.
As Austin built up his reputation in the community, he was asked to speak in front of the Indy Food Council. He was nervous, but he had a lot of support as well as some offers to help him with his garden. When it came time to get started on the new garden, the community didn't let him down. Even some local farmers showed up, ready to lend their advice and their equipment. One farmer even told Austin to stop referring to himself as a gardener and embrace that he also was a farmer. "It made me feel good, because I know some people want to help me help other people," Austin said.
Two months later, Austin's new garden was harvested and the produce was made available for free to the community. But Austin wasn't finished. Now, he had another goal: to solve world hunger.
At Marvel's HQ in New York City, Marvel staffers Sana Amanat and Jen Grunwald started cultivating Austin's comic story. They were inspired by the way Austin rose up after his first garden was destroyed, so they gave him the super power of flight! They also knew that he wished he could manipulate water, so the two powers were combined, giving Austin's comic counterpart the perfect way to make nature work for him. Austin's real-life story also served as the basis of his Super Hero origin story – the journey begins when his garden was vandalized. He shows the people around him that he can overcome the setback with his power to rise above it and grow a brand new garden for everyone, bringing fresh fruits and vegetables to a community that previously lacked access to nutritious foods.
Now it was time to initiate Austin into Marvel's Hero Project! There were many surprises in store for Austin, who believed he was just showing up for a regular harvest. What he didn't know was that he also was going to be getting a new tool shed, a farmer's market stand… and a surprise from Marvel! Inside the tool shed was the Marvel envelope with Austin's initiation letter. Through her tears, his mom read the letter to Austin, who was excited to be compared to another Super Hero with a knack for nature: Groot! Next, his little sisters brought out the box containing his custom jacket, where Austin announced, "I'm feeling lucky! I'm feeling hot!", and they presented him with his very own comic. Austin's mom was beside herself, proclaiming, "You did it!" and later adding, "an OG Super Hero – Marvel style!"
To show how much Austin inspired all of us, Marvel's Hero Project is making a donation to Brandywine Creek Farms, an organization and program that provides nutritious food to those in need, in the amount of $10,000.
Now is your chance to look inside the comic that was made for Austin by real Marvel creators! Writer Brian Smith and artists J. L. Giles (pencils and inks) and Rachelle Rosenberg (colors) worked together to shape Austin's entrance into Marvel Comics! You can read Austin's comic, ASTONISHING AUSTIN #1, for free, right here!
To learn more about Brandywine Creek Farms, visit www.BrandywineCreekFarms.org.
There are so many heroes in the real world to celebrate, and Marvel's Hero Project is going to bring their inspiring stories to people of all ages across the globe! Tune in to Marvel's Hero Project, now streaming only on Disney+, every week to learn about a new young hero making a difference in their communities and beyond!
The Hype Box
Can't-miss news and updates from across the Marvel Universe!