TV Shows
Published December 20, 2019
'Marvel's Hero Project' Recap: Battlin' Braden
Braden feels like a hero when he wears his hearing aids -- find out how he's using his powers to be a hero to many others!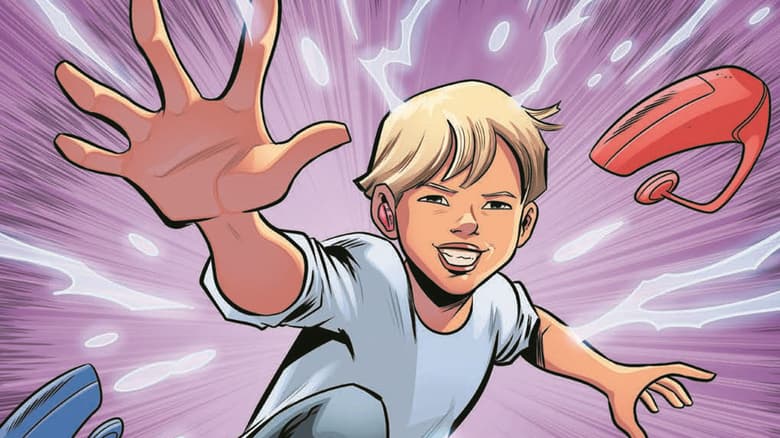 Every week on Marvel's Hero Project -- streaming exclusively on Disney+ -- you will meet a new young hero making a difference in their communities and all over the world! In this episode, meet Braden!
Braden considers his hearing aids his superpower: when he puts them in, he feels his world comes alive. But when he learned that not everyone who is hearing impaired can afford hearing aids, he knew he had to help. Made possible through his tireless fundraising efforts, he travels across the world delivering hearing devices, witnessing how lives are transformed when the sound finally comes on.
Braden has been hearing impaired since birth, and has never let it hold him back – but he wants to make sure everyone else with hearing loss feels just as normal as he does. After an incident during which Braden lost his hearing aids (actually, his dog Chewie ate them), he was astounded to realize that while he was easily able to get new ones, there were so many people around the world who didn't have the same access that he did. This was when he made it his mission to get hearing aids to everyone who needed them.
To start off, Braden would challenge people on social media – if he could complete a stunt like solving a Rubik's cube while surfing, would people donate? Before he and his parents knew it, the money started coming in. His fundraising efforts led to a trip to Guatemala to distribute hearing aids. After that, he knew there were also people at home who were still in need.
The fundraising continued, and Braden's efforts became more and more visible – he appeared on national TV and received a big donation, which only led to more fundraising. What his numerous public appearances also did was show people that there was no reason to be self-conscious about wearing hearing aids. Braden often sports very colorful models!
Even after achieving so much success, Braden is nowhere near stopping when it comes to getting people hearing aids. "Being able to dedicate your time to people who really need it, it just feels like you've really done your part in the hearing world. I hope that I can get every person hearing aids that can't afford them. And that might take a really long time, but I'm gonna' try my best."
When coming up with the story for Braden's comic, Marvel staffer Steve Wacker and Sana Amanat wanted to make it feel like people could hear the comic they'd be reading. They felt that Braden's super power was his voice – much like Black Bolt, but with much less destruction – and the way he could amplify his message, making it possible for so many to hear him. To make this invisible power super visible, they depicted his power to be heard as blue sonic waves that could reach someone no matter where they stood – and no matter what their hearing ability. In Braden's story, he uses his super powered voice to reach the people who needed to listen to him the most: the people who provided his hearing aids, people watching TV who might want to help, all the way to Guatemala.
Now it was time for Braden to become part of Marvel's Hero Project! He was brought to a location by his parents, where he was going to be surprised by a huge crowd of people he's helped. People who couldn't be there in person sent video messages, including another young hearing loss activist named Dutch, who said Braden was his hero and he hoped to meet him in person one day. That day came fast! Dutch entered the room carrying the mighty Marvel box. Braden's mom read the initiation letter, and after seeing his very own comic book, Braden said it was "probably the most amazing night of my life." His friends even asked him to sign their copies!
To show how much Braden inspired all of us, Marvel's Hero Project is making a donation in the amount of $10,000 to Hearing the Call in recognition of their work supporting people with hearing loss.
Now is your chance to look inside the comic that was made for Braden by real Marvel creators! Writer James Asmus and artists Craig Rousseau (pencils and inks) and Andrew Crossley (colors) worked together to shape Braden's entrance into Marvel Comics! You can read Braden's comic, BATTLIN' BRADEN #1, for free, right here!
And, of course, if you want to learn more about Braden and his work, you can visit www.bradenbakerhears.com.
There are so many heroes in the real world to celebrate, and Marvel's Hero Project is going to bring their inspiring stories to people of all ages across the globe! Tune in to Marvel's Hero Project, now streaming, only on Disney+, every week to learn about new young heroes making a difference in their communities and beyond!
The Hype Box
Can't-miss news and updates from across the Marvel Universe!