TV Shows
Published December 13, 2019
'Marvel's Hero Project' Recap: Make Way for Jahkil
Jahkil has been helping the homeless people in his community -- see what else this young hero can do!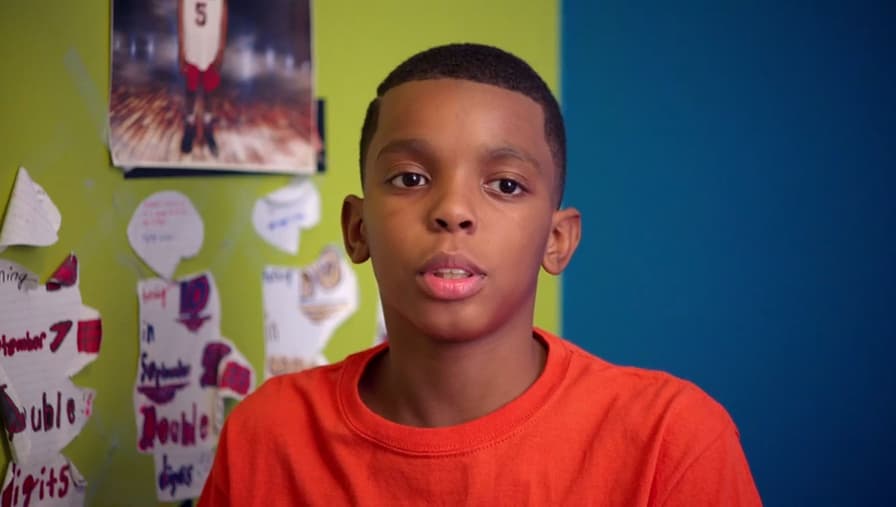 Every week on Marvel's Hero Project -- streaming exclusively on Disney+ -- you will meet a new young hero making a difference in their communities and all over the world! In this episode, meet Jahkil!
Jahkil wanted to help the homeless people he noticed in his city, so he started distributing his Blessing Bags full of essential items. As he sets new goals to reach even more people who could use his support, Jahkil never strays from his original goal – to show people, no matter their situation, that they deserve kindness and dignity. That's what makes Jahkil a true Marvel Super Hero.
From the get-go, we see Jahkil embarking on his mission: to help the homeless people in his community by providing them with Blessing Bags, care packages filled with toiletries and supplies. His desire to help began at age five when his aunt took him on a trip to see for himself the reality of homelessness and living on the streets. A one-time adventure sparked Jahkil's desire to keep giving back.  From that point on, he wanted to do something to make a change and help others. He was inspired by a food donation that his family was participating in, but wanted to give something that lasted longer. Together, Jahkil, his parents, and grandmother started assembling Blessing Bags.
This is where Project I Am was born, and Jahkil's Blessing Bag operation blew up. According to Jahkil's dad, it "created a domino effect that hasn't stopped yet." From year to year, as his grandmother tells it, Jahkil went from distributing 1,500 bags the first year, to 5,000 the next. Now Blessing Bags distributes over 10,000 bags a year. Blessing Bags even got the attention of President Barack Obama, who elevated Jahkil's cause to the national level. From there, Jahkil brought his Blessing Bags to Los Angeles' Skid Row, and he received a big donation to support his efforts while appearing on a syndicated talk show. Eventually, Jahkil received international donations and started sending Blessing Bags all over the world.
At Marvel's HQ in New York, Marvel staffers Steve Wacker and Jon Ennis devised a way to bring Jahkil's story to the comics. They noted his decisive approach to problem-solving and the humanity he saw in the homeless people of Chicago. Jahkil isn't just about helping people – he treats them with respect, acknowledging that no two stories or situations are the same. Much like the way a Marvel Super Hero treats every person they save as an individual with value. Wacker and Ennis described Jahkil as "kinetic," and aimed to portray him that way in the panels. They also gave him the power of super speed, having compared him earlier to Quicksilver, for the way he can get from one place to another to help as many people as possible. In Jahkil's comic, the young hero visits several homeless people with his Blessing Bags, striking up conversations with them, and making them realize that they matter, they are cared for, and they deserve respect. Using his super speed, he travels all over to deliver more bags and give inspirational talks to people of all ages who want to help.
Now that we've seen Jahkil's heroic efforts, it was time to initiate him into Marvel's Hero Project! At a church where he was told that he was going to speak about Project I Am, Jahkil is interrupted and told that it was about time someone brought him a blessing. Sure enough, his father came up the aisle with a bag of his own – and seeing his mom with an envelope bearing the Marvel logo was a surprise too! After hearing that he was going to be a part of Marvel's Hero Project, Jahkil donned his new jacket and pulled out his very own comic, which brought his grandmother to tears. (And according to Jahkil, she never cries.) Jahkil said, "I've always wanted to have super speed because my schedule is off the chain."
He also said that with his new super speed, he can achieve his goal of delivering 15,000 Blessing Bags to those in need.
To show how much Jahkil inspired all of us, Marvel's Hero Project is making a donation in the amount of $10,000 to Chicago Hopes for Kids in support of youth activities, including support for Project I AM.
Now is your chance to look inside the comic that was made for Jahkil by real Marvel creators! Long time Marvel editor Ralph Macchio stepped in as writer and artists J. L. Giles (pencils and inks) and Chris Sotomayor (colors) worked together to shape Jahkil's entrance into Marvel Comics! You can read Jahkil's comic, MAKE WAY FOR JAHKIL #1, for free, right here!
And, of course, if you want to learn more about Jahkil and his work, you can visit officialprojectiam.com.
There are so many heroes in the real world to celebrate, and Marvel's Hero Project is going to bring their inspiring stories to people of all ages across the globe! Tune in to Marvel's Hero Project, streaming exclusively on Disney+, every week to learn about new young heroes making a difference in their communities and beyond!
The Hype Box
Can't-miss news and updates from across the Marvel Universe!