TV Shows
Published February 14, 2020
'Marvel's Hero Project' Recap: Roving Robbie
Robbie has traveled the country to preserve all of its national parks and protect nature!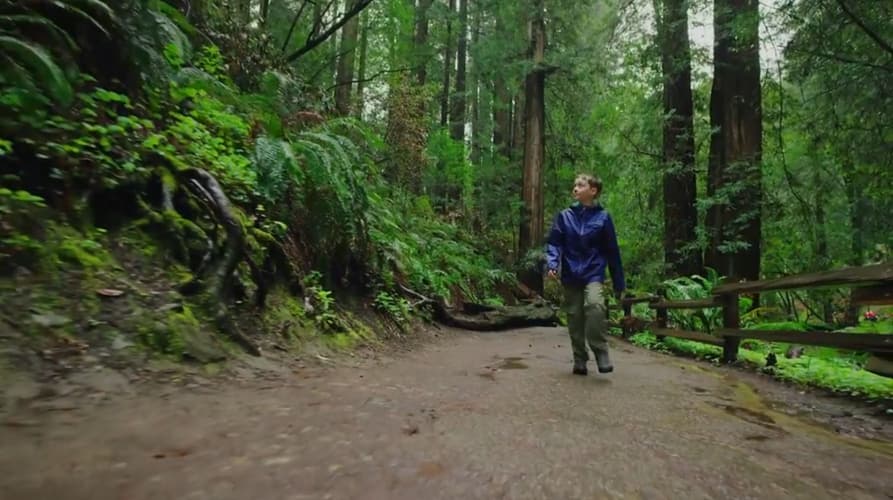 Every week on Marvel's Hero Project -- streaming exclusively on Disney+ -- you will meet a new young hero making a difference in their communities and all over the world! In this episode, meet Robbie!
Robbie has a strong connection to nature, and through his journey visiting over 100 of America's national monuments, he realized that they must be protected. He created a virtual reality (VR) tour of these monuments, and visits schools to share his travels and his stories. Using VR technology to transport the next generation to these special places, he hopes to instill a sense of purpose to protect these sites for the future.
The desire to take care of the environment came early for Robbie, who said that "if you're born and live in Hawaii, you're pretty much obligated to be an environmentalist." As someone who has so much natural beauty around him, Robbie takes the preservation of that beauty very seriously. When he isn't taking in the sights and sounds of nature for fun, he's helping to clean up trash on the beach.
His biggest cause, however, goes beyond his "backyard" in Hawaii: Robbie wants to protect National Parks across the entire country. When the federal government announced in 2017 that it would decrease protection of National Park lands, Robbie knew he had to take action. He started his own nonprofit organization, Kids Speak for Parks, which is "dedicated to educating kids about the importance of the National Parks and Monuments, and also how they can protect them." As part of his mission, Robbie traveled all around the country, documenting his visits to several National Parks and Monuments as well as with elected officials in Washington D.C.. But Robbie's real goal was to help inform kids that they have the power to affect change and can play a part in protecting the environment.
One way Robbie spreads his message is worthy of a Marvel-caliber tech giant like Tony Stark: VR. While documenting some of his trips, he uses special 360-degree camera equipment to create virtual tours so any kid in any location also can experience the places that Robbie has seen.
Robbie's road to becoming a public speaker wasn't something that came easy to him. Like his father, Robbie was born with a cleft palate, which meant he had to undergo several surgeries from a very young age and deal with some bullying along the way. But it's part of who he is, and Robbie says that living with it makes him "stronger and tougher."
At Marvel's HQ in New York City, Marvel staffers Stephen Wacker and Sarah Amos started building the story of Robbie's Marvel comic. They were especially inspired by the way he wanted to give other kids the voice and the power to take action, as well as spread the same joy that he feels about the environment. As a way to turn his real power into a super power, Robbie's passion combined with his virtual reality tours became the ability to teleport, just like Nightcrawler! In the comic, that's just what Robbie's counterpart does. While giving a talk to a classroom full of curious kids, Robbie teleports all of them to several National Parks, explaining why the parks need to be protected.
Now it was time to initiate Robbie into Marvel's Hero Project! Robbie and his family had moved from Hawaii to Reno, Nevada, where he could continue pursuing his mission on the mainland. But he was in for a big surprise from his former home on the Big Island! During another classroom talk, Robbie's father stood up to reveal the Marvel envelope with the initiation letter inside. While reading the letter, Robbie's father got choked up, but collected himself in time for the next surprise: Robbie's grandpa came through the door with the mighty Marvel box! After taking out his jacket, the whole class held up copies of Robbie's very own Marvel comic book.
To show how much Robbie inspired all of us, Marvel's Hero Project is making a donation in the amount of $10,000 to the Captain Planet Foundation in recognition of their work to protect, engage and empower young people to be problem-solvers for the planet.
Now is your chance to look inside the comic that was made for Robbie by real Marvel creators! Writer Brian Smith and artist David Baldeon (pencils and inks) and Rachelle Rosenberg (colors) worked together to shape Robbie's entrance into Marvel Comics! You can read Robbie's comic, ROVING ROBBIE #1, for free, right here!
To learn more about the Captain Planet Foundation, visit captainplanetfoundation.org.
There are so many heroes in the real world to celebrate, and Marvel's Hero Project is going to bring their inspiring stories to people of all ages across the globe! Tune in to Marvel's Hero Project, now streaming only on Disney+, every week to learn about a new young hero making a difference in their communities and beyond!
The Hype Box
Can't-miss news and updates from across the Marvel Universe!