TV Shows
Published January 31, 2020
'Marvel's Hero Project' Recap: Soaring Seamus
Seamus climbs great heights to bring awareness and support to wounded and fallen soldiers!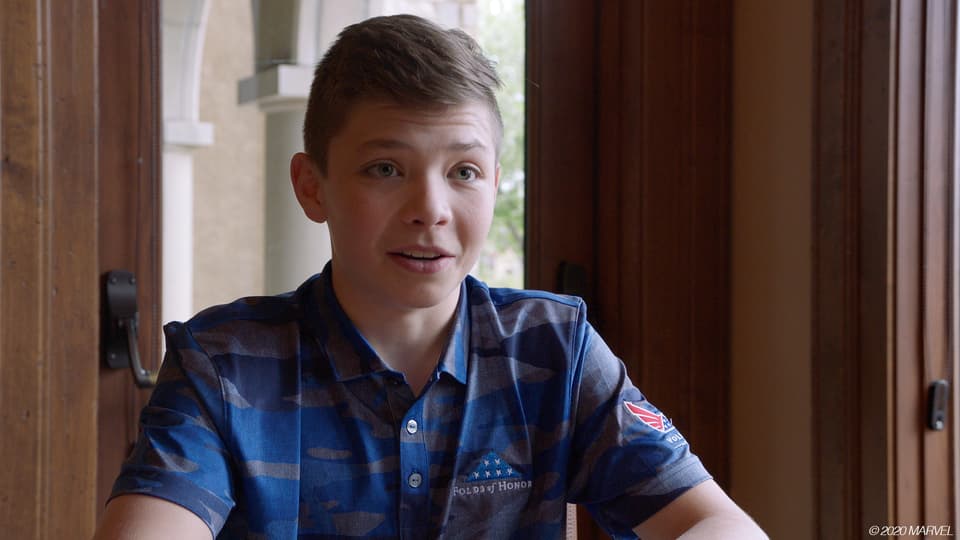 Every week on Marvel's Hero Project -- streaming exclusively on Disney+ -- you will meet a new young hero making a difference in their communities and all over the world! In this episode, meet Seamus!
Seamus wants to give back to those who serve -- the men and women who are willing to risk everything to ensure his freedom. He created a fundraising organization that taps into his love of rock-climbing to raise money for the families of fallen and wounded soldiers, so they can keep climbing towards their own dreams. Seamus already is a hero, but now, he's about to become a Marvel Super Hero.
Even though he's a kid, Seamus is no stranger to the meaning of sacrifice. He grew up in a family with a military background, idolizing his grandfather who served in Vietnam. Influenced by his grandfather's experiences, Seamus came to recognize and respect honor and service to others very early on. And, as he got older, he started using this commitment and other skills he had learned in his young life to help people.
During this same time, Seamus s'father recognized his son's intense drive and started bringing him to a rock climbing facility. It took a few tries, but eventually Seamus developed the courage and the skills that inspired him to climb Devil's Tower for the first time, which he accomplished at the age of 11. After conquering Devil's Tower, Seamus kept aiming higher – eventually, his feats got the attention of the media.
If he was getting this much attention for his climbs, Seamus knew he had to use the publicity as a tool for giving back and raising awareness. He looked into military charities, deciding on Folds of Honor. On his 13th birthday, Seamus organized a three-day triathlon to raise funds that would go toward scholarships for the children and spouses of fallen or wounded soldiers. It wasn't easy, but he accomplished his goal of completing all three days, finishing with another climb at Devil's Tower – and raising over $40,000.
Seamus says that he's expressed an interest in training for U.S. Special Forces, which would be a challenge but would ultimately give him a real opportunity for a life of service. He understands what it entails, and says that it's a risk worth taking. "I know that my sacrifice, if that came to be, that [my parents] would understand. That my sacrifice was for them, and for all those I love, and those I never meet. And it's a sacrifice I was willing to make."
But before he follows his military dreams, Seamus knows he can make a difference in people's lives now. "My goals change every day, but my end goal is to be able to reach the very top of my potential and then reach back down and help somebody else get up there with me."
For Seamus's Marvel comic story, the mighty Marvel bullpen had to feature a hero's journey. Marvel staffers Sarah Amos and Sana Amanat used the triathlon as a way to show Seamus being inspired and powered by the people he wanted to help as he accomplished each feat. He drew immediate comparisons to Captain America, which helped inspire the star design on his rock climbing helmet. In his story, Seamus overhears two kids of a fallen soldier talking about how they can't afford to go to college – he springs into action, setting a goal for the "Dream of 13," enough funds for 13 scholarships. His father narrates Seamus's journey to reach his goal, and Seamus gains more power as he keeps the Gold Star families in mind while pushing himself. Holding a Folds of Honor banner high, Seamus triumphs!
Now it was time to initiate this selfless young hero into Marvel's Hero Project. Seamus was invited to present his latest donation at an event in Denver, Colorado. But while he was ready to give a huge gift to others, Seamus was about to receive a few surprises himself, starting with an appearance from one of his own heroes! Seamus was speechless, but the surprises were still coming! His father stepped up to read the letter of initiation, which stated that Marvel's Hero Project was making a donation in the amount of $10,000 to Folds of Honor in recognition of their support for families of fallen and wounded soldiers. Once he found his very own Marvel comic, Seamus was still beyond words, except for one: "Incredible." He even signed a copy of his comic for Peyton Manning (at his request).
Now is your chance to look inside the comic that was made for Seamus by real Marvel creators! Writer Chuck Brown and artists Andrea Di Vito (pencils and inks) and Chris Sotomayor (colors) worked together to shape Seamus's entrance into Marvel Comics! You can read Seamus's comic, SOARING SEAMUS #1, for free, right here!
To learn more about Folds of Honor, visit www.foldsofhonor.org. 
There are so many heroes in the real world to celebrate, and Marvel's Hero Project is going to bring their inspiring stories to people of all ages across the globe! Tune in to Marvel's Hero Project, now streaming only on Disney+, every week to learn about a new young hero making a difference in their communities and beyond!
The Hype Box
Can't-miss news and updates from across the Marvel Universe!