TV Shows
Published January 10, 2020
'Marvel's Hero Project' Recap: Spectacular Sidney
Sidney is spreading the super powers of books to other young people in his community!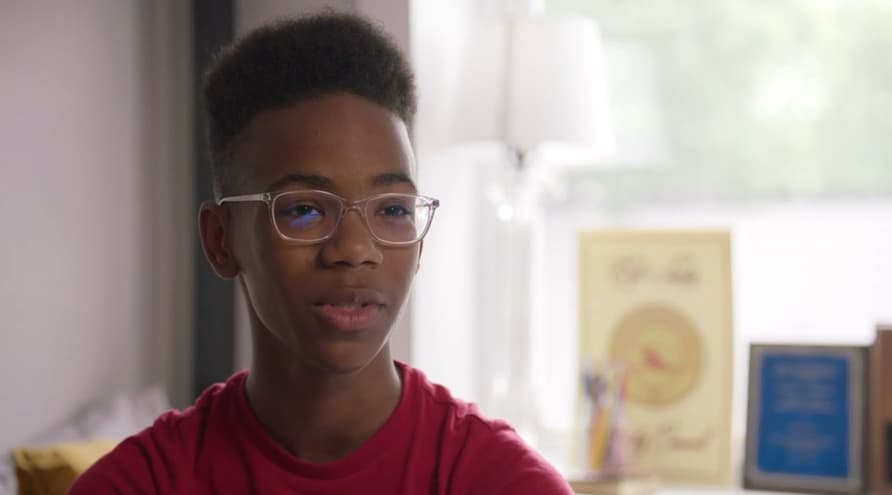 Every week on Marvel's Hero Project -- streaming exclusively on Disney+ -- you will meet a new young hero making a difference in their communities and all over the world! In this episode, meet Sidney!
Sidney fell in love with reading at a young age, but he wasn't finding a lot of stories with characters who resembled him. So, he established his Books-n-Bros club, targeted to young, African-American boys to spread his love of reading and improve literacy skills. He wanted other kids like him to share in the power of stories, and now Marvel wants everyone to know the Super Hero Sidney is.
When he was younger, Sidney said that he stuttered. When he was teased for it, he would read books to escape. As he got older, he continued finding comfort in reading, but also found adventure.
Sidney's mother talks about having "the conversation" with her son about being Black in America after several upsetting news stories raised questions from Sidney. Members of the community came together to see how they could bring change, and one of the locations they chose was a bookstore geared towards African-American kids and featuring stories about them.  The bookstore became a place where he felt like he had friends. He said, "When you actually can relate, like 100 percent, it makes you feel that you're not alone, and you have other people around you."
Sidney got the idea to start a book club as a way to find other kids who liked to read. But he went a step further to focus the books on stories about (and for) African-American kids so they could feel the same acceptance that he did. He also noticed that the only other book club was geared for girls – Sidney saw an opening and created Books 'n' Bros. Membership has grown to about 250 boys across the country, plus one in Canada.
Another branch of Books 'n' Bros is the Big Bros mentorship program, which brings in adults to read with kids in the community and serve as role models. By bridging generations, Sidney not only facilitates connections, he is strengthening his community.
At Marvel's offices in New York, Marvel staffers Sana Amanat and Stephen Wacker started crafting Sidney's comic story. They both honed in on his ability to "teleport" himself while reading, then extended that power to include other boys. The power of reading books was transformed into an actual super power, with Sidney's books taking on a mystic quality that took him and his friends to far-off places and let them form their own alter egos. In his comic, Sidney convinces his skeptical friends to come with him to the bookstore where there are stories they can relate to. From there, the super powered book takes all of them on all kinds of journeys, proving to them that reading can truly spark their imaginations.
As such a big fan of reading, it was going to be really exciting to present Sidney with a comic that made him the star! But before that, he had to be initiated into Marvel's Hero Project. At a regular meeting for Books 'n' Bros, Sidney got his first surprise – a visit from the author of his favorite book Danny Dollar, Ty Allen Jackson. After commending Sidney for his great work, Jackson took out the envelope with the initiation letter. He soon received the box containing his team jacket and a comic book starring Sidney, which tells his story. And of course, the whole Books 'n' Bros club got copies for themselves! Sidney was so excited to see himself depicted as a Marvel Super Hero, but he was even happier knowing that boys like him could now see themselves in a Marvel Comic.
To show how much Sidney inspired all of us, Marvel's Hero Project is making a donation in the amount of $10,000 to the American Library Association to support literacy programs for African American youth.
Now is your chance to look inside the comic that was made for Sidney by real Marvel creators! Writer Chuck Brown and artists Yvel Guichet (pencils and inks) and Chris Sotomayor (colors) worked together to shape Sidney's entrance into Marvel Comics! You can read Sidney's comic, SPECTACULAR SIDNEY #1, for free, right here!
To learn more about the American Library Association, visit www.ALA.org.
And, of course, if you want to learn more about Sidney and his work, you can visit https://www.booksnbros.com. 
There are so many heroes in the real world to celebrate, and Marvel's Hero Project is going to bring their inspiring stories to people of all ages across the globe! Tune in to Marvel's Hero Project, now streaming only on Disney+, every week to learn about new young heroes making a difference in their communities and beyond!
The Hype Box
Can't-miss news and updates from across the Marvel Universe!