TV Shows
Published December 20, 2019
'Marvel's Hero Project' Recap: The Dazzling Lorelei
What makes Lorelei a hero is not just her bravery through her illness, but using the power of her love to help others.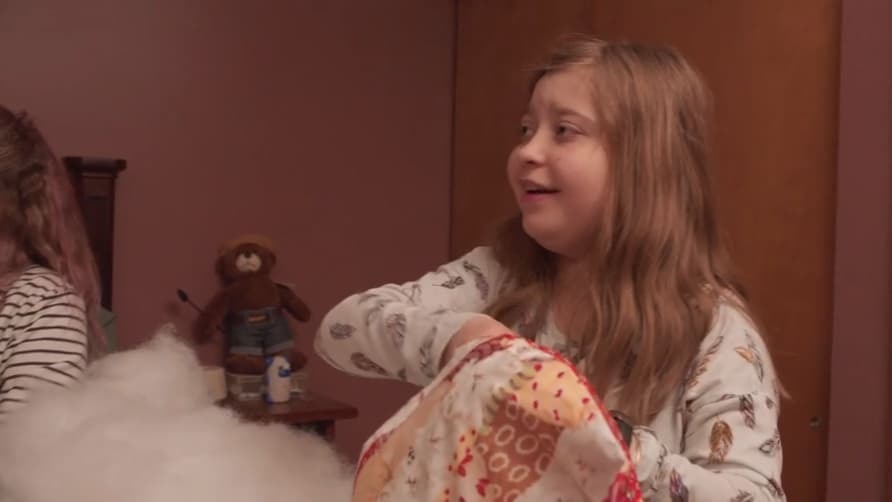 Every week on Marvel's Hero Project -- streaming exclusively on Disney+ -- you will meet a new young hero making a difference in their communities and all over the world! In this episode, meet Lorelei!
Lorelei was born with half a heart, but really, she is all heart, working tirelessly to make sure other kids like her get the cardiac care they need. With her heart hug pillows, Lorelei has been crafting care packages for other young heart patients around the world. What makes Lorelei a hero is not just her bravery through her illness, but using the power of her love to help others.
When we meet Lorelei, her mother is reading a letter from a young cardiac patient who wanted to thank Lorelei for her hard work helping kids like them. We find out that Lorelei had a twin brother who did not survive and that she was born with the left part of her heart missing. She went through a number of surgeries from the time she was born, leaving her health vulnerable and "always tired," as she puts it. But Lorelei had a whole life to live – and people to help.
After one of her open-heart surgeries, Lorelei was given a pillow to hug to relieve her pain and help her heal. But she soon realized that the pillows that hospitals had on hand were very large for small children like her. This is when she got the idea to make her own pillows for young cardiac patients. Word spread, and requests started coming in from young patients and their families hoping to receive one of Lorelei's handmade pillows. As demand grew, Lorelei enlisted other groups like the Girl Scouts to reach patients and families on every continent (except Antarctica). 
Since she began her mission, Lorelei has sent over 50,000 pillows to critically ill kids and raised over $150,000. While her health makes her vulnerable and weak at times, the people Lorelei has touched with her selflessness and empathy continue to reach out to express their gratitude. Knowing she has made a difference only drives her to keep going. Her mom says, "She thinks about, 'When I wake up today, who am I going to help?' That's truly her legacy. Do what you can to help other people. And that's all we can really control in life."
At Marvel's HQ in New York City, Marvel staffers Sana Amanat and Jon Ennis used Lorelei's own words to start shaping the story for her own comic. Lorelei said, "If you give love, you get love. If you give happy, you usually get happy." Amanat and Ennis saw this love as Lorelei's super power, and Ennis describes how they decided to incorporate this power into the thread she uses to create her pillows, actually transferring her love to everyone who gets a pillow. Earlier in the show, they compared Lorelei to Tony Stark AKA Iron Man, who suffered an injury to his heart and used his craftiness to heal himself and become one of Marvel's biggest Super Heroes. Lorelei's comic follows her heroic origin story, from the moments before she was born, to her surgeries and her idea to make smaller pillows for smaller patients, to her making her pillows with super-powered thread and spreading love all over the world.
After proving she was a hero through her hard work and selfless nature, it was time to initiate Lorelei into Marvel's Hero Project! At her birthday party held at the service dog facility where her service dog Mandu was trained, Lorelei was invited to name a new litter of future service dogs – but that wasn't her only surprise. After meeting the puppies, the surprise was revealed and Lorelei's father read the letter of initiation into Marvel's Hero Project. When Lorelei took out her own comic, she was excited to see that Mandu was featured alongside her on the cover – and she and her parents all agreed that the best part was the depiction of children from all over the world holding their heart pillows.
To show how much Lorelei inspired all of us, Marvel's Hero Project is making a donation in the amount of $10,000 to the Association of Child Life Professionals in recognition of their work providing comfort to children in hospitals.
 
Now is your chance to look inside the comic that was made for Lorelei by real Marvel creators! Writer James Asmus and artists Craig Rousseau (pencils and inks) and Ian Herring (colors) worked together to shape Lorelei's entrance into Marvel Comics! You can read Lorelei's comic, DAZZLING LORELEI #1, for free, right here!
For more information about the Association of Child Life Professionals, visit http://www.childlife.org.
There are so many heroes in the real world to celebrate, and Marvel's Hero Project is going to bring their inspiring stories to people of all ages across the globe! Tune in to Marvel's Hero Project, now streaming, only on Disney+, every week to learn about new young heroes making a difference in their communities and beyond!
The Hype Box
Can't-miss news and updates from across the Marvel Universe!