TV Shows
Published November 22, 2019
'Marvel's Hero Project' Recap: The Unstoppable Adonis
Meet Adonis, who hasn't let his blindness stop him from pursuing his dream to become a star athlete!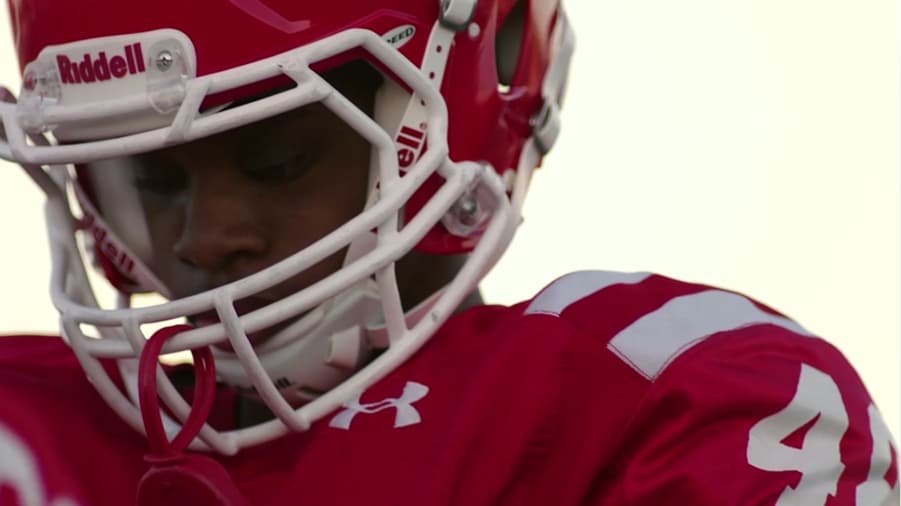 Every week on Marvel's Hero Project -- streaming exclusively on Disney+ -- you will meet a new young hero making a difference in their communities and all over the world! In this episode, meet Adonis!
When Adonis lost his eyesight at age five, he didn't lose his ambition to one day play professional football. Now, as a celebrated running back for his high school team, he has changed the way people see those who are visually impaired, on the field and off. Already a local hero, Adonis's story is about to be broadcast to the world when Marvel makes him a Super Hero.
As a member of a family of athletes, Adonis has spent his life staying at the top of the competition – and that was just at home! While his mother Veronica – a college basketball player and former cheerleader for the Arizona Cardinals – didn't see his decision to stop having surgery to fix his eyesight as a "win," Adonis asserted that he wasn't "broke – I'm enough." From there, Veronica vowed to follow Adonis wherever he wanted to go.
Where he wanted to go was the football field, specifically as a running back. Adonis's teammates and coach were wowed by his drive and his fearlessness. In the beginning of the episode, Marvel staffers draw immediate comparisons to Daredevil AKA Matt Murdock, who lost his sight, but gained heightened senses and expert martial arts skills to become the Man Without Fear. His coach says that upon meeting Adonis, you soon realize that "you can't stop him. So you might as well find a way to encourage him and help him."
Adonis makes his intentions crystal clear – after playing football in high school and college, he wants to play professionally. Throughout the episode, there's a common refrain among the people who are helping to guide Adonis through his teen years: he's "blazing a path" for the visually impaired people who will come after him. If another blind child wants to be an accomplished, effective, competitive athlete, learning about Adonis will make them realize their dream is possible. After witnessing what Adonis can do, Veronica disregards anyone who might doubt that Adonis can achieve his dreams, saying "Somebody has to be first."
While trying to find the best way to tell Adonis's story in Marvel Comics, Marvel staffers Joe Quesada and Stephen Wacker decide to focus on the senses that Adonis does use – what he hears, what he feels, specifically in the context of the football field – and also paint him as a star athlete without putting his blindness at the forefront. But what makes this issue truly special is that it's printed in Braille with textured pages, something Wacker says has never been done before at Marvel. He and Quesada break down the process behind creating a Marvel Comic that Adonis can read, and it's more involved, but engineered just for him and others like him.
Now it was time to let Adonis in on his surprise! While practicing with his brother Jordan, Adonis is given his package from Marvel's Hero Project containing his letter of initiation and is surprised with his very own Marvel Comic! But there was even more to come when Adonis read a letter written to him by New York Giants running back Saquan Barkley, who soon arrived in person to give Adonis some heartfelt professional advice and read his comic with him.
To show how much Adonis inspired all of us, Marvel's Hero Project is making a donation in the amount of $10,000 to the Foundation for Blind Children, Phoenix in recognition of their work supporting the visually impaired.
Quesada and Wacker assembled a canny creative team to tell the Marvel Comics story of Adonis. Writer Mike Raicht (MARVEL AGE HULK, MARVEL AGE SPIDER-MAN) and artists Kevin Sharpe (pencils), Lorenzo Ruggiero (inks), and Lee Duhig (colors). Read Adonis's comic, UNSTOPPABLE ADONIS #1, for free right here!
To learn more about the Foundation for Blind Children, Phoenix, visit www.seeitourway.org.
There are so many heroes in the real world to celebrate, and Marvel's Hero Project is giving them their time in the spotlight! Tune in to Marvel's Hero Project, streaming exclusively on Disney+, every week to learn about a new young hero making a difference in their communities and beyond!
The Hype Box
Can't-miss news and updates from across the Marvel Universe!