TV Shows
Published January 17, 2020
'Marvel's Hero Project' Recap: Thrilling Tokata
Tokata spreads the legacy of the indigenous community through the power of storytelling!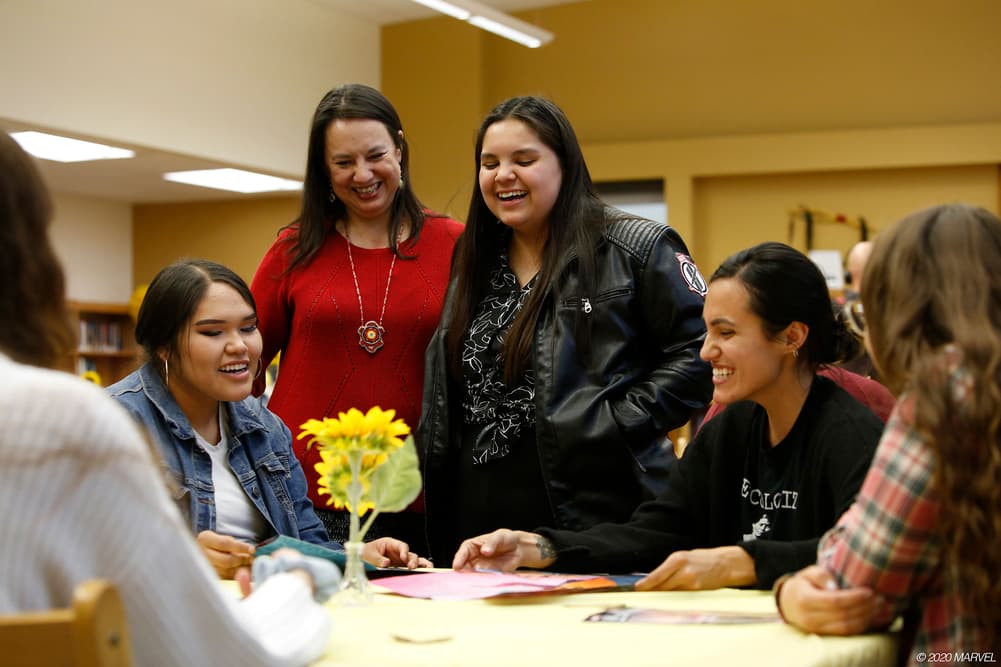 Every week on Marvel's Hero Project -- streaming exclusively on Disney+ -- you will meet a new young hero making a difference in their communities and all over the world! In this episode, meet Tokata!
Tokata is a storyteller, and a leader among the indigenous youth for whom she supports. Her work has succeeded in shining a light on the legacy of her community and she has worked hard to amplify the voices of other indigenous children by giving them the tools and platforms to tell their own stories. Now, Marvel celebrates Tokata in a story of her own, immortalized in her own comic book.
At 15 years old, Tokata has already harnessed the power of her voice at huge rallies supporting Native Americans all over the country. She lives with her family on a reservation, and she hopes to bring the beauty that she sees in her travels back home with her. Storytelling was a big part of her upbringing and an important part of indigenous cultures as a way to keep their heritage and legacies alive. Tokata noticed that outside of the reservation, people were telling stories that didn't reflect what she knew about her community.
Even more alarming to Tokata was the construction of the pipeline on the Lakota land, not just what it might take away from the beauty of the land, but what could happen if it was not properly maintained. At 12 years old, Tokata appeared in the first PSA campaign against the pipeline --it was also the beginning of Tokata's passion for activism. As more and more activists joined and the story gained momentum in the media, Tokata was able to find her voice as well as a platform.
Tokata's father praises her courage, calling her "brave," and in turn, making others brave by sharing her views. "She is lighting up other people's fires," he says. Tokata also knows that what she does is not just empowering herself. "Because I've gone to so many places and I've learned a lot more, I've realized you're not ever just representing yourself. You're representing people that look like you, people that come from the same place as you, and people who resonate with you," said Tokata.
Tokata turned to media to tell her story to her growing audience. With so many stories to tell, Tokata wanted to use these platforms to their fullest potential. Most importantly, Tokata wanted to portray her people in an authentic and respectful way to help offset how the media had been telling stories about indigenous people. "We really need to start sharing so we can change the world together," said Tokata.
At Marvel's HQ, Marvel staffers Jon Ennis and Stephen Wacker started honing in on how to tell Tokata's story. They both drew from her power to not only tell her story but enable her people to tell theirs. To shape the narrative, Ennis and Wacker were inspired by one of Tokata's favorite stories from her childhood, a folk tale called "No Moccasins." Tokata's drive to carry on the stories of her people from generation to generation was reminiscent of Marvel Super Heroes like Black Panther and Thor, who both carried the influence of their ancestors and homeland with them wherever they went. In her comic, Tokata uses the power of her storytelling – depicted as a kind of astral projection – to teach a group of young girls about their people's resilience and strength. By the end, a crowd of people of all ages has gathered to hear her speak!
Now it was time to initiate this savvy storyteller into Marvel's Hero Project! At a surprise party at her school (disguised as one of her usual group meetings), Tokata joined her family, a group of her friends, and her favorite teacher. Her father was already holding the Marvel envelope and he read the initiation letter inside. Tokata was almost immediately brought to tears upon hearing herself being honored for her achievements as a teacher. She finally opened the box containing her team jacket and her very own comic book, featuring her as the star of a brand new original story. "Storytelling is a super power – I come from a people who have been doing it for a really long time!" she said.
To show how much Tokata inspired all of us, Marvel's Hero Project is making a donation to Seventh Generation Fund for Indigenous Peoples' Thriving Women, an organization and program that supports projects that nurture and support the safety, health and vitality of Indigenous women, girls and families, in the amount of $10,000. To learn more about Seventh Generation Fund for Indigenous Peoples' Thriving Women Program, visit www.7genfund.org/thriving-women.
Now is your chance to look inside the comic that was made for Tokata by real Marvel creators! Writer James Asmus and artists Francesco Mobili (pencils and inks) and Chris Sotomayor (colors) worked together to shape Tokata's entrance into Marvel Comics! You can read Tokata's comic, THRILLING TOKATA #1, for free, right here!
There are so many heroes in the real world to celebrate, and Marvel's Hero Project is going to bring their inspiring stories to people of all ages across the globe! Tune in to Marvel's Hero Project, streaming exclusively on Disney+, every week to learn about a new young hero making a difference in their communities and beyond!
The Hype Box
Can't-miss news and updates from across the Marvel Universe!