TV Shows
Published June 6, 2019
'Marvel's Jessica Jones': Season 1 Refresher
Before Season 3 drops on Netflix, read up on what happened to your favorite private investigator in Season 1!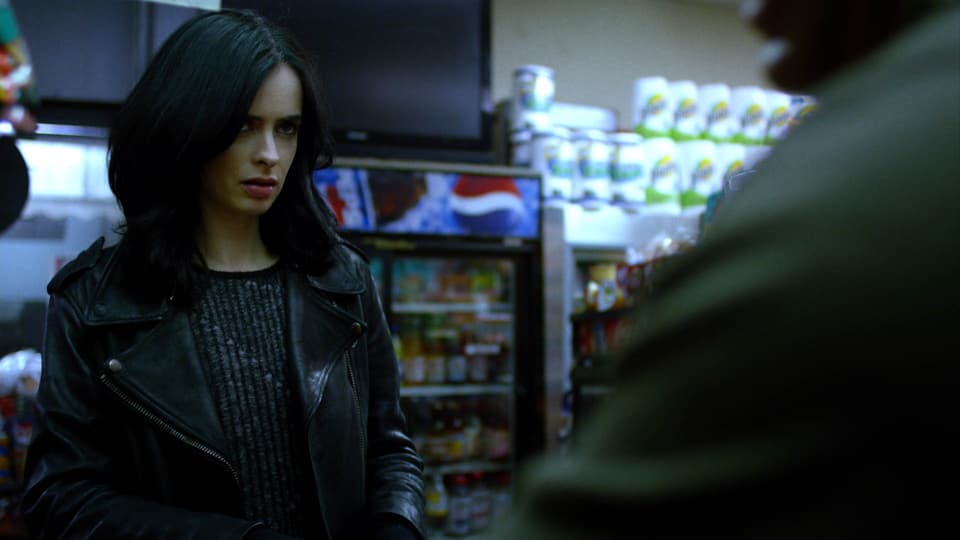 What do you need to save Hell's Kitchen? If you're Jessica Jones, just a pair of boots, a leather jacket, and maybe a drink. As we head into Marvel's Jessica Jones Season 3, coming to Netflix on June 14, here's your refresher on where it all began with Season 1.
When we first met her, Jessica Jones worked as a private investigator, running her own business with Alias Investigations. While she was certainly capable of getting the job done (often times using her powers to do so — mainly her use of extreme superhuman strength), she was barely making ends meet to keep her operation afloat, and it's clear her personal life had seen better days. She was recently hired to track a man and woman who were supposedly having an affair, and while doing so, slept with the man in question, Luke Cage. Much to the surprise of Jessica, he was just like her in the super strength department.
But, after finding a picture of a woman in Luke's bathroom — his late wife, Reva — she left in a rush.
For her next case, Bob and Barbara Shlottman approached Jessica hoping to find their missing daughter, Hope. Jessica believed she had simply run away from home and told the Shlottmans they were wasting their time. But, upon looking further into Hope's disappearance, Jessica saw similarities between her and Hope, all streaming from their common connection – Kilgrave, who had the ability to control and influence others with just a few words. Jessica had only just recently broken free from Kilgrave, where he held her as a prisoner, using his power and her super strength to make her do horrible things.
Jessica was still living with the trauma of her time with Kilgrave and decided to reach out to her estranged best friend, radio host Trish Walker. Trish and Jessica actually grew up together after Jessica's parents and brother died in a car accident while she was a teenager. The two were still getting over a major falling out, but Trish convinced Jessica to help Hope, knowing what Kilgrave was capable of.
When Jessica tracked Hope to a spot Kilgrave used to take her, she found her still under his control. She managed to break Hope free physically, but not mentally. After leaving Hope with her parents, the girl, following Kilgrave's instructions, killed both of them.
Jessica turned to her sometimes-employer, Jeri Hogarth, hoping that she would take on Hope's case. Jeri was reluctant to do so, and didn't believe Jessica's claim that Kilgrave had Hope under any sort of mind control. Eventually, she gave in and agreed to take on the case but only if Jessica could provide proof.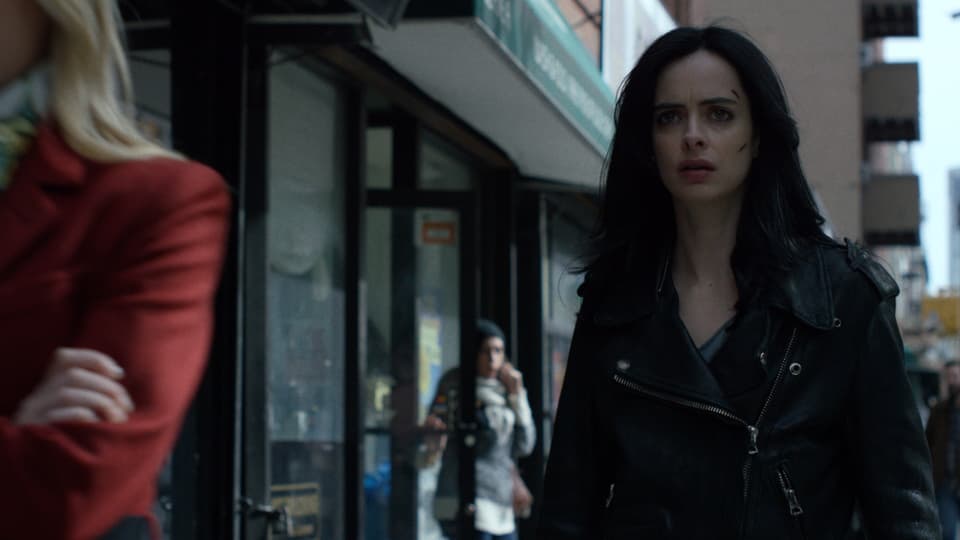 The only problem was that this whole time, Jessica thought that Kilgrave died after being hit by a bus the night she escaped from him. Jessica tracked down the ambulance driver who responded to the scene, only to learn that he was essentially non-verbal after Kilgrave took his kidneys. This led Jessica to the doctor who performed the operation on Kilgrave, and she learned that they couldn't use anesthesia during the procedure as it would have blocked Kilgrave's powers.
Jeri (who was then going through a divorce with her wife Wendy after starting an affair with her assistant Pam) wanted Hope to go on Trish's radio show to talk about Kilgrave. While talking about Kilgrave on-air, she first told anyone who has had these "mind control" experiences to call Jeri, which angered Kilgrave. In retaliation, he sent a detective, Will Simpson — who was under his control — to go and kill her. Jessica managed to intervene before Simpson killed Trish (and also convinced Simpson that he killed Trish, thereby carrying out Kilgrave's orders), and then followed him back to Kilgrave's location. She stopped Simpson from killing himself and discovered that Kilgrave had an entire room plastered with pictures of her.
Upset about his prior actions, Simpson went to apologize to Trish and the two not only made up, but started a relationship. Now wanting to earn Jessica's trust, Simpson offered up his expertise as a former special operative in the Army and also the use of a sealed-off room should they capture Kilgrave.
Jessica soon discovered that the person who was spying on her for Kilgrave was her neighbor, Malcolm. Kilgrave had been trading Malcolm drugs for pictures of Jessica. She realized she had to break him out of this trance, which she did by letting him completely detox in her apartment.
Luke approaches Jessica to ask for help, hoping to find out information about his wife's death. However, this just led Jessica to spiral once she confessed to Luke that she was the one responsible for Reva's death. Reva had information about Kilgrave's past, and Kilgrave wanted it. While under Kilgrave's control, Jessica punched Reva so hard in the chest it broke her ribs and gave her head trauma when she landed. Luke, obviously unable to deal with this and the fact that he had a relationship with Jessica, left.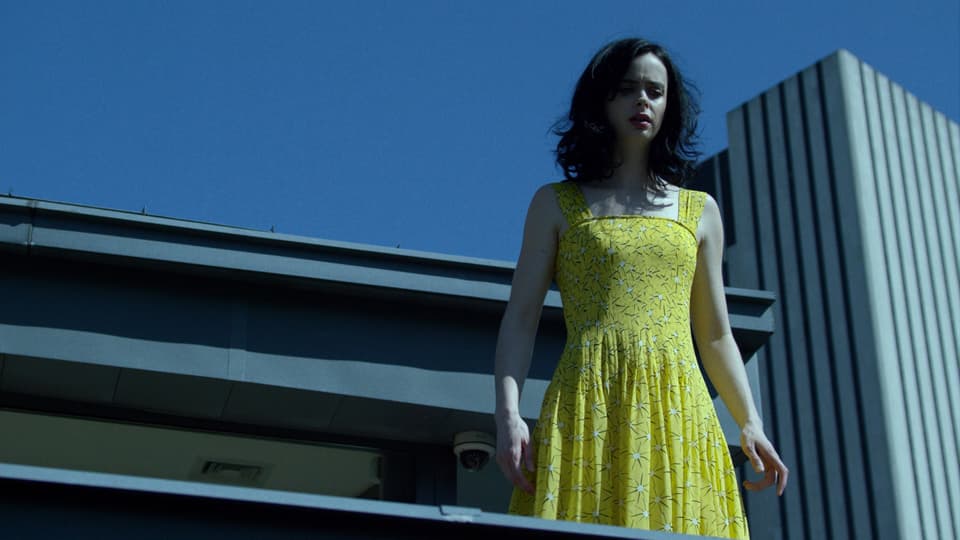 Meanwhile, Kilgrave purchased Jessica's childhood home. After Jessica confessed to a murder she didn't commit (her neighbor, Ruben, whom Kilgrave actually killed), Kilgrave intervened, got Jessica out of police custody, and brought her back to the house. Simpson, who had been watching the house, tried to free Jessica from Kilgrave, but she refused to leave until she knew that Hope was no longer under his control.
While living in the house (literally "playing house"), Jessica managed to convince Kilgrave to use his powers for good and freed some nearby hostages. However, this was short-lived. Jessica eventually managed to subdue Kilgrave before bringing him to Simpson's holding cell. She was able to track down Kilgrave's parents and get them to talk to him. While he was growing up, they experimented on him and kept him locked up, until one day he was able to overpower them and escape. It turned out that Kilgrave's power was actually a virus he released, and a vaccine could be created.
In this chaos, Simpson was injured and taken to the hospital. He refused to see any doctor other than the one he worked with in the army, Dr. Kozlov. Dr. Kozlov gave Simpson some shady-looking pills and he instantly began to heal. When Simpson later attacked Jessica, Trish took the pills (which gave her increased strength) and she was able to overpower Simpson. He was knocked unconscious, then Trish has a bad reaction to the medication and was rushed to the hospital.
Dr. Kozlov took Simpson to an unknown location. After recovering, Trish learned that Dr. Kozlov worked for a company called IGH, the same company that paid for Jessica's medical bills after the car accident. They had been experimenting on Simpson, too.
Though it appeared that his parents were getting through to him, Kilgrave forced his mother to kill herself. He broke free from Simpson's cell, taking Jeri with him. Kilgrave needed a doctor, so Jeri decided to take him to Wendy, hoping that Kilgrave would also persuade Wendy to sign their divorce papers. However, Kilgrave instead instructed Wendy to kill Jeri. She was only stopped when Pam showed up and, while trying to save Jeri, accidentally killed Wendy.
Hope then killed herself, and Jessica tried to cover up her death as she continued to search for Kilgrave. Complicating matters even more, Luke was now under Kilgrave's control and had orders to kill Jessica. The only way to stop him was to shoot him, which Jessica did at point blank range. While it didn't kill him, he slipped into a coma. Jessica went to the hospital looking for help and found Claire Temple, who agreed to look after Luke while Jessica went to track down Kilgrave.
Eventually, Luke woke up to Claire tending to him. After she explained what was going on with Jessica and Kilgrave, Luke disappeared from the apartment.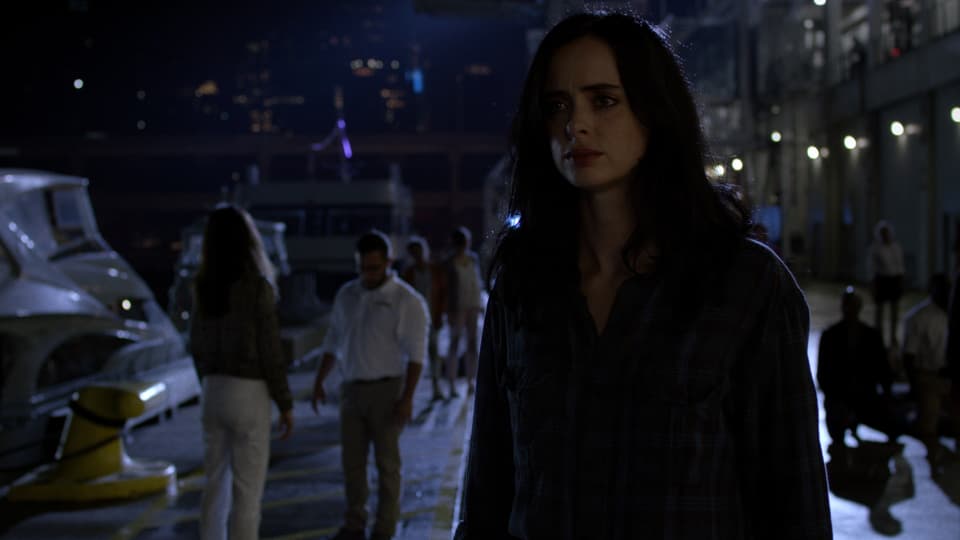 Jessica tracked Kilgrave to the pier, where he had taken a dozen people hostage including Trish. Kilgrave believed that he had Jessica back under his control and instructed her to smile. She said "I love you," which Kilgrave believed was meant for him. But it was meant for Trish. As soon as she was close enough to Kilgrave, Jessica snapped his neck, killing him and freeing everyone from his control.
While Jessica is arrested for murder, Jeri managed to get her released. Jessica returned home and was bombarded with phone calls from people all over the city asking if she can help them. Malcolm, now working for Alias Investigations, tried to help her sort out where she was needed.
You can stream "Marvel's Jessica Jones" Season 1 and Season 2 now on Netflix.
Marvel's Jessica Jones stars Krysten Ritter as Jessica Jones, with Rachael Taylor as Trish Walker, Carrie-Anne Moss as Jeri Hogarth, and Eka Darville as Malcolm Ducasse. The series is executive produced by showrunner Melissa Rosenberg along with Marvel's Jeph Loeb. Marvel's Jessica Jones is produced by Marvel Television in association with ABC Studios for Netflix.
The Hype Box
Can't-miss news and updates from across the Marvel Universe!