TV Shows
Published July 5, 2018
'Marvel's Luke Cage' - Destruction By The Numbers
With Season 2 debuting June 22 on Netflix, take a look back at the destruction in Season 1.
Det. Misty Knight summed up the first season of "Marvel's Luke Cage" when she told a triumphant Cage that he may be bulletproof, "but Harlem ain't." This dictum would go on to define the series, as Cage's efforts to dismantle the Stokes-Dillard criminal syndicate meant that a whole lot of New York got smashed up, shot at, blown to bits and hurled through a window in the process.
We wanted to find out exactly the extent of the physical damage dealt to Harlem. To do this, we counted every busted door, ruined outfit, collapsed pre-war mixed use building and smashed window in the entire series to add up just how much the insurance company will have to pony up, and Sweet Christmas is it a hefty bill.
In a mere 13 episodes, Cage's crusade led to:
● 19 shattered windows
● 16 perfectly good doors kicked in or ripped off their hinges
● A dozen walls needing significant repair to ameliorate severe drywall or masonry damage
● Upwards of 10 vehicles that need chassis repair or window replacement
● One shed containing a secret laboratory that has significant structural flaws following a reasonable and understandable rampage
That's more than one door smashed through per episode! Pop's barbershop alone — the Switzerland of Harlem — sustained thousands of dollars in damage, and then a mere 10 episodes later suffered all of that damage yet again. There's a window of the barbershop that appears to have been broken three unique times in one season.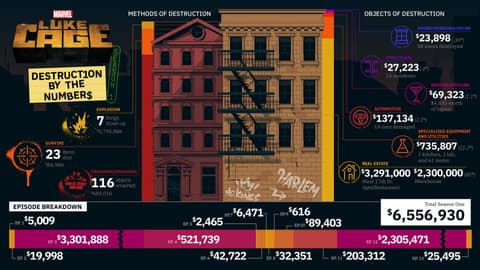 Much of this is because lots of employees of the Stokes-Dillard organization didn't get the "Luke Cage is bulletproof" memo quickly enough. Luke's bulletproof skin and courageous nature led to hundreds of dollars worth of hoodies and tee shirts being shredded as part of an honest day's work, not to mention repeated bullet damage to rooms he was in.
Most of the damage to Harlem was done by the criminal element despite Luke's attempt to stop it. Cottonmouth shot an RPG and destroyed a building. Diamondback detonated a bomb that destroyed prime warehouse real estate. The Dillard operation's employees shot up their own establishment, destroying the entire bar, a commercial kitchen, and prime music venue.
All told, the damage was enormous, but Harlem can recover. There were nightclubs to restore, bars to restock and a lovely building on 171st & Broadway that needs to be rebuilt. The bill to repair materials alone is estimated to be approximately $6.56 million, and you're talking at least double that when you factor in labor costs.
Harlem may not be bulletproof, but just like Luke Cage, it can take a punch, and it can bounce back, recover from the hit and rise again stronger than ever.
"Marvel's Luke Cage" Season 2 debuts Friday, June 22 on Netflix. You can see Luke Cage in action in "Marvel's Luke Cage" Season 1 and "Marvel's The Defenders," now streaming on Netflix. Follow @LukeCage on Twitter and like "Marvel's Luke Cage" on Facebook for all the latest news and updates.
Walt Hickey is a data journalist and writes the daily morning newsletter Numlock News. His work has previously appeared on FiveThirtyEight and Business Insider. 
The Hype Box
Can't-miss news and updates from across the Marvel Universe!