TV Shows
Published December 13, 2017
'Marvel's Runaways': Julian McMahon Unmasks Jonah
Watch the latest episode of 'Marvel's Runaways' on Hulu now!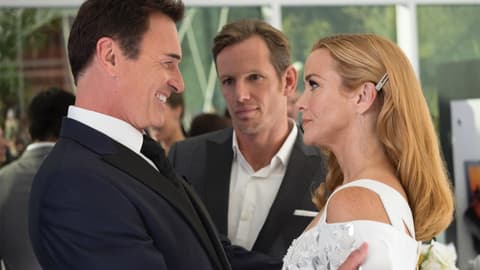 ***SPOILER ALERT: This story contains spoilers from today's episode of "Marvel's Runaways"!***
Julian McMahon made his "Marvel's Runaways" debut during last Tuesday's episode "Kingdom;" however, you've technically seen his ominous presence at the Church of Giborrim since the beginning of the original Hulu series. In this week's episode "Metamorphosis," we pull back the curtain a little more on Julian's presence in the lives of our Runaways and the Pride.
McMahon took the time to talk exclusively with Marvel.com about his brush with death, the sacrifices the Pride makes, and his fascination with the Runaways:
Marvel.com: Let's dive right into it. In last week's episode, we get a glimpse into your character Jonah. We learn you've met the Wilders 18 years ago. What can you tell us about Jonah?
Julian McMahon: There's two experiences—two journeys that we're going on here. One is the flashback journey, and one is the current state of affairs with Jonah or what's happening in his life. They're very much two separate individuals in a way. One is this egocentric, maybe manipulative, kind of headstrong individual who wants to accomplish what he wants to accomplish and does so unabashedly. He's got the power to do it in a lot of different ways: financially, intellectually, and all those other attributes that kind of make him consistently a step ahead of every everybody else.
Then, there's the current version—this guy who has experienced this near-death experience that challenges him, even emotionally, for the first time, as far as he recognizes. All of a sudden, you've got this guy from the flashback, you get to build that guy, who's not that conscious. He's conscious of what he's trying to accomplish, and what he wants to do, but he's not thinking about anybody else. Then, you cut to the current guy, and you've got this guy who is very aware, based on the experience he just went through, of his own mortality and what life means to him once that comes into question.
And so, they're two completely different versions in a way, even though they kind of start to run one into the other. Maybe about episode six, seven, eight or something, it kind of takes off on its own trajectory of that involving the kids and whatever else. It's interesting because you do get to have a bit of a battle between those two almost separate personalities.
Marvel.com: For the man that we see in the flashback, you can see that he's already orchestrating and pulling those into the Pride. How did he go about selecting who would belong, who would contribute to the Pride? How did all the other families come into play?
Julian McMahon: Well, there was an ultimate curriculum that he needed—one, the desire to be successful; two, the inability to accomplish it on their own; and three, the need to change their circumstance and situation.
You're getting people at a place where the opportunity that he was offering was too good to resist, and that happens in life a lot. If you're looking to build a business and some billionaire comes along and says, "I'll fund it for you," it's very difficult to say, "You know, I might just wait and see how we go." If you're in jail and there's an opportunity to get out and become rich, then that looks a little bit better than living in prison. Those kind of dynamics are what he's working with, and it helps propel what it is he's trying to accomplish.
Marvel.com: The big reveal in this week's episode "Metamorphosis" is that Karolina is your daughter. Can we assume this was always part of the plan or is this something that just evolved from your relationship with Leslie?
Julian McMahon: Really good question. I don't really know the answer to that, to be honest, I think it was divinely-divine intervention. It came out of something necessary. And, it was unplanned, I believe. You could prove me wrong, but I believe it was a surprise to everybody.
Marvel.com: We know Leslie had always wanted to keep you to herself? However, you insisted on going to the gala. Is it because of your facing mortality after such a close call? This huge need to meet Karolina in case you never get that opportunity again? Or is she key into something bigger you have planned? 
Julian McMahon: Well, at this point in time, it's the near-death experience that propels everything for him in a way. And it's, "Okay. Hold on a second. I only have a certain amount of time to live. What do I want? What's important to me?"
While he was always so driven to accomplish what he was accomplishing, he finds out about that connection, that emotion, is actually just as important and valuable to him as anything else, if not more.
Marvel.com: You were introduced as someone who was friends and studied under Leslie's father at the start of the church. Is that just a cover story or has your character actually lived that long?
Julian McMahon: He's been around for a long, long time. And so, he knows Leslie's father well and probably beyond. That's really the tip of the iceberg of revealing and understanding how long he's been around and where he's come from.
Marvel.com: We can assume you're not quite human. How do you and Karolina possess this light energy?
Julian McMahon: I would say that he is not a complete human being. So, I'd say that he's not a complete human being, but the near-death experience has given him the opportunity to feel like a human being for the first time. Did you like that one?
Marvel.com: I did!
Julian McMahon: Okay, because it if sucks, we can try again.
Marvel.com: With Karolina being a half-human, she can't quite master her light powers. Is that why she needs to wear a bracelet? Or is it because she doesn't have mastery of her powers the way Jonah does?
Julian McMahon: The bracelet kind of held in her powers to a certain extent. If you kept it on, it wasn't revealing who she was with those powers. And the bracelet is overall a kind of facet of control.
Also, in regards to what you said, she's a teenager. There's obviously a different relationship to that power than Jonah has. Because he's just fully that. And that becomes an interesting dynamic.
Marvel.com: With all the close calls with the Pride really having a lot of missteps and trying to bring you back to your young, handsome self. How much can Jonah rely on and trust the Pride at this time?
Julian McMahon: As the show moves through the episodes, we realize, or he realizes, and I'm assuming we do as an audience as well, that things weren't quite as together  as he thought they were. So, how much can he trust them?
From episode to episode, everything becomes more challenging. There are some times where I think that Jonah was really pushed to his limit in regards to what he was putting up with, and didn't really understand this kind of more—and I'll let you use the right word because you can say it, just as well as I can—he's not used to that human dynamic as much. He doesn't really recognize a way to address it and deal with it. Then it becomes, because of that, it becomes kind of antagonistic between all of them.
Marvel.com: As an architect of the Pride, Frank was never invited into the Pride. What are your plans for him? Why have him in the picture at all since he does stand in the way of you trying to develop this relationship with Karolina?
Julian McMahon: Well, that's interesting question. As in Josh [Schwartz] and Steph [Savage]'s work, a lot of the time, as things start to heading down one path, all of a sudden you go, "Wait a second. It just turned in a completely different direction than what I thought it was going to." That happens in this, which I think is really fascinating. The evolution of the dynamic of those four, particularly, is pretty interesting. As we unveil the relationships, everything starts to change.
When we first see Frank and Jonah together, you, for obvious reasons, as an audience, but also, when you see the scenes themselves—you might have seen them—there's a threat there. That dynamic is the one that they start with. Frank and Jonah's relationship starts as one, which he becomes very protective and defensive and whatever else you would do when you are being challenged, particularly with your wife and your daughter. That dynamic is how they start. But then, as we evolve, we get to learn some very different things, and we get to see so many different things; by the end, their relationship is completely different to what you would have assumed, based on knowing what you saw to begin with.
Marvel.com: As your character will have more interactions with the Runaways, will Jonah require the kids to make the same sacrifice their parents did? Or are they part of a larger design that you have?
Julian McMahon: It's certainly up in the air and there's a couple things that happened the last episode where you, where I-just everybody on set was like, "Okay, what's going on there?!" and nobody would tell us. We're kind of in the dark just as much as everybody else or anybody else was. You got to see.
Marvel.com: Thank you so much for your time and I'm excited for fans to learn more about how your character progresses in the season.
Julian McMahon: Yeah, me too. He's a really fascinating character and we've put a lot of work into trying to make him interesting and dynamic and hopefully that comes across.
Get ready to run with "Marvel's Runaways" exclusively on Hulu every Tuesday! Be sure to follow @Runaways on Twitter and like the official "Marvel's Runaways" Facebook page!
The Hype Box
Can't-miss news and updates from across the Marvel Universe!