TV Shows
Published November 21, 2017
'Marvel's Runaways': Meet the Deans
Watch the first three episodes of 'Marvel's Runaways' on Hulu now!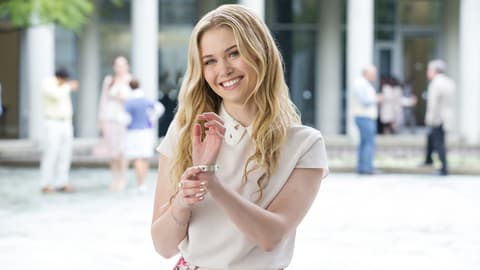 Runaways, the celebrated series by Brian K. Vaughan and Adrian Alphona, is making its debut today with the premiere of the first three episodes of "Marvel's Runaways," airing exclusively on Hulu!
Marvel.com spoke with the Dean family—Virginia Gardner, who plays Karolina Dean, and parents Annie Wersching, who plays Leslie Dean, and Kip Pardue, who plays Frank Dean. We talked to them about what it's like for the Deans to have a strong matriarch and how to find a common bond when the world they know starts to fall apart.
In case you missed it, get to know the Wilders, the Minorus, and the Steins.
Leslie Dean role is the leader of the Church of Gibborim, a job that takes up much of her life and much of her emotional bandwidth. This is a way of life the Deans have become used to but soon becomes a complicated issue for their daughter. Wersching explained, "For Karolina, she's grown up in this church background where her mother is the head of this church and she just always believes that her mom is doing the ultimate good, fighting for good, saving these runaway kids—that her mom is just this amazing woman. And it's a huge shock, that she doesn't want to believe when she sees her mom is a part of  the Pride, this horrible organization."
"Leslie's the only one who really knows what the Pride is for and all about," Wersching revealing her character's strong will and role in the Pride. "She's happy to let other people believe and think that they are the leaders when she is actually the leader of Pride. She's very good at manipulation—steering people in the right direction, getting people to do things that she needs them to do—she's very good at sort of guiding people. And I think that's a good quality about her, in a lot of ways, and also can be kind of intense in other ways."
It's no easy feat running both the Church of Gibborim and the Pride. Wersching revealed, "Having to run the Church, or getting to run the Church, it definitely puts a little bit of a strain on the time she has for Karolina and demands she has for Karolina. She wants Karolina to be the perfect face for the youth of the Church. The smile, the hair, all of it. Leslie probably thinks, at the beginning, that her relationship is pretty darn good with Karolina, and has no real understanding of what's actually going on with her inside. And obviously, that lends itself to give Frank and Karolina a lot more time."
Pardue expanded on the couple's issues, "Frank's relationship with Leslie is, again, like almost every relationships in the show, on shaky ground. For the most part, she's in charge. She's this incredibly powerful, obviously beautiful, intelligent woman. And in so many ways, Frank needs Leslie."
Seeing how much his family is involved in the Church, Pardue feels Frank wants very much to be a part of it, "He wants to get closer and closer. And oftentimes in life, when we start to get closer to something, you learn more about it and maybe it's different than what we thought it was. As things go on, and Frank starts to learn more, more about Leslie's double life, or triple life, or quadruple life on some level, it separates him more from her, and brings him closer to his daughter."
"Karolina finds solace in her dad because he's not in the Pride and he's the only parent that isn't in the Pride. He feels like an outcast from that group, and Karolina feels like an outcast at school sometimes, especially when you first meet her," Gardner noting the Deans' father-daughter bond strengthened based on mutual understanding. "She does have a special relationship with her dad for that reason. And the more she finds out about the Pride and what they're actually up to, the more she takes comfort in knowing that her dad is not a part of that, and can believe that her dad is really a great guy that's trying to help them."
Gardner believes the Runaways' journey relates to a lot of teenagers' realities. "Teenagers are very vulnerable, and it's great when they find a skill, a hobby or something that helps them regain their strength. This show is a different version of that; it's a Marvel superhero version of that. It's cool to play these characters that are so conflicted, and then they find out that they have this amazing strength about them, which I think a lot of kids can find within themselves in different ways too."
Get ready to run and learn more about the Deans and Church of Gibborim with the debut of "Marvel's Runaways" exclusively on Hulu – watch it now! Be sure to follow @Runaways on Twitter and like the official "Marvel's Runaways" Facebook page!
The Hype Box
Can't-miss news and updates from across the Marvel Universe!