TV Shows
Published November 18, 2017
'Marvel's Runaways': Meet the Minorus
Watch 'Marvel's Runaways' on Hulu November 21!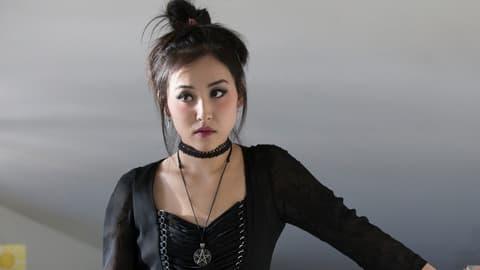 See the acclaimed comic RUNAWAYS by Brian K. Vaughan and Adrian Alphona be brought to life when "Marvel's Runaways" premieres next week on Hulu. RUNAWAYS follows six teens who find out their parents are part of a villainous cult called the Pride. One of these families are the Minorus, dark wizards who wield the powerful Staff of One.
Marvel.com talked to Lyrica Okano, who plays Nico Minoru, and the Minoru parents, Tina, played by Brittany Ishibashi, and Robert, played by James Yaegashi. We found out about the competitive mother-daughter relationship, and the complications of shutting down your emotions. The Minoru family dynamic is definitely a complicated one.
When tragedy occurs, relationships become strained. Yaegashi talked about the impact it has on the Minorus. "Whenever you have a family tragedy, it affects everybody. It's the storm that's spinning around us that we have to find our bearings in, both in terms of our relationship, as well as our relationship with Nico. When we find at the onset of the story, she's on the verge of really kind of getting out of reach for us. There's a heightened sense of like, we really have to do something."
As the co-founders of Wizard, the Minorus' expertise in tech make them an essential part of Pride. This tech-like, logical outlook is the same approach that Tina Minoru uses when it comes to parenting. Ishibashi explained, "From Tina's perspective, Nico is handling this hardship inappropriately. It's not an efficient way to live if you're just stuck in all this emotion. And she just wears it so outwardly. You just look at her and you're like 'obviously you're going through some stuff.' I just wish that she would maybe contain it a little bit more and move on with her life."
Ignoring emotions never ends well, and Okano puts Nico's feelings into perspective. "Nico, she sees her mom as overbearing and very secretive and not a lot of great things. So that really does push her to group up with the Runaways, with each other. Basically, she doesn't want to be at home. She doesn't want to have to stay at home and do this alone anymore."
The Staff of One is a powerful iconic weapon from the comics and will make its debut appearance in "Marvel's Runaways." Ishibashi talked about the relevance of the item to the Minorus. "We really get to see it's evolution, what's going to be exciting for people to see with the Staff of One is that that mother and daughter are both able to use it. That's a really loaded dynamic. I know that as a mother, and in Tina's relationship with Nico, there is an element that's almost competitive. That thing of when you feel like you're being outseated or replaced or someone is doing something just as good as, or even better than you. But it is cool. To be able to see Nico discover the Staff in this first season and kind of see what that opens up for her, as a person and the world, is really cool."
"The thing with the Runaways that's so cool is that we're all so different," said Okano. "You don't expect a beautiful, perfect Church girl to be the superhero that she is. And for a Japanese-American goth girl to be the superhero that she is. It allows every girl out there to be like 'no, I relate to that character! I relate to that character!' We all have our own strengths and weaknesses that people can relate to and I think it means a lot."
For Okano, she realized that their powers stemmed from their weaknesses. "It's like that in real life. Once we get in touch with what our weaknesses are, we can probably find strength out of them too."
Get ready to run and learn more about the Minorus when "Marvel's Runaways" premieres its first three episodes exclusively on Hulu November 21! Be sure to follow @Runaways on Twitter and like the official "Marvel's Runaways" Facebook page!
The Hype Box
Can't-miss news and updates from across the Marvel Universe!