TV Shows
Published November 20, 2017
'Marvel's Runaways': Meet the Steins
Watch 'Marvel's Runaways' on Hulu tomorrow, November 21!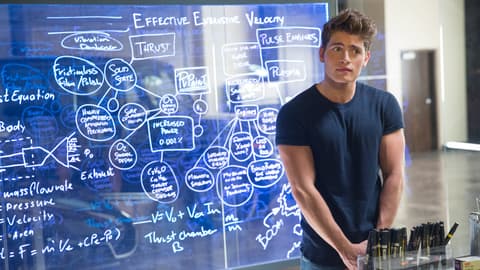 We're less than 24 hours away from the debut of "Marvel's Runaways" on Hulu! It's time to meet the third family that are at the core of this adventurous series. (Be sure to read up on the Wilders and the Minorus!)
The Steins are scientists; an essential part of the villainous Pride. Marvel.com talked to Gregg Sulkin, who plays Chase Stein; Ever Carradine, who plays Janet Stein; and James Marsters, who plays Victor Stein, about the intensity of the Stein family dynamics.
"Janet Stein is a mom and a homemaker," shared Carradine. "Her job outside of Pride is to be a PTA mom, a good mom and wife, and kind of keep it all together. As any stay-at-home mom knows, sometimes that's a harder full-time job than getting to go to work every single day."
"They do a really good job of showing that there is an emotional toll," Carradine relating how showrunners Josh Schwartz and Stephanie Savage were key in showing how Janet's world was built into her character.
On the other end of the spectrum, Victor Stein is the more disengaged of the couple. "Victor is an engineer and an industrialist," Marsters revealing how Victor's intensity factored into the character's personality. "He is trying to make money, but he's also trying to save the world. He's not unlike others who've come before him; he's not unlike Henry Ford, or Steve Jobs, or Elon Musk."
"He is going to be the one to fire you if you are not doing a good job," Marsters explained. "He's going to be the one to push his team very hard, and push himself very hard. You can't move the ball very far if you're soft. He's not concentrating on being liked at all. He's concentrating on saving the world, and if he has to break some eggs, that's fine."
"The Pride has painted themselves pretty solidly in a corner," noted Carradine. "They're trying to keep their family safe, while maybe maneuvering their way out of the giant Pride corner that they're painted into."
Due to the elder Stein's focus, the relationship with his son is strained. Sulkin discussed the complexities of the father/son relationship. "For Chase, his relationship with his parents is very interesting and very complex. At the start, he does not have a good relationship with his father. As the show continues, you'll see Chase's deep, deep love for his father, but he also, at the same time, knows that this man is an evil person, and he's actually causing harm."
"It leaves Chase in a very delicate position and situation throughout the season," continued Sulkin. "But, at the end of the day, blood is thicker than water, and so Chase will always remember that."
As for Victor and Janet's relationship with each other? "Our relationship with each other is strained,"Carradine discussed frankly. "Like a lot of couples who have been together a long time, there is pressure to stay committed to one another because of the Pride—there's a history—and our son."
"People's true colors shine through—when something bad happens—and that's exactly the case with the kids," reflected Sulkin. "We find out that our parents are evil, and we only have one choice, which is obviously to stop that from happening, and stop what they're doing from continuing."
"Over the course of the first season, you'll realize that yes, things have happened in the past. Yes, we're not very close," Sulkin added. "But at the same time, we have to act as a team whether we like each other or not. Friendships, and maybe romances, can blossom along the way."
Get ready to run and learn more about the Steins when "Marvel's Runaways" premieres its first three episodes exclusively on Hulu November 21! Be sure to follow @Runaways on Twitter and like the official "Marvel's Runaways" Facebook page!
The Hype Box
Can't-miss news and updates from across the Marvel Universe!