TV Shows
Published November 17, 2017
'Marvel's Runaways': Meet the Wilders
Watch 'Marvel's Runaways' on Hulu November 21!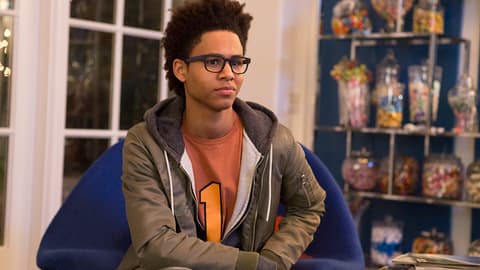 Fan excitement is reaching fever pitch as "Marvel's Runaways" nears its debut on Hulu next week. Based on the celebrated comic by Brian K. Vaughan and Adrian Alphona, "Runaways" follows six teens who find out their parents are part of a super villain team called the Pride. It's time to get to know these legendary families and talk to the actors who are bringing "Runaways" to life.
Marvel.com spoke with to Rhenzy Feliz, who plays Alex Wilder; Angel Parker, who plays Catherine Wildere; and Ryan Sands, who plays Geoffrey Wilder. We talked to the Wilder family about their relationship and what it's like raising a moody teenager in the Marvel Universe.
Feliz told us how tragedy changed the Wilders. "Alex's relationship with his parents at the start of the series was a very good relationship. He loves his parents and he understands what they do for him, but then as things go on, it deals with how a relationship forms or continues after you find something out like that."
"A lot has happened to him. The death of a friend, especially one that you were close to, and this group that you were very close to. When you're a teenager it's hard enough, but to throw that into the mix," said Parker. "People are trying on different identities in high school. You're trying on different skins, different clothes, different makeup, different personalities, and that doesn't work well with grief in the center of it. We understand why he's moody, why he's changed, his solitude. We want to pull him out, it is time. It's time to get through this, which is how we begin, but it's easier said than done."
Alex's change in personality might be partly why he gravitates to being the leader of the Runaways. "Everyone has their own distinct personalities within the characters, within the Runaways, but I think Alex organically takes the lead because he's so calculating," said Feliz. "He thinks about things a lot."
Looking at it from a father's perspective, Parker said it's black and white in the show. "You just see all sides of the same story. Being able to go on that journey and see how Alex goes through it. The leader that he starts to become, finding himself, and then being in these relationships with his friends while also trying to get to the truth. We are proud that our son would do that in such a good way, until, you know, it affects us. But at least he's a strong kid."
As opposed to the other Pride parents, Geoffrey and Catherine have a warmth and a care that resonates between them. Sands attributed that to the Wilders' working together. "Early in the season, we both pick each other up at crucial times. So, we're still moving forward, we're moving forward as a unit. When one's down, the other one lifts them up. We continue to stay on track and to keep going forward with this mission that we're on. It's really fun to play. We don't necessarily get a chance to see that all the time on TV."
Parker agreed, "There's a love and respect that the Wilders have for each other. You do get to see how the Wilders first met and how their relationship grows from there; they respect each other. They have each other's back. Just to have a loving black couple on television, as an actor, I'm very proud to be a part of that. And Ryan and I get along and respect and love each other as well. So, when we come into a scene when we're figuring out how these characters are going to interact with each other, we come from ourselves. We have a mutual respect and understanding that what's best for us is best for everyone and we have the same goal to do this right."
Parker and Sands agree that the Wilders' support for each other is what makes them great Pride leaders. Parker said respect is the key, "Every now and then, if something is a little off, we're real quick to check each other and be like 'Hey hey. We're doing this together, right? We're doing this together and this is why we're doing this. Let's not forget that,' which is a strong marriage in any realm. So maybe that helps with leading the Pride; people respect us because we respect each other."
Get ready to run and learn more about the Wilders when "Marvel's Runaways" premieres its first three episodes exclusively on Hulu November 21! Be sure to follow @Runaways on Twitter and like the official "Marvel's Runaways" Facebook page!
The Hype Box
Can't-miss news and updates from across the Marvel Universe!