TV Shows
Published May 21, 2021
'Marvel's M.O.D.O.K.': Meet the Greatest Super Villain Family Ever
Patton Oswalt, Melissa Fumero, and Aimee Garcia discuss their roles in the brand new Hulu series.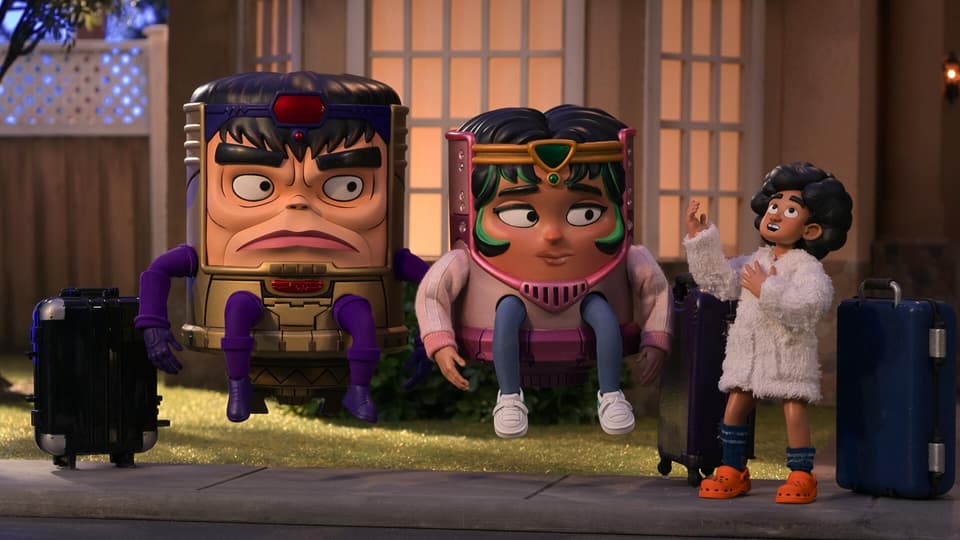 Where do Super Villians go once they're done plotting all their dastardly deeds for the day? Usually, it's back to some sort of hidden lair or hideout. But in the case of the Mental Organism Designed Only for Killing — aka, M.O.D.O.K. — he retires to the suburbs where he goes home to his wife and two kids. Marvel's M.O.D.O.K. , now streaming on Hulu, isn't exactly your typical kind of Super Villian show. 
"One of the earliest things we talked about [for the show] was how to make M.O.D.O.K. having a wife and kids not seem silly, or somehow outside of the 'logic' of the Marvel Universe," Patton Oswalt, who voices M.O.D.O.K., tells Marvel.com. "The more we talked about it, the more we hit on the idea that all of the other Super Villains — who all look down on M.O.D.O.K. from their 'A-list' perches — made it to the A-list by sacrificing having a wife and family."
Always looking to do the most in hopes of achieving his evil plans, "In MODOK's mind, he'd do them one better by conquering the world and having a wife and kids who love him. Which gave us even more fun wiggle room to have him fail on multiple levels."
Not only does he deal with extreme stress at work running A.I.M., but M.O.D.O.K. returns home every night to a budding social media wife, Jodie (voiced by Aimee Garcia) who's trying to get her own startup business off the ground; a popular teenage daughter with enough drama to go around, Melissa (voiced by Melissa Fumero) — who also happens to look shockingly like her father; and Lou (voiced by Ben Schwartz), who's just hanging around having a good time and planning his upcoming bar mitzvah. 
Things start to fall apart for the family almost immediately, and soon M.O.D.O.K. and Jodie are talking about a possible separation. And before you know it, it's Jodie who's breaking bad in her own way. Having spent so much time married to M.O.D.O.K., she's learned a thing or two about getting what you want, no matter what the cost. 
"The one thing we did not want to do with M.O.D.O.K. was have the schlubby husband-with-the exasperated-but-ultimately-understanding wife," Patton explains. "We put 'em both through the wringer, and it feels super real."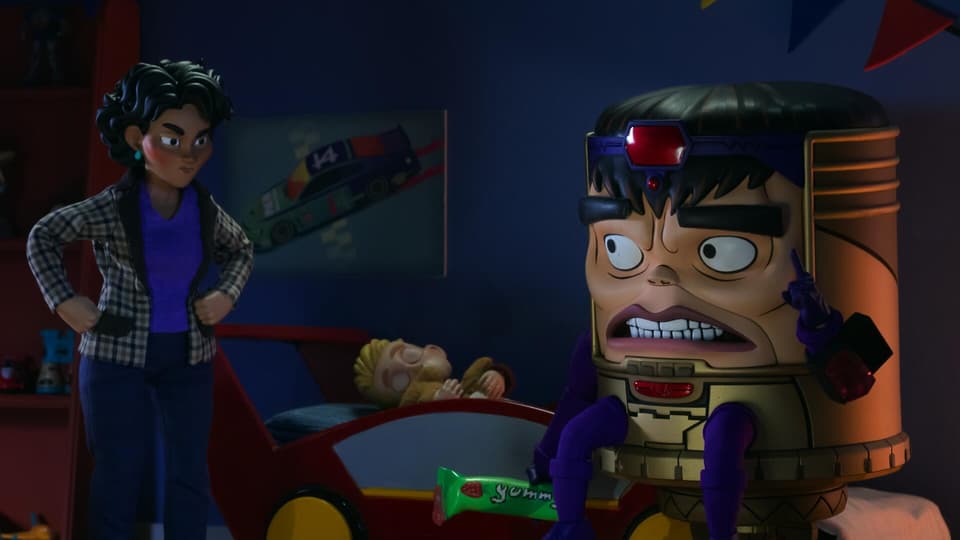 "Jodie [is] an every woman, she is a mom, she is the voice of reason. But she ends up going from housewife to supervillain, which I had never seen before, especially in the animated space," Garcia explains. "So, it was really fun to just go from  mother of two, to fall from grace and become a bigger monster than your supervillain husband, which is so fun to not be perfect." 
But even with all these challenges, both at home and out there in the world, what is it that makes these two the perfect couple? According to Oswalt, "[Jodie's] someone who calls [M.O.D.O.K.] on his nonsense, and does it with no fear but also no venom or cruelty. There isn't a single person who's honest with M.O.D.O.K. [except for Jodie], and he doesn't realize how badly he needs that until it's too late."
As for what Jodie sees in her bighead husband, "M.O.D.O.K. literally has the confidence of Captain America, but he has the tiniest hands and tiniest legs and floats around in a hoverchair. But yet, he is so confident! I think [Jodie] finds him romantic. She sees him as someone who has a goal. Come hell or high water, no one's going to get in the way of that. If he falls down, he's going to float back up. I think she finds that very sexy. I think she finds it very romantic that he will destroy anything or anyone that gets in the way of their love."
When it comes to M.O.D.O.K.'s and Jodie's kids, the apple doesn't fall far from the tree — especially in regards to Melissa. The second viewers meet Melissa, they know exactly what kind of teenage girl she is, as even Fumero comments, "I definitely went to high school with her, or some version of her."
"[Melissa] is fully intent on going into the family business [of being a villain]," Fumero states. "But does [her dad] see her as competition, or does he see her as part of his legacy?"
But right now, Melissa is just your regular bratty teenager. One episode features M.O.D.O.K. turning to his daughter for help with a makeover, something he's dreading and she's thrilled about. "It's so typical, like when we're teenagers and we think that everything our parents are doing is wrong. If they just listened to us, they'd be better. And I feel like that's very much how Melissa is with M.O.D.O.K. If he just listened to her, he actually would be the number one villain and would rule the world, like he's such an idiot."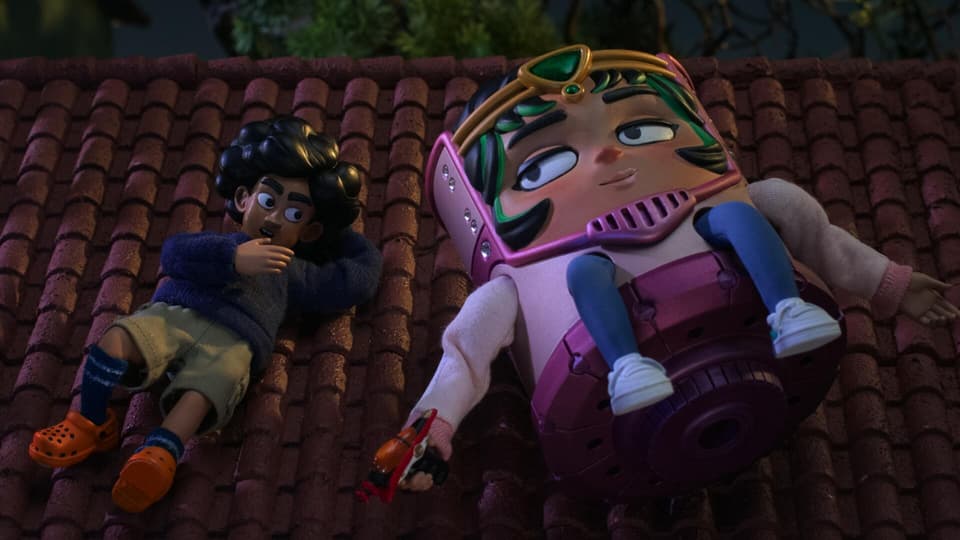 Then there's Lou. And Lou is...something special. He very much dances to the beat of his own drum, and while he doesn't have any sort of villainous arc in the series, he is desperately trying to plan the best bar mitzvah ever! "We wrote Lou with Ben Schwartz specifically in mind and watching the journey his character goes on, the places Ben takes it in his performance is pure bliss," Patton says. 
"Lou is like Jodie's little Nugget, but she also just wishes he could grow a spine. Not that he's a pushover, but he kind of is a pushover," Garcia laughs. 
"[Melissa and Lou's] relationship actually reminded me so much of me and my brother because, like, my mom would joke that there were times when we were kids that she would say, it was like you really didn't like each other as people," Fumero adds. "Melissa and Lou are very similar in that they have a sibling rivalry, but also will band together to run some shenanigans in their family or get drunk together and band together to achieve some foolery in their supervillain lives."
Through all the scheming, lies, time travel, accidental trips to Asgard, and the surprise addition of one extra Lou, somehow the family manages to come out the other side mostly in one piece. Mostly. 
"There's a lot of surprising things about this show, which is why I'm so proud to be a part of it because it's crazy and funny and vulgar and crass," Fumero continues. "But then it will kind of turn around and slap you with some heartstrings." 
Marvel's M.O.D.O.K. is now streaming on Hulu. 
Looking for more M.O.D.O.K.? Follow M.O.D.O.K. on Twitter, Facebook, and Instagram!
Want to stay on top of everything in the Marvel Universe? Follow Marvel on social media—Twitter, Facebook, and Instagram—and keep watching Marvel.com for more news!
The Hype Box
Can't-miss news and updates from across the Marvel Universe!