TV Shows
Published March 8, 2023
Original Series 'MPower' is Now Streaming on Disney+
Discover how these characters and the women behind their success have impacted fans around the world.
From Carol Danvers and Wanda Maximoff to the women of Wakanda and The Guardians of the Galaxy, MPower, now streaming on Disney+, unpacks the journeys of these characters from their birth in Marvel Comics to the MCU and beyond. Archival footage, imaginative animation, and candid interviews work in tandem to profile how these characters and the women behind their success have impacted fans around the world.
"Every hero has an epic origin story and so does this series," said Executive Producer Justin W. Hochberg. "When I conceived MPower, I did it out of love for my teen daughter so she would have more icons to look up to, voices to learn from, and role models to help her impact the world. Today, that vision is now a reality thanks to Brie Larsen, Elizabeth Olsen, the women of Wakanda, and, Zoë Saldaña, whose leadership was 'Mpowering.'"
Saldaña is featured in Episode 4 and serves as an executive producer of the series. "MPower is a tribute to women's representation and empowerment," she said. "We're enthused to have the involvement of a diverse group of women whose voices and stories will serve as a source of inspiration. Our hope is that this series will ignite meaningful conversations and drive real change towards a more equal and inclusive world."
"We're excited to help illuminate the myriad, powerful stories of women in the MCU," said Executive Producer Mark Herzog. "We sincerely hope that the series will empower girls and women all over the world to be their authentic selves in their lives and in their careers."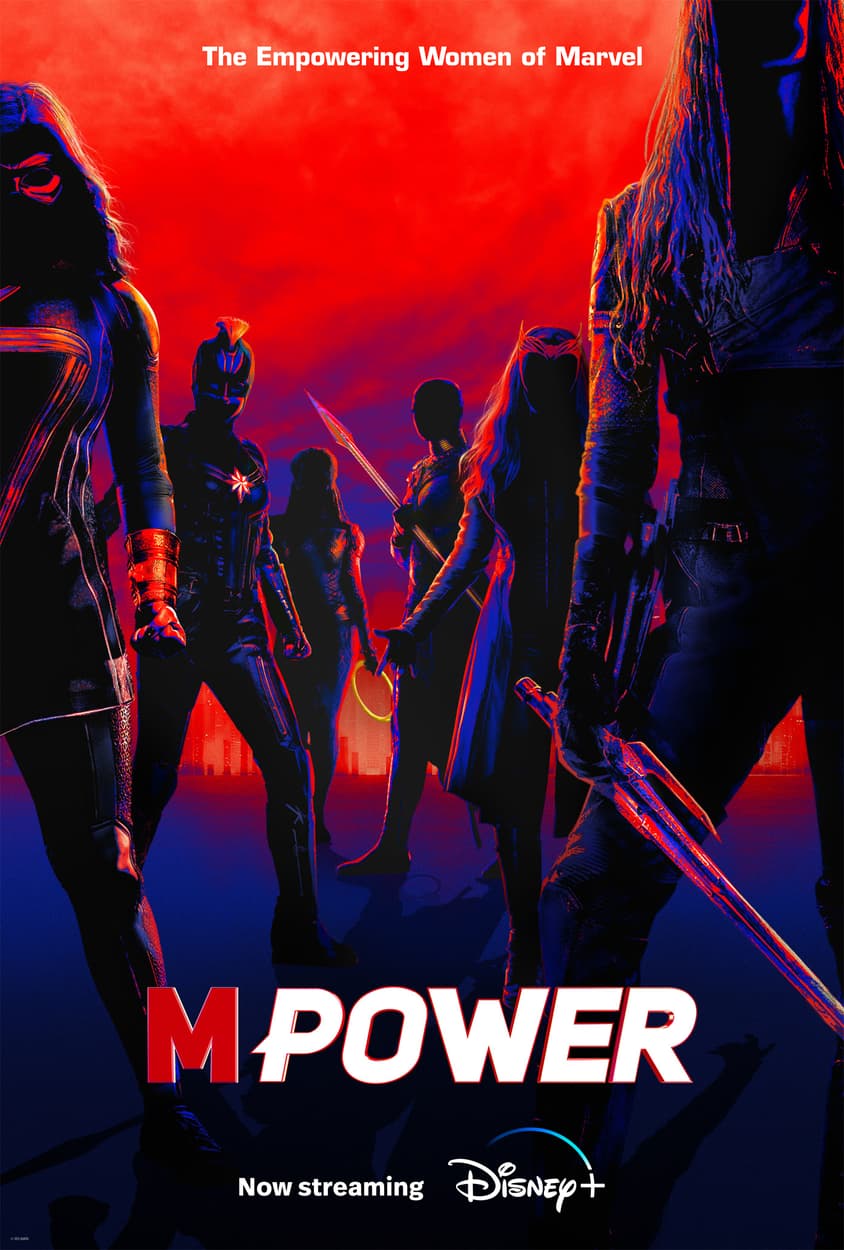 MPOWER—THE WOMEN OF BLACK PANTHER
Travel back to Wakanda, where women are the backbone of the world's most powerful nation. Okoye (Danai Gurira), Nakia (Lupita Nyong'o), Ayo (Florence Kasumba), and Shuri (Letitia Wright) are as unbreakable as vibranium, and this episode of MPower dives into their roots in the original comics, how the performances were influenced by the actors' own lived experiences and how the spirit of Africa and black excellence shaped every aspect of the films.
MPOWER—CAPTAIN MARVEL
Journey with one of the MCU's most powerful Super Heroes, Captain Marvel (Brie Larson)—seen through the eyes of those who helped bring her to life. Through animation and never-before-seen footage, viewers will gain a new sense of the transformation from Carol Danvers to Captain Marvel, the women who look up to her—Monica Rambeau (Teyonah Parris) and Kamala Khan (Iman Vellani)—and how the teams behind and in front of the camera helped bring it all together.
MPOWER—SCARLET WITCH
Celebrate Wanda Maximoff (Elizabeth Olsen), Agatha Harkness (Kathryn Hahn), and Darcy Lewis (Kat Dennings)—plus the creative forces behind the Scarlet Witch's iconic journey. The hero with undeniable power and a tragic backstory has withstood insurmountable odds reaching back to her childhood in Sokovia, through her years flourishing as an Avenger, and of course, her ascension to self-realization as the Scarlet Witch.
MPOWER—GAMORA
Explore the evolution of the captivating character, Gamora (Zoë Saldaña), from her days as an assassin to life among the Guardians of the Galaxy. As the backbone of the team of misfits, Gamora is forced to reevaluate what family means to her and address her dysfunctional relationship with her sister, Nebula (Karen Gillan). Vets of the Guardians movies weigh in on the plight of Gamora and how she is brought to life in an emotional and dynamic way.
The series is directed by Quinn Wilson, and executive produced by Victoria Alonso, Mark Herzog, Andie Beckerman, Zoe Saldaña, Cisely Saldaña, Mariel Saldaña, Justin W. Hochberg, Lauren Moore Morden, Jeff Redmond, Sarah Girgis; Lauren Goralski serves as co-producer. The series comes from production companies Herzog & Co., Cinestar Pictures, and Just Entertainment.
The 4-part original series is now streaming exclusively on Disney+!
The Hype Box
Can't-miss news and updates from across the Marvel Universe!